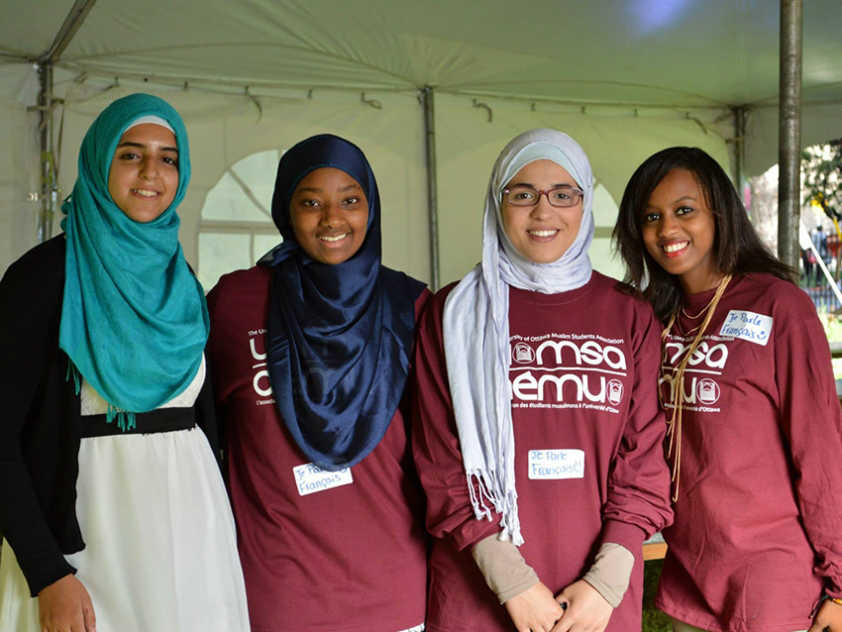 University of Ottawa Muslim Students' Association at last year's 101 Dinner for new students
Courtesy of UOMSA
18
August


2014
Muslim Students' Association Offers Halal Frosh Week
Written by Chelby Daigle
Muslim Link got a chance to interview University of Ottawa's Muslim Students' Association (UOMSA) Executives Mahmoud Dief (President) and Shahad Khalladi (Vice-President) about their upcoming UOMSA 101 Week for new and returning Muslim students which will run from Monday September 1st to Sunday September 7th.
UOMSA decided to develop an entire week of programming for new and returning students after conducting surveys of their current membership and discovering that students were not aware of the MSA's presence on campus or the events and services that it ran when they first arrived on campus. Those surveyed stated that they often only became aware of the MSA a couple of months into their first year or even semesters into their academic studies.
"In order to raise awareness effectively, we needed to start from the first week of school, providing a halal alternative to 101 week", Mahmoud explained. "Generally, [the university] 101 week involves a lot of partying, drinking, and promotes non-Islamic behaviour," he added, "This is why this time proves to be crucial for spreading awareness of the UOMSA."
Providing a safer space for Muslim students who do not wish to engage in inappropriate activities, but also want to socialize and get better orientated to their campus, is important, Shahad feels, in order to help students maintain their Muslim identity but also avoid the social isolation and risks to mental health that many first-year students in particular are vulnerable to.
"As a first year student, finding a comfort zone with students that share similar interests and lifestyle decreases stress and creates a community of collaboration," she explained, "We often speak about academic levels drastically declining, and weight gain and depression caused by stress affecting first year students. All of this can be avoided if you create a group of students to help you with the social and academic transition into a new stage of your life."
Participants in the UOMSA's 101 Week will be receiving 101 Kits which contain information about the services available to them on campus, such as tutoring and counselling, tailored to their particular faculty. The kits will also include information to support Muslims new to the city, such as Muslim Link's 2013/14 Business and Services Directory.
The halal alternative UOMSA is offering promises to be just as fun as the regular 101 week. "The week starts off with 'The Amazing Race', a scavenger hunt that will not only help students familiarize themselves with the campus, but also introduce them to an alternative halal-fun environment," Mahmoud explained.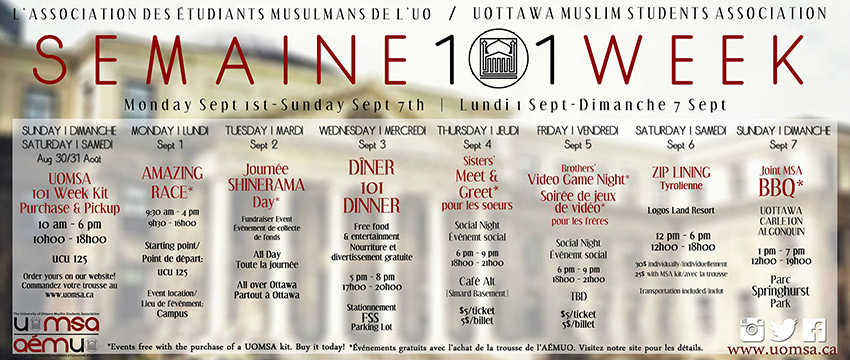 The UOMSA will also be joining with the regular 101 week for selected events it feels are in line with its values, such as the Shinerama fundraiser. "Shinerama is a fundraising initiative for cystic fibrosis, through participating in the event, students will get to meet some of their faculty members and familiarize themselves with their program," Shahad explained.
The UOMSA will be holding their usual 101 Dinner, which has become an annual tradition. Here, students will get a chance to meet MSA executives, committee heads and other members, as well as other students, both Muslim and non-Muslim. Entertainment and food are provided, free of charge, to all students of the University of Ottawa. "The 101 dinner has an average of 2,500 attendees every year, making it the largest MSA organized event of the year," Mahmoud stated.
The UOMSA Sisters' social committee will be holding a meet & greet and the Brothers' social committee will be holding a video game tournament in order to facilitate socializing and friendship building between students. "Our aim is to provide a relaxed environment where newcomers can make new friends as well as to get to know MSA members on a more personal level," Shahad explained.
"Saturday will be for our adventurous prospective members," Shahad explained, "we will be going Ziplining!"
On Sunday, the Muslim Students' Associations of Carleton University and Algonquin College will be joining the UOMSA for a BBQ. "Since, we do work on collaborative events throughout the year with other campuses, It is great for us to kick off the year with a united event," Mahmoud explained, "This event will also give all of Ottawa's MSA members a chance to know each other."
The UOMSA is also running a Mentorship program where students will be paired with older students in their Faculty. "This will help them get the advice they need to succeed in their first year and avoid many speed bumps along the way," Mahmoud explained. The program has been designed with the needs of international students in mind. "We will pair them with a person who, if requested, is comfortable speaking that person's language and who's in the same program," Mahmoud explained.
For students who are coming in from out of town, UOMSA provides a housing service. This service, depending on the request, offers students with recommendations of roommates, apartments, and areas to live in.
To learn more about the University of Ottawa's Muslim Students' Association's 101 Week visit the event page or check out their website. You can also follow them on Twitter and Facebook.
The Photo Gallery below demonstrates the variety of social, charitable and awareness-raising activities UOMSA students engaged in during the 2013 to 2014 school year.

This article was produced exclusively for Muslim Link and should not be copied without prior permission from the site. For permission, please write to info@muslimlink.ca.