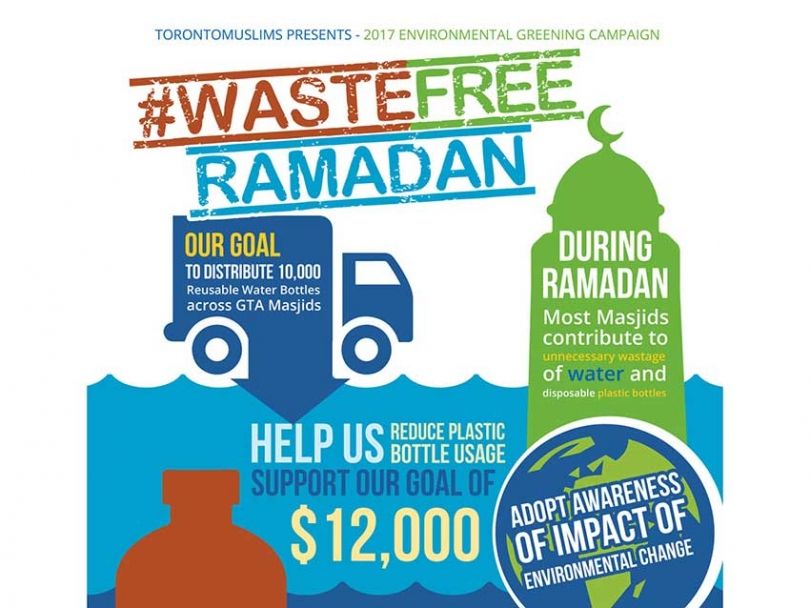 #WasteFreeRamadan has distributed 10,000 free Eco-friendly reusable drinking containers across Muslim places of worship in Toronto and the GTA.
TorontoMuslims.com
20
Jun


2017
TorontoMuslims distributes 10,000 Reusable Bottles during Ramadan
Written by TorontoMuslims.com
TorontoMuslims, a project of the Muslim Canadian non-profit organization Dawanet, launched a brand new environmental campaign aimed at promoting sustainable practices within Mosques and Islamic centres. #WasteFreeRamadan has distributed 10,000 free Eco-friendly reusable drinking containers across Muslim places of worship. Participating Masjids have discouraged salat-goers from bringing disposable plastic bottles, instead opting for the colourful range of BPA-free bottles provided by the campaign.
Tariq Syed, Dawanet's MuslimFest Event Director and #WasteFreeRamadan founder, explained the inspiration behind his cause. "I couldn't help but notice that Mosques become trashed with disposable plastic waste - particularly during Ramadan. After fasting the full day, its understandable people want to keep hydrated between prayers. But there are so many problems with using disposable bottles this way. Disposable bottles are rarely recycled, and are often left at Masajids for staff to clean up."
The campaign first drew attention through its LaunchGood fundraising page. TorontoMuslims, one of the largest Muslim directories in Canada, is a non-profit organization responsible for similar outreach projects and causes. "For years,I told myself there could only be benefit in implementing sustainable practices within our community. Alhamdulilah, it was worth the effort," Tariq notes.
Expressing interest in #WasteFreeRamadan was over 30 Mosques, places of worship, Islamic centres, organizations, community centres and schools. Most major Mosques, or Eco-Conscious partners, have already pledged to banning the bottle. Tariq explains he didn't anticipate the large demand. "We actually first started with 5,000 bottles. The response was incredible, so we rushed to order another 5,000 to accommodate. The inquiries keep coming in though. We're hoping the fundraiser will help support the demand." Mosque management have considered #WasteFreeRamadan a feasible alternative to unnecessary amounts of garbage.
The greening campaign has also picked up noteworthy online buzz and attention. Internet users have helped popularize the hashtag #WasteFreeRamadan by circulating eye-catching images of the bottles at several mosques. Prayer-goers report seeing the bottles in use everywhere, noting the discrepancy with Mosques that still provide disposable plastic bottles. However, Tariq's goal is to change this soon. "I sincerely hope our community can adopt awareness on beating environmental degradation and increasing sustainable practices like reducing, reusing and recycling. Now more than ever, we're so excited to launch an even bigger environmental campaign next year called #WasteFreeMuslims. "The expansion is aimed at accommodating bottle requests from across Canada, including Ottawa and Montreal.
Throughout the excitement of responding to positive online feedback, Tariq acknowledges an important driving factor behind #WasteFreeRamadan: Islamic Credence about protecting the Earth. "Our beautiful religion about practicing good deeds and living a fulfilling, Deen-conscious life. During the holy month of Ramadan, rewards can be increased in many ways, like charity, fasting, salat. I hope we can also include preserving our beautiful Earth and its resources InshAllah. Environmentalism and Islam is closely connected because Allah (swt) has bestowed the Earth as Amanah upon mankind. It should be preserved, and its resources respected. The Quran states, "Eat and drink from the provision of Allah, and do not commit abuse on Earth." (2:60)
Tariq adds: "The goal is to help our Muslim community make its mark in the fight against global warming and carbon emissions. While the UN is currently reiterating its commitment to the Paris Accord, this is a small step towards reaching our goal. I originally wanted to start small by introducing #WasteFreeRamadan to GTA Mosques. But now, we're responding to inquiries from across Canada, including a few from the United States. I'm blown away by the positive response and massive success of #WasteFreeRamadan. People can still get involved by using the hashtag and posting how they plan to make their Ramadan green. Also, by pitching in, every dollar counts towards supporting this important cause and bringing free water to fasting individuals."
To help support #WasteFreeRamadan, visit its fundraiser page WasteFreeRamadan.com. To volunteer or express interest, email This email address is being protected from spambots. You need JavaScript enabled to view it..