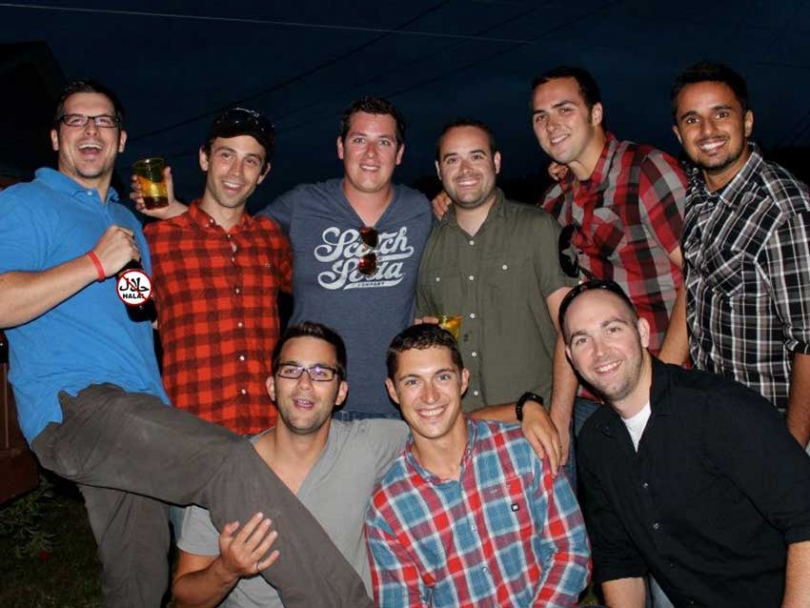 Muslim Link interviews Pakistani Canadian Baskanderi about growing up Muslim in Newfoundland and being the automatic designated driver for his friends.
13
September


2017
Pakistani Canadian Is Crowdfunding To Make Documentary About Growing Up Muslim in Newfoundland
Written by Chelby Daigle
Next Monday, Pakistani Canadian Aatif Baskanderi will be starting a trip across Newfoundland sharing his personal story as a Muslim growing up in the province. Aatif will be travelling over 2000km across Newfoundland visit 7 towns over 11 days. Many of these communities have sponsored Syrian refugees. He will be speaking at high schools, libraries and the provincial university. He is currently crowdfunding on LaunchGood to cover the cost of making the documentary "Salaam B'y - A Story of a Muslim Newfoundlander",  based on this trip in collaboration with award-winning filmmaker Amar Wala, best known for his work The Secret Trial 5 (2014).
Aatif is clear that his isn't a story about racism, Islamophobia or the identity crisis of being the child of immigrants, not that Aatif and his family have never experienced these challenges. However, as Aatif has travelled and lived in many cities across Canada and around the world, he has grown more and more appreciative of the values of sincerity, authenticity, and the importance of respecting your roots and cultural heritage he was raised with in Newfoundland. Now, he wants to find a way to share those values with the world through this documentary.
Aatif grew up in the rural community of Clarenville, Newfoundland. His father worked as a chemical engineer and although they were both religiously and culturally "outsiders" his story about this time is more one of kindness, welcome, and the joys of growing up surrounded by nature. As tough economic times hit the small town, Aatif's family moved to Vancouver, where he feels they faced more blatant racism, but they soon returned to Newfoundland. Aatif would later study engineering at Memorial University, in St. John's, Newfoundland.
Muslim Link interviewed Aatif about what being a Muslim Newfoundlander means to him.
Although there are many stereotypes that Muslims face from mainstream Canadians, the reality is that Muslims also come with their own biases and stereotypes. How do you hope to address stereotypes that Muslims, particularly those from professional backgrounds, like engineering, may have about mainstream Canadians, particularly those from rural and working class backgrounds, in your documentary? 
One of the things that propelled me to write my story was the misconception that I found many people, including Muslims, have of Newfoundlanders, particularly rural Newfoundland.
There is a stereotype in Canada about Newfoundlanders, amplified for those from rural communities. Newfoundland is seen as a "have not" province, so Newfoundlanders are perceived as lacking education and essentially being a Canadian version of a "redneck", thus prompting a level of classism. As such, rural people in Newfoundland are then stereotyped as being potentially more racist than say metropolitan Canadians. I found that not to be true and I wanted to address this misconception based on my upbringing where Newfoundlanders showed me fantastic warmth, hospitality and empowered me to be true to my Muslim faith. Newfoundlanders are also  some amazingly smart and innovative people who have a character to just "get'er done" (Don't waste time, get the job done).
A challenge newcomers to Canada often face is the expectation that they "assimilate" to some generic Canadian culture. However, Newfoundland in many ways demonstrates that there hardly is such a thing as a "generic" Canadian culture. Settlers to Newfoundland over the centuries have kept their cultures and ties to their homelands.
How do you hope to showcase the uniqueness of Newfoundland culture in your documentary?
A big part of my story is highlighting my uneasiness with the word assimilation and how Newfoundland didn't do that to me. They didn't expect or want me to chip away at my unique traits to be part of a "normative" culture. Rather, they empowered my uniqueness. Newfoundlanders have a history of this in their culture and history in Canada. Newfoundland heritage is something held on to very strongly, such as having a rich linguistic history. The character trait in Newfoundland of respect and essentially making it unacceptable to be fake or act like someone you're not sort of pressures you to actually be yourself. People could tell if you were trying to act in a certain way that wasn't genuine to yourself and would call you out on it.
I will be visiting numerous towns in Newfoundland with different levels of diversity to explore this further through community dialogue. I explain in my story how my friends would actually sometimes call me out on me not doing things they knew I would want to do as a Muslim, like if I missed a prayer for example and they knew it was important to me.
I asked my friends to perform traditional Newfoundland songs, that come from a traditional style from their Irish cultural heritage, at my wedding (Watch Video Below)
In the original essay that led to your public speaking trip across Newfoundland, you touch on the challenge of not being "Pakistani enough" for the large Pakistani community your family move into after having to leave Clarenville for Vancouver. There is often the assumption that newcomers would prefer to be amongst members of their "own" community, but it seems that your experience challenges that idea.
Do you feel that one of the main themes in your documentary will be exploring the question of what makes a community, be it a big city immigrant community or a rural small town, "welcoming" to new arrivals?
I definitely want to explore what makes a real community and the sense that being part of a community is not conforming or superficially assimilating to fit into a community, but rather a community is a group of supportive people who empower you to be the best of who you are, regardless if that fits their "norm" or not.
At the end of the day, I found that my community in Newfoundland to made me feel much more at home than necessarily the superficial features people might associate with community. I got to experience what I valued in a community, which is being with people who you can build a sense of belonging with while allowing you to be your true self.
You share in your essay that growing up in Newfoundland meant you were raised in a culture of "authenticity and sincerity". Do you feel that these values are lacking in other parts of Canada, if so, why?
When I say "authenticity and sincerity", I am primarily talking about how Newfoundlanders have little time for people not being true to themselves. As such, it pushes people to be sincere to themselves and their true character. I wouldn't be able to say if this is lacking in other places in Canada, as I can only give my own experience. That said, I remember when I had to move to Vancouver for a few years while growing up where it seemed like many people were just trying to keep up with emulating other people. Not saying that this doesn't exist in Newfoundland, but my experience in Newfoundland never really pushed me to be like that.
But as a practicing Muslim, how did you navigating the alcohol drinking culture of Newfoundland? Like a lot of the songs from Martime communities, like many traditional folk songs influenced by Irish, Scottish, and English cultures, focus on drinking alcohol. How did you navigate that, particular as a university student?
When I was in high school, I went to parties where people were drinking and no one ever pressured me to drink. I said I didn't, and then the conversation was over. Aside from the many cases that someone would then gladly buy me a Ginger Ale because many would say they appreciated that I didn't drink. Drinking is definitely a big part of the culture, but it was not something that would result in people excluding me from the community if I did not drink, nor did they expect me to change who I was.
On the other hand, I would have conversations with my cousins who grew up in Ontario who faced difficult situations because there were more Muslims around. Because when one non-Muslim person saw a Muslim drinking alcohol, they would then question my cousins about why they didn't drink, if another Muslim was drinking. Then they would have to defend their decision not to drink which can get pretty annoying. I never had to defend my decision to not drink because other Muslims around were drinking! If I said I didn't drink, that was the end of the conversation. I would also go out to bars with my friends, where if I were to order a Coke at the bar, most of the time, some random person at the bar would buy it for me after I told them I don't drink.
This may seem like a digression, but Canadian drinking culture is certainly a challenge for Muslims particularly at school, work, or socializing. Based on your experience, what advice would you give to Muslims about how to navigate these situations confidently?
As for advice for other Muslims, never attempt to do something you believe is wrong for yourself due to peer pressure. Also, you can surround yourself with people who do drink, as long as they are the ones who appreciate you and honour your decisions.
So, pretty much you ended up being the automatic designated driver for most of your friends?
Yes. I took it as an honour to ensure that my friends were always safe, and they, along with their parents, usually loved me for it
The reality is that Newfoundland, like many parts of Canada is facing serious economic challenges and job insecurity. This can sometimes cause tensions between communities, particularly along class lines. How do you hope your documentary will create space for discussions about the reality of socio-economic inequality in Canada and how this could be addressed so that it does not divide communities or make communities less welcoming to new arrivals?
I am currently an innovation consultant for a not-for-profit in Calgary, Alberta where my focus area is the energy sector. Alberta has taken a huge economic hit and facing economic insecurity, wherein it is my job to help guide people, either entrepreneurs or corporations, to develop innovations for a sustainable future, including job security. I talk about my life growing up and how my family faced job insecurity, and how it made us feel and the impact on the ability for us to build community while in the state of un- or underemployment.
In my experience in innovation and social development, at a local and international level, I have come to the conclusion that innovating for a sustainable future to tackle economic insecurity requires strong communities. When I say strong communities, I am referring to socially inclusive communities. One of the key reasons for this is that in innovation and economic development, it is critical to listen to diverse ideas with respect in order to identify opportunities to build for the future. The more diverse the ideas, sometimes, the better the innovation. Hence, assimilation to a normative culture reduces innovation. However, engaging with diverse groups through a culture of trust and community can unlock fantastic innovation potential. Building trust among groups is one of the most important enablers of innovation, from both a business and public perspective.
I want the documentary to open up conversations about social inequality in communities and engage some of these underlying issues, but with a positive lens that people can see the opportunity not just for economic development, but stronger communities all together.
Is there anything else you would like to add? 
My wife Nazia and I have received fantastic love and support from people everywhere, particularly Newfoundlanders, as we embark on this journey. Yes, there have been some racist remarks on my Facebook page, however there have been over 4,000 positive engagements that I choose to focus on. This is really the fuel that took this idea from a personal Facebook post only seen by my friends on June 10 of this year, to a speaking tour across Newfoundland and now documentary with a successful director (Amar Wala) and fantastic production team who care about this story. 
To donate to support the making of this documentary click here
To learn more about Aatif and his Newfoundland speaking tour, which starts Monday, visit here
This article was produced exclusively for Muslim Link and should not be copied without prior permission from the site. For permission, please write to info@muslimlink.ca.