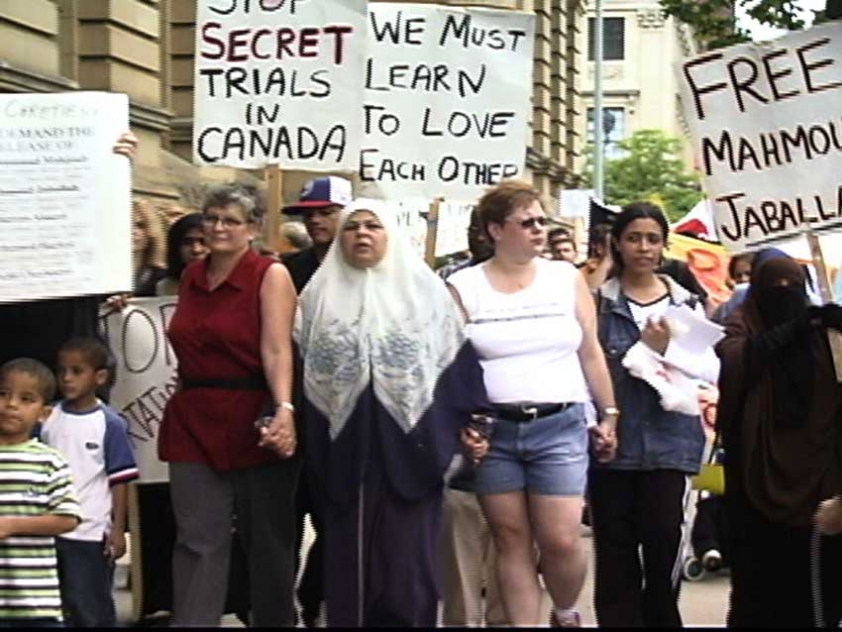 People in Ottawa demonstrate against security certificates
Courtesy of Amar Wala
17
November


2014
Secret Trial 5 Filmmaker Amar Wala Hopes to Take the Film Across Canada
Written by Chelby Daigle
When Toronto-based Indian Canadian film director Amar Wala first learned about the story of Egyptian Mahmoud Jaballah, whose son Ahmad had to interpret for his father while he was interrogated by CSIS agents, he thought it would make a great short film. "I just thought it was a crazy story. An eleven year old boy has to translate for his father while government agents interrogated him in their home and the translator fell asleep. Truth is stranger than fiction; you can't make that stuff up." The short film, The Good Son, was Wala's graduating piece from York University's film program in 2009.

But the more he learned about the Jaballah family and how it was possible in Canada for a non-citizen to be held without charge indefinitely under a security certificate, he soon realized that more had to be done to show Canadians the human impact of a rather obscure piece of immigration legislation being used in the "War on Terror". Wala's feature-length documentary, The Secret Trial 5, follows the stories of five Arab Muslim men who have been detained under security certificates.

Egyptians Mohamed Jabballah and Mohammad Mahjoub in Toronto and Moroccan Mohamed Harkat in Ottawa are all still being held under security certificates; however two other men profiled in the film, Moroccan Adil Charkaoui in Montreal and Syrian Hassan Almrei in Mississauga, were able to successfully campaign for their release. People held under a security certificate are to be deported however in each of these men's cases deportation was not allowed as it was deemed that they would be at risk of torture in their home countries. So instead, these men have been held either in jail or under house arrest without any formal charges being laid against them for years. Also, under this legislation, they and their lawyers are not allowed to know what exactly they have been accused of or what evidence is being used against them.

"If you say a person has been in jail for seven years without charge that should get us all angry, but Canadians didn't get angry and that is a big part of the reason why we made the film," explained Wala, "It wasn't that this issue was not covered by the media; the media covered it quite a bit. We focus more on the human side. But we are repeating a lot of the information that was already in the media but the reason why we had to repeat it is because people heard it and they didn't get mad, they didn't connect with these men and they should have."

For Wala, the issue is one of fundamental human rights "no one should be in jail for years without being charged." He states clearly in his Director's Note to the film that "I cannot claim that the subjects of my film are innocent. The truth is, I simply don't know. What I do know is that after 15 years under a security certificate, Mr. Jaballah is still living under house arrest in Toronto, never having been charged with a crime. The young Ahmad is now a dad himself, and yet we still don't know exactly what his father is accused of."

Wala and co-producers worked on the film for over four years. The first two years focused on research as they tried to understand the legislation, built trust with the detainees and their families, and crowdfunded for the production. They were able to successfully raise over $45,000 to produce the film.

Although the focus of the film is the men being held under the security certificates, the film also tries to raise awareness about the legal procedures of each of their cases. This is conveyed to audiences through animated segments based on research and interviews with top legal professionals in the field of human rights and refugee law such as Queen's University's Professor Sherry Aiken. Eventually a professional researcher was hired in order to vet all of the producers' research in order to make sure that the correct facts were being shared in the film.

It was through their research that Wala and the team began to understand the original intentions of the legislation. Security Certificates were meant to be a tool to make it easy to deport non-citizens deemed threats to national security. In 1978, they were introduced into the Immigration Act where they remained, with some adjustments, when the Act was updated in 1991. "Deportation as a remedy for terrorism on the face of it makes no sense but our research showed that it was often used as a mechanism to deport spies during the Cold War so that is kind of why it was created so that helps to give you a historical perspective to understand why these certificates were created in the first place," he explained.

Over the course of the production, as he followed each case, Wala observed the significant differences in activist culture within English and French Canada. "Quebec has this history of struggling for their own culture and voicing their opposition to things very very loudly with planned protests," he explained, "It seemed like people were a lot more engaged in this issue in Montreal and I think that is partly why Adil Charkaoui was able to win his case sooner than the other men. His case received a lot of press and the activist community really got behind him and the general mainstream public also got behind him in a certain sense. That didn't happen at all for the men living in Ontario. So I find that although there are very robust and passionate activist communities in all parts of the country, in Montreal you could see and feel the difference and you could see how much more the public is receptive to this kind of discourse around human rights. In Ontario, it felt like the groups of protesters were always much smaller and that it was much hard to get that message across to the average person. And that is an important message to get across to the average person because if you don't have them on your side on this issue it is going to be very difficult to convince the political powers."

Although never directly discussed in the film, Wala feels that Islamophobia plays a significant role in why there was very little public outcry when these men, all Arab Muslims, were detained without formal charges being laid. "The certificates were being used to target a very specific group of people and they have always been used to target specific groups of people. There was a time that it was being used against leftists from Latin America so it has morphed over time. Whenever you come across what academics call "The Suitable Other" of the day that is the kind of person who is going to be targeted with these kinds of devices. So for the last 15 to 20 years in our society that figure has been the Arab Muslim Male. It is not a coincidence that these men are all Arab Muslim males even though they don't know each other; they come from very different backgrounds and different countries they are characterized in a very simplistic kind of way. I think that that also made it much more difficult for people to relate to them."

Wala is quick to point out that his own ability to relate to these men was simply based on them being fellow human beings. He is not Muslim and although an immigrant, he and his parents were English speakers and economically quite privileged. "I never saw these men and thought that could be me. Because it couldn't. I was never vulnerable like them. I'm what you consider the 'safe immigrant'", he explained. But he does feel his own experience as a child of immigrants did influence how he perceived the plight of these men's children. "When I hear about what it was like for the families to come to Canada, to integrate to Canada, I went through a lot of those struggles myself but it was a lot easier for me because we came from a position of privilege. These men's families were mostly refugees, Adil Charkaoui is the only one who was a permanent resident, so being a refugee and a permanent resident are two different things, refugees are much more vulnerable. It was hard to see what these families were going through. I remember how hard it was to start to make this feel like home but imagine going through all of that and then having your dad taken away from you without charge," he explained.

The Secret Trial 5 Team is now crowdfunding in order to raise money to tour Canada with the film. "We've worked on this film for four years. We want people to see it," he stated. He feels that now is an important time to start building a national conversation on national security and responses to terrorism which is based on real evidence and gives serious consideration to human rights issues. "At the very least, regardless of where you stand politically, it is something we should be getting out in the open and talking about and the only way to do that is to understand the human consequences of it, understand how this affects people, men, women and children not just the characterized Arab Muslim Male we think of when we hear names like Harkat and Charkaoui. Our goal is to help the audience see these people just as people."

Wala has been heartened by Canadians' responses to the recent tragedies in Ottawa and Quebec where members of the Canadian Armed Forces were killed by Canadian men who had converted to Islam. "Ordinary Canadians started talking about the role that addiction and mental illness might have played in these men's actions. I think people are more open to a nuanced approach to discussing these issues," he explained.
Although the Supreme Court this year upheld security certificates, he thinks the fact that no certificates have been issued since 2006 shows that the pressure from human rights groups and concerned citizens has been recognized by the government. "Non-citizens who have been accused of terrorism are now being charged under the Criminal Code so they know what they are accused of and they know what the evidence is against them," he stated.

Wala really hopes to work with local Muslim communities to make it easier for people to see the film, particularly Muslim youth. "I want a younger generation of Muslims to see the film and be hopeful about the future if we keep talking about these issues and if they speak up for their community," he explained. He is currently working with some mosques and Islamic schools to screen the film and has received requests from Muslim student organizations, like the Muslim Law Students' Association.

If you are interested in organizing a screening in your community or want to know more about when the film is coming to your city visit The Secret Trial 5 Website or send an email to This email address is being protected from spambots. You need JavaScript enabled to view it.
To contribute to the crowdfunding campaign in order to screen the film across Canada visit the Secret Trial 5 Kickstarter Page.
The Secret Trial 5 is screening in Ottawa at the Bytowne Cinema on Monday, Nov. 17 at 5:00 pm and Tuesday, November 18 at 9:15 pm.
To learn more about the campaigns for those still being held under secruity certificates visit:
This article was produced exclusively for Muslim Link and should not be copied without prior permission from the site. For permission, please write to info@muslimlink.ca.