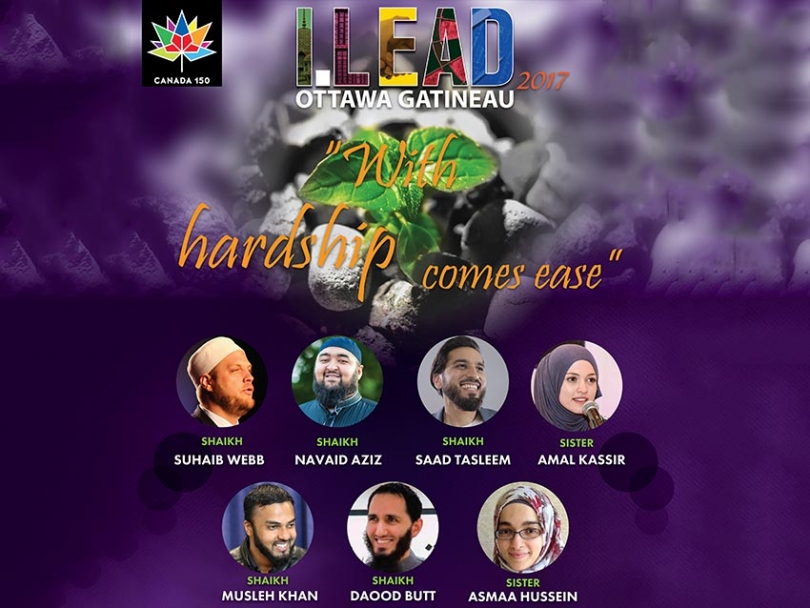 The I.LEAD conference is back for a fifth year and will take place on Saturday, July 15th.
12
July


2017
Check Out Ottawa's Annual Muslim Community Conference I.LEAD This Saturday
Written by Chelby Daigle
The I.LEAD conference is back for a fifth year and will take place on Saturday, July 15th. Tickets can be purchased online here.
Muslim Link interviewed the I.LEAD organizers about what people could look forward to at this year's conference.
1. What is the theme of this year's conference? How and why was this theme chosen?
The theme of this year's conference is "With hardship comes ease." The theme is not only inspired by the global turmoils taking place in this day and age, but it also serves as a reminder to us that hardship and pain are a natural part of life. However, we are reminded by Allah in ayas 5--6 in surat Ash-Sharh that "So verily with hardship comes ease, verily with hardship comes ease." The beautiful islands we see in oceans are created out of violent volcanoes. The gold has to taste the fire to be pure. Without the pain of childbirth, we wouldn't exist. This message serves as beacon of hope for Muslims who are struggling at a personal level, as an ummah and worldwide.
2. Who makes up the organizing team behind I.LEAD this year? How is it different than in past years?
This year's I.LEAD team has some of the familiar faces that have been with I.LEAD since its inception, along with a lot of new faces. One thing that I.Lead is particularly thrilled about is the increase in youth involvement in the planning process, program selection and overall conference in general. The younger generation not only bring a lot of unique ideas and perspectives to the conference, but also an abundance of enthusiasm and positive energy.  We feel that this is also representative in the speakers as we have some younger speakers this year to attract the youth and help engage them and reach them on a personal level.
3. How were speakers selected for the conference?
The speakers were selected based on their record of topics they delivered in the past, and their relevancy to the theme. We tried to choose a diverse selection between Canadian and US speakers, females and males as well as from different ethnic backgrounds and schools of thoughts. We also have new faces as we have invited many speakers that have not spoken at I.LEAD in previous years, including younger speakers (Amal Kassir, 24) to engage and motivate our Muslim youth.
4. Tell us about your speaker lineup and what insights you hope they will offer Ottawa's Muslim communities?
We have a great line-up of speakers this year, Alhamdulillah. Our speakers are Sheikh Suhaib Webb, Sheikh Musleh Khan, Amal Kassir,  Sheikh Saad Tasleem, Asmaa Hussein, Sheikh Daood Butt and Sheikh Navaid Aziz. The speakers are chosen from different backgrounds. Some are very famous speakers and some are new but talented speakers. This year we tried to have all the speakers from North America to be aware of topics affecting our youth and to be able to relate to them. To learn more about the speakers visit here.
5. Will there be a bazaar? Are there still opportunities for vendors to purchase a booth?
Yes, like every year, I.LEAD will be having a bazaar. Unfortunately as we are just a few days away from the conference we do not have any more spots available for vendors. However, we hope that everyone visits the bazaar as it is always filled with bustling activity and interesting booths. In addition to the products and services offered by vendors, organisations and businesses, it also serves as a great time to connect and meet with people from Ottawa as well as nearby cities.
6. Community members have raised concerns with the I.LEAD organizing team that the lineup of speakers this year is less reflective of the diversity of Ottawa's Muslim communities than the lineup had been in previous years, such as the lack of inclusion of any Black speakers, despite Black Muslims being a very large part of Ottawa's Muslim community and the inclusion of quality Black speakers in every previous year of I.LEAD.
There are also no French sessions, despite the reality that many Muslims in Ottawa-Gatineau are Francophone, and French sessions were included in previous years of I.LEAD.
What is I.LEAD doing to address these legitimate concerns from the community this year? How will the conference organizing team ensure that next year's conference will return to I.LEAD's tradition of reflecting Ottawa's diverse Muslim communities?
In Islam we're taught that there is no difference in our colours, be it black or white. However, we understand there are many factors affecting Black Canadians, especially Black Muslim Canadians that deserve attention. Please be assured that we approached many different speakers for this year's conference but our final line-up was chosen based on availability and interest, as our purpose is not to fill our line-up with a speakers from each ethnicity. We do however try our best to showcase the diversity that is present in our community.  We approached many different speakers, including many Black speakers for this year's conference, but our final line up was chosen based on availability and interest.  It is important to keep in mind that many highly recognized and renowned speakers are often in high demand and require over a year in advance to book. We are proud that we have had many highly intellectual Black speakers in previous years, such as Sheikh Yasser Fazaga and Sheikh Said Regeah. Our lack of Black speakers is in no way meant to exclude any of our Black Muslim brothers and sisters and we encourage [them]to come to ILEAD to keep communicating openly regarding any issues and feedback.
With regard to the French program, we did have French sessions offered in previous years to serve our francophone community.  However, due to unforeseen circumstances, our French speakers cancelled at the last minute and it put us in a position where we did not have adequate time to select another line-up. However, we hope that our francophone brothers and sisters who are able to understand English will still be able to come out and enjoy our esteemed speakers.
7. Can people still volunteer for this year's conference? Will community service hours be provided for high school students?
Unfortunately at this time we have already reached our capacity level for volunteers, however, we do provide volunteer hours for those who signed up in advance to volunteer at I.Lead. In fact, just last Saturday we held our I.LEAD Volunteer Orientation and we cannot wait to see them again on the 15th!
8. How could community members volunteer with the I.LEAD organizing team to help with theme-development, speaker selection, logistics, volunteer recruitment, sales and promotion for next year's conference?
I.LEAD has always been very receptive to ideas and feedback from the community and we can be reached online through our website, email or on our Facebook page. In addition, we always provide a space for our attendees to provide their insight, impressions and constructive criticism as we continually strive to build on and improve our annual conference. 
This year, for the first time at I.LEAD we're having an Open Mic session during the lunch break which will be moderated by one of our speakers and in which our I.LEAD team members will be taking notes for future conferences. This Open Mic session will be open to community members to have their say regarding I.LEAD programming, speakers, organization, etc. and they will also be encouraged to discuss other local issues and concerns that may be relevant.  We encourage people to take advantage of this new initiative in order to have all community members, from the youth to the elderly and of diverse backgrounds, to get engaged in this conference as well as in future events.
9. Is there anything else you would like to add?
Alhamdulillah, this is our 5th I.LEAD conference and every year we're trying to improve and build on our programs at a grassroots level as well as based on feedback and information derived from other conferences.
**********
I.LEAD is organized by the following organizations: Assunnah Muslims Association (AMA), Outaouais Islamic Centre of Gatineau, Islam Care Centre, Islamic Society of Gloucester, Jamiatul Muslemeen of Ottawa-Carleton (Jami Omar), Kanata Muslim Association (KMA), Muslim Association of Canada - Ottawa Chapter (MAC), Ottawa Muslim Association (OMA), South Nepean Muslim Community (SNMC), Islamic Society of Sandy Hill, Carleton University Muslim Student Assoaciation (CUMSA) and the University of Ottawa Muslim Student Association (UOMSA).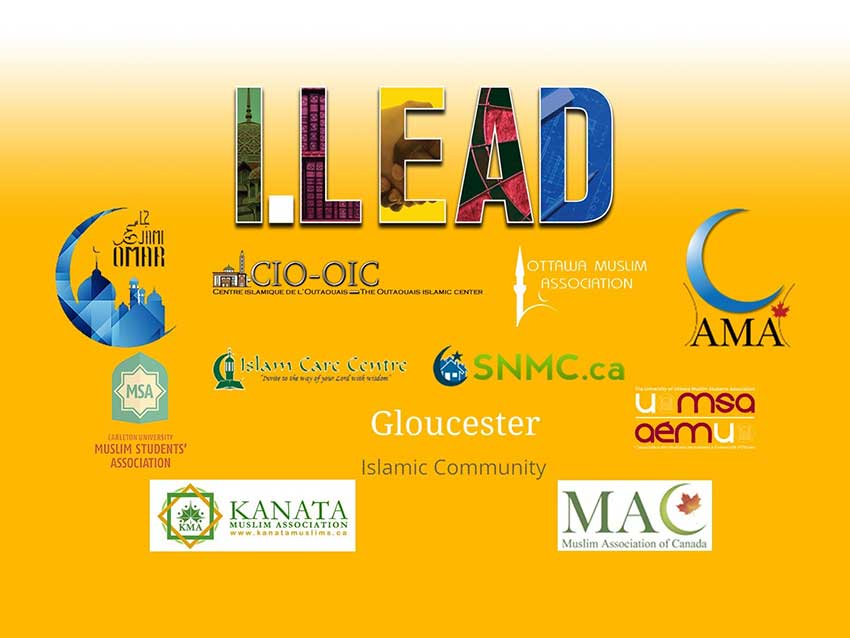 This article was produced exclusively for Muslim Link and should not be copied without prior permission from the site. For permission, please write to info@muslimlink.ca.