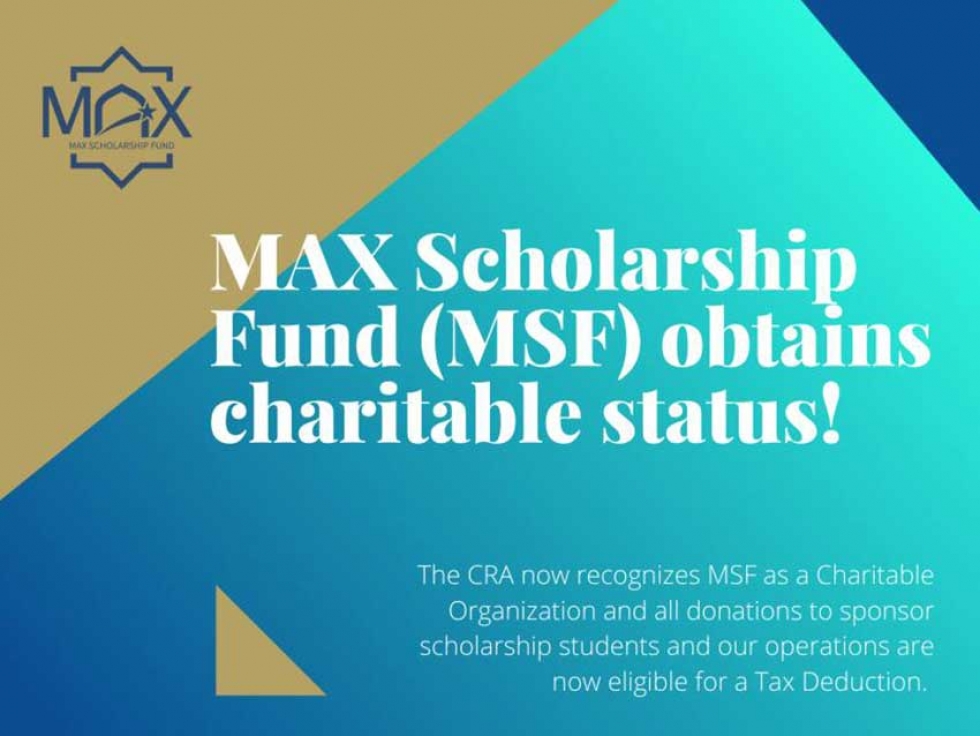 20
Dec


2019
Muslim Awards for Excellence (MAX) Scholarship Fund Obtains Charitable Status
Written by MAX Gala
The Muslim Awards for Excellence (MAX) Scholarship Fund (MSF) is pleased to announce that the Canada Revenue Agency (CRA) now recognizes MSF as a Charitable Organization and all donations to sponsor scholarship students and our operations are now eligible for a Tax Deduction.
Set Up A Family Endowment: We are now in the process of accepting our initial Endowment Contributions (eligible for tax deduction) which can be used to set up a Scholarship in perpetuity. We are accepting new sponsors till January 7, 2020.
If you, or anyone you know, are interested in sponsoring a scholarship or setting up an endowment, please contact This email address is being protected from spambots. You need JavaScript enabled to view it. or This email address is being protected from spambots. You need JavaScript enabled to view it..
MAX Scholarships Fund (MSF), affiliated with MAX, is now a separate entity that is focused on continuing to deliver a robust, year-long scholarship intake and evaluation process, to determine the Annual MSF Scholarship Winners. Winners are talented high school and university students who are eager to make an impact, learn and create. They are students who have contributed to their communities and Canada at large, achieved academic excellence and are recognized by their peers throughout.
Thank you to all past and present Sponsors for being a part of this movement, for striving to motivate young scholars and rewarding a diverse range of students, who through their sheer hard work are making an impact.
The 2020 Applications cycle will run through February 1 to April 15, 2020. Scholarships amounts range from $3,000 to $20,000 depending on individual scholarships.
Feel free to reach out with any questions you may have via email at: This email address is being protected from spambots. You need JavaScript enabled to view it..