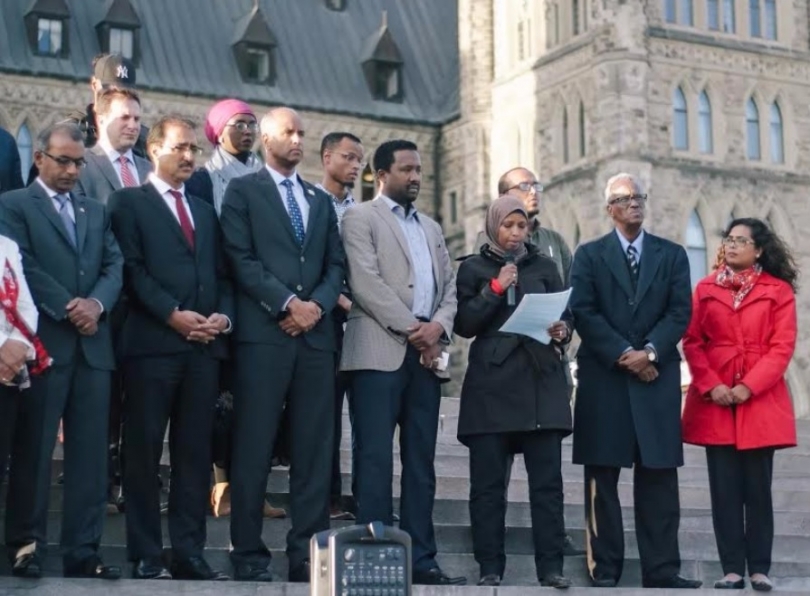 Farhia Ahmed speaks on Parliament Hill with MPs from all parties to mourn the victims of the recent terrorist attack in Mogadishu.
M. Ali
21
Oct


2017
MPs and Somali Community Gather on Parliament Hill To Mourn The Victims of the Mogadishu Attack
Written by Farhia Ahmed
On October 19th, a vigil was organized by Somali community members in partnership with the office of the Minister for Citizenship, Immigration, and Refugees, Somali Canadian Ahmed Hussen, to mourn the victims of the recent terrorist attack in Mogadishu which has killed over 500 people, leaving hundreds more injured.
Farhia Ahmed, a local Somali Canadian community organizer, was asked to address the gathering. The following is her speech.
****
Today we are here to show our solidarity with those grieving for the attacks in Somalia. We are all here because we recognize that while we may come from different nations we are all humans.
Before I go any further, I would like to take a moment to acknowledge my First Nations brothers and sisters on whose land we are gathered – the traditional unceeded Algonquin territory.
Friends, I am here today because I have a special connection to Mogadishu.
Mogadishu was the city I was born in at a time when it was seeing its most prosperous days. Life was swell for parents. They were living a comfortable life in a city with lush greenery, crystal clear beaches and its beautiful ivory coloured buildings and artistic architecture.
Shortly after I was born, before any signs of war, an opportunity presented itself and the next thing you know, we found ourselves here in Ottawa. That was 38 years ago.
I left Mogadishu as a toddler, and by the time the civil war broke out I was in elementary school. I grew up here in Ottawa sheltered from the reality of war that my immediate family was suffering. I grew up to loud late night long distance phone calls which often led to sleepless nights of tears and worry for my parents. Many of my relatives perished in those ugly years.
Those years eventually passed. After graduating university some of my peers were announcing their return to Somalia. Somalia was on the up and up. Rebuilding was happening. A promise of brighter future was emerging.
Mogadishu was rising.
Last year for the first time in 38 years my father went back to Mogadishu. He would send me videos of him chilling on the beach. Having tea with his friends, walking the streets of Mogadishu just as those who did this last weekend.
Saturday's Terrorist Attack which claimed the lives of over 500 and injured more than 400 was the deadliest attack the region has ever seen.
Do you know who these victims were? They were people like you and enjoying a sunny saturday in their nation's captial. Going about their day. To work, to market, dry cleaners, coffee shops. Among them were many students who were the bright pillars of the country's future. Young doctors, engineers and entrepreneurs. Those who were committed to bringing peace and security to the country.
We've all been watching the news unfold in horror. As we tried to make sense of it, we as a Somali community, have been scrambling to see what could be done and how to help.
The attacks in Somalia are horrifying & Canada condemns them strongly. We mourn with the Canadian Somali community today.— Justin Trudeau (@JustinTrudeau) October 15, 2017
The Toronto sign will be lit in the colours of Somalia's flag today in memory of the innocent victims of terrorism in Mogadishu. Our thoughts are with Somalia.— John Tory (@JohnTory) October 16, 2017
I want to personally thank all the leaders that have added their voice to this crisis and who have expressed their condolences. I want to thank them for not being selective in their support for victims. Terrorism has no religion. Terrorism has no nationality.
Somalis are among the proudest Canadians you will find. We are incredibly passionate and compassionate community. We stand tall with our friends and communities. At any vigil or major community gathering, you will always find us there. We show up in numbers when our greater community needs us because we know that our strength as Canadians is in supporting each other through thick and thin!
In the late 80s and early 90s there was strong anti-Black, anti-Somali sentiment in Ottawa. I had to grow tough skin but I also grew up with 6 brothers, sisters and many cousins. At school and on the playground bullies knew not to mess with me. Not just because I have a strong left hook, but because they knew that messing with me meant messing with my strong network of support.
What Somalia needs right now is for the international network of support to stand up so that scum like the leaders of Alshabab don't have a chance. We need to show them that Somalia is not alone, that their brothers and sisters in Canada have not forgotten them, that they have strong support from across the globe. Then and only then can we achieve global security. We must aim high for this and the only way to get there is to change our mindset and intimidate terrorists with our unity because we all know, all the want is to divide us.
We are no longer in a point of history where what happens over "there" wont effect us over "here".
Today we are appealing to the Canadian government to support the recovery effort and identification of the dead. Serious forensics are needed in a situation as bad as this.
The community is working hard to raise money to support the recovery and the victims. We want Canada to match our efforts and show the kind of courage and leadership that the global community is eager to see.
I'm very proud to see that the support from across political stripes today.
I want to Thank the Honourable Ahmed Hussen for his leadership this week and the sleepless efforts of those who have organized this event.
Thank you.
This article was produced exclusively for Muslim Link and should not be copied without prior permission from the site. For permission, please write to info@muslimlink.ca.