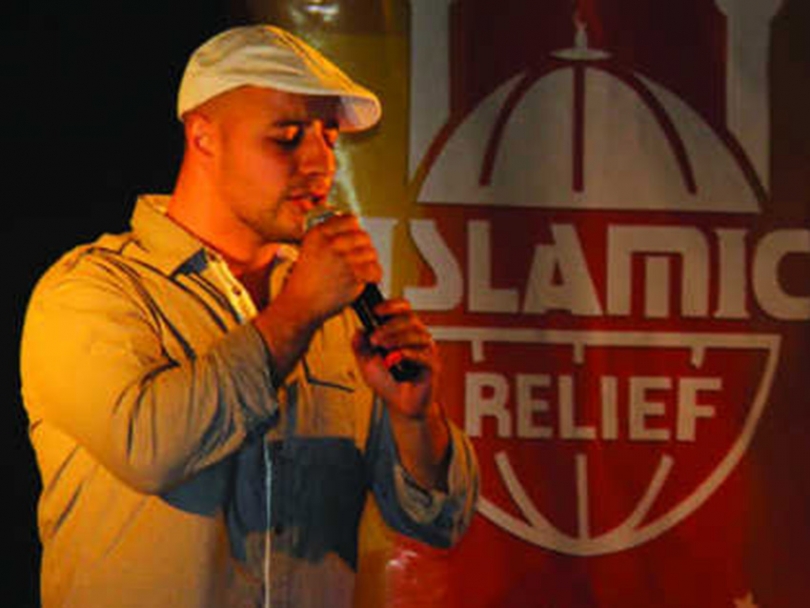 Maher Zain in Ottawa.
Photo Credit: Islamic Relief & MAC
11
Mar


2012
Friday, Feb. 24, and Ottawa receives one the heaviest snowfalls of the year. But that doesn't deter Maher Zain fans who throng Tudor Hall this evening, prepared with flags, lyrics in mind and warmed up voices. Multi-platinum singer, songwriter and performer Maher Zain has come from afar, and the Ottawa audience has been waiting for him for a long, long time.
"Is he going to sing Insha'Allah (Maher's hit song from his debut album)?" the crowd keeps asking the organizers.
"It's a surprise, you will have to wait and find out!" Muslim Association of Canada volunteers urge.
You can see the crowd waiting impatiently. After all, they have been talking about, and preparing for this concert for months. This is Ottawa's most-anticipated Muslim event; something to live forward towards.  And live forward towards they have. They have blogged about the concert, posted status updates about it and made their friends and aunties purchase tickets.
And now the time has come see Maher Zain perform live!
Maher Zain, a Swedish-Lebanese singer songwriter, has released multiple singles, acquired double platinum status in CD sales in Indonesia and traveled all over the world to share his art, his brilliantly pure vocals and his catchy R&B songs to packed audiences. The lyrics to his songs have been memorized by Muslim children everywhere, from India to Canada.
The purpose of Maher's current tour across Canada is to raise money for orphans and children in need through Islamic Relief Canada, a Burlington, Ontario-based organisation. For this specific tour, Maher has traveled for 18 days across North America to help us remember to give, and all the while sharing his spectacularly written songs.
The concert begins. As each song starts, Maher's fans' hearts fill with joy and every now and then, a voice shouts excitedly: "I know this one!!", or sometimes says more quietly, "I do not know this song, but very quickly I must!"
After eight beautifully orchestrated and skillfully sung songs, the audience wants more! "One more,"they plead, before joining the line to purchase Maher's albums, so they can hear the songs many, many more times.
Maher Zain is known all around the world as a pious composer whose music and lyrics reflect the everyday experiences of ordinary Muslims. Maher's songs contain dhikr (remembrance of Allah), special reminders to be thankful and messages of hope and trust Allah in difficult situations.
Although Maher joined Awakening Records Label just three years ago, his catchy, R&B songs with arabesque undertones have quickly gained acclaim as his lyrics are relevant to all generations everywhere. In 2010 he was the most Googled celebrity in Malaysia.
Maher sings mainly in English but has released some of his most popular songs in other languages, such as: Urdu, French, Arabic and Turkish.
Needless to say, Maher Zain's music appeals to all and there is little work involved in convincing people to come to his concerts. They willingly reserve their seats.
Thanks to MAC and Islamic Relief Canada for organizing this beautiful event for such a worthy cause.
Anastasia Filippova is an Ottawa-based
singer / songwriter.
www.anastasiasongs.ca 
This article was produced exclusively for Muslim Link and should not be copied without prior permission from the site. For permission, please write to info@muslimlink.ca.