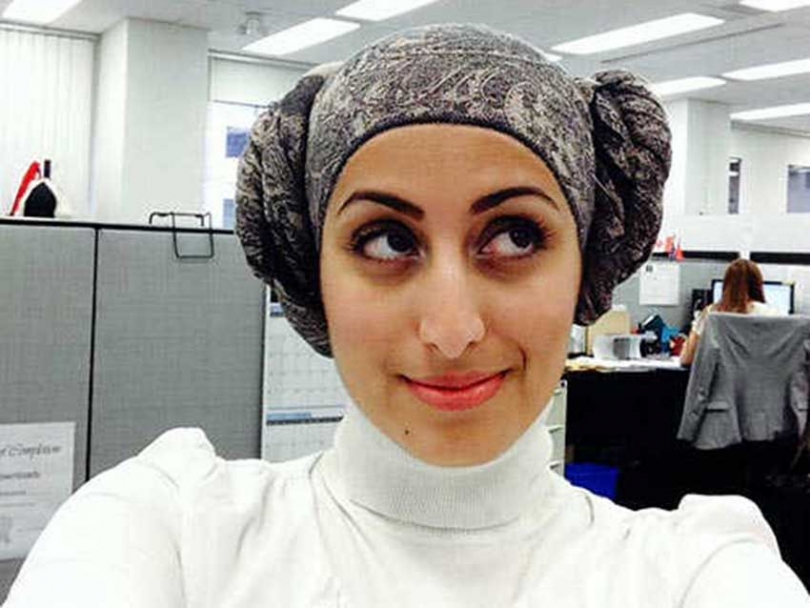 Nagat Bahumaid sporting a 'Princess Leia' hijab.
07
Nov


2013
Local hijabi's Halloween costume goes viral
Written by Chelby Daigle
This Halloween, Nagat Bahumaid was surprised to find herself on the front page of Imgur, a popular photo sharing site. A friend had casually posted a photo Nagat had taken of herself at work dressed as Princess Leia from the film Star Wars, using her hijab to make those classic Princess Leia braids. Within a few hours the photo went viral, getting over 100,000 views and shared on blogs around the world.
Her photo has raised much debate on blogs about Muslim women and hijab. When the photo was posted on the Star Wars Reddit blog under the title "Muslim woman Halloween win", fans found their usual conversations give way to debates about which Qur'anic verses stipulate that a Muslim woman must cover her hair.
Nagat is aware that some Muslims do not participate in Halloween for religious reasons. She sees Halloween as more of a Western cultural tradition similar to some Arab traditions in Iraq and the Gulf States where children also dress up and go knocking on doors for candy. Her intention was to change the way people think about Muslim women who wear hijab. "I tried to have fun on Halloween for work and show how Muslim women can have their own fun, without big costumes or weird makeup, just simple clothing and make a statement with that," she explained. She feels that the overall response to the photo has been positive. "From people's comments and how it went all over, you could see many Non-Muslims supporting it and even Muslims too because women view this as a way to empower the hijab. I have seen Muslim feminists and Muslim women who have blogs about the hijab posting it because they were happy to see a Muslim woman showing her hijab in a fun manner," she shared. 
This article was produced exclusively for Muslim Link and should not be copied without prior permission from the site. For permission, please write to info@muslimlink.ca.