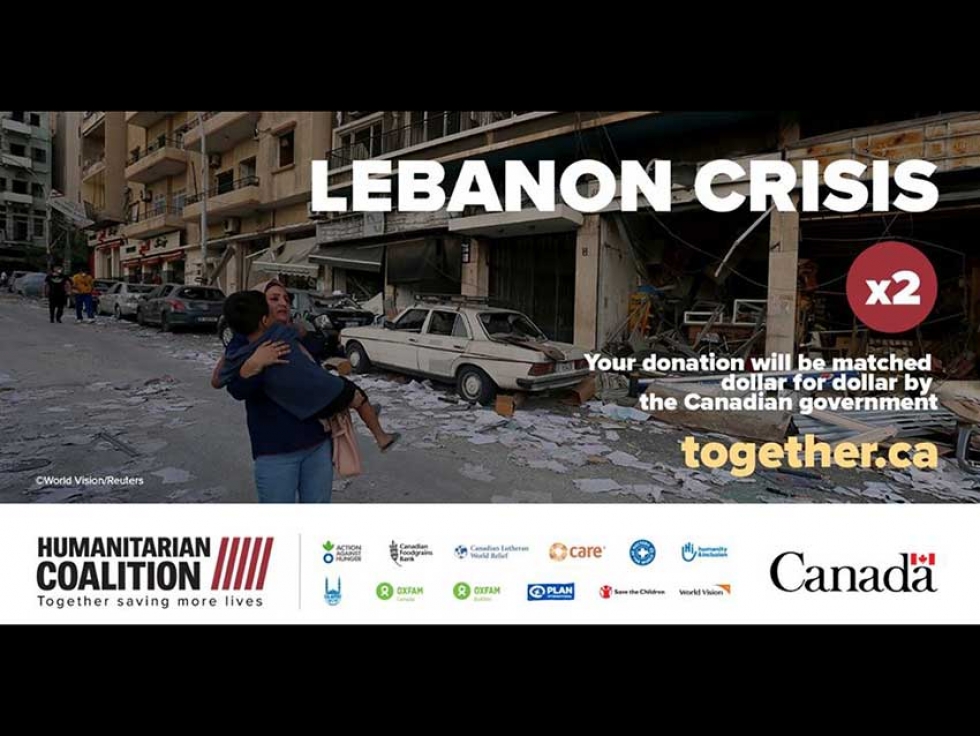 Humanitarian Coalition
10
Aug


2020
Lebanon Crisis: Donations to the Humanitarian Coalition Received Before August 24 Will Be Matched by The Government of Canada
Written by Humanitarian Coalition
The Humanitarian Coalition brings together leading aid organizations to provide Canadians with a simple and effective way to help during international humanitarian disasters.
The following agencies are members of the Humanitarian Coalition: Action Against Hunger, Canadian Foodgrains Bank, Canadian Lutheran World Relief, Care Canada, Doctors of the World, Humanity & Inclusion, Islamic Relief Canada, Oxfam Canada, Oxfam-Québec, Plan International Canada, Save the Children, and World Vision.
The Humanitarian Coalition salutes the commitment of the Canadian government to match the donations made to provide assistance to the Lebanese people, after the disaster that devastated the city of Beirut, Lebanon.
It is estimated that the explosion on August 4 of a warehouse in the port of Beirut has left at least 100 people dead, and thousands injured. More than 300,000 people have lost their homes.
The Humanitarian Coalition is already at work in the city delivering life-saving assistance to those in need.
In response to this disaster – complicated by an already critical situation in the country – the Honourable Karina Gould, Minister of International Development, announced [on August 8th] that the donations from individual Canadians made to the Humanitarian Coalition or one of its 12 members before August 24 would be matched by the government, up to a maximum of $2 million.
Members of the Canadian public can make a donation to provide emergency assistance to the people of Lebanon securely online at www.together.ca, or by phone at 1 800 464-9154.
Barbara Grantham, President and CEO, CARE Canada, said: "Canada's leadership in providing humanitarian relief to the people of Lebanon comes at a critical time. Even before the Beirut explosion, thousands of families have been struggling to deal with the COVID-19 pandemic and put food on the table, with 50% of the Lebanese population living below the poverty line. CARE's teams are already mobilizing to distribute food and psycho-social support, with a particular emphasis on the women and girls who are most vulnerable in these situations. I have every confidence that Canadians, who are always so generous in times of crisis, will once again show our collective generosity by donating to these emergency relief efforts."
Jessica Capasso, Plan International Canada's Director of Emergencies and Humanitarian Assistance, said: "We want to thank the Government of Canada for taking action to support the children, families and communities in Beirut that desperately need our help in the aftermath of this tragedy. We also want to thank the many Canadians who swiftly and generously donated to relief efforts these past few days. The people of Lebanon will still need our support in the difficult weeks and months ahead, so we are asking all Canadians who are able to donate to do so."
Bill Chambers, CEO Save the Children, said: "This horrific incident could not have occurred at a worst time and has hit communities who were already suffering from the impact of the COVID-19 crisis and the economic deterioration in Lebanon. Over 100,000 children are now homeless and in need of immediate care. Save the Children welcomes the government match fund and thanks the Canadian public for their kindness and generosity to help children in crisis."
"This Government of Canada match fund for the Lebanon crisis comes at a critical time", says Michael Messenger, President and CEO, World Vision Canada. "The deadly Beirut explosion has shaken not just the city, but the whole country. It's yet another disaster for a country that is already coping with rising COVID-19 infections, in addition to an economic and refugee crisis. As a member of the Humanitarian Coalition, World Vision is responding on the ground to ensure the most vulnerable girls and boys are supported, protected, and are given access to basic necessities. People living near the epicenter of the blast are in urgent need of life-giving essentials. And this is also devastating development for the 1.4 million Syrian and Palestinian refugees and Lebanese people throughout the country who depend on vital supplies delivered from the port area."
To donate to the Humanitarian Coalition's fundraiser for Lebanon, click here