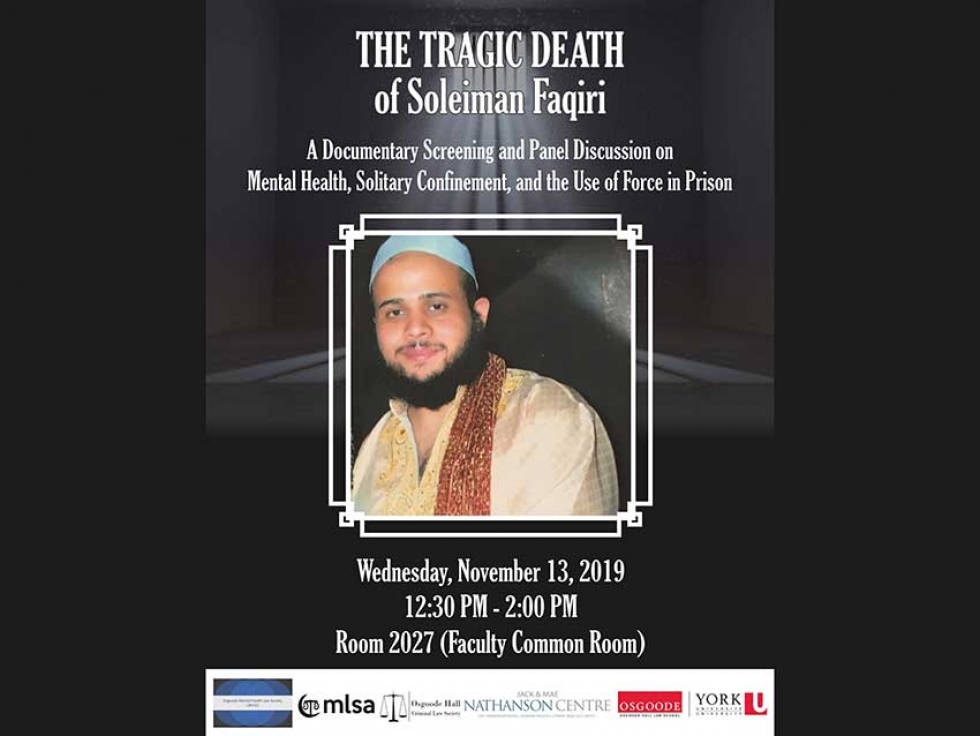 07
Nov


2019
Learn about the Tragic Death of Soleiman Faqiri: Mental Health, Solitary Confinement, Use of Force in Prison on November 13 in Toronto
Written by Justice for Soli
The Tragic Death of Soleiman Faqiri: Mental Health, Solitary Confinement, Use of Force in Prison is taking place on November 13, 2019 at 12:30 pm at Osgoode Hall Law School in Toronto, click here for event details.
This event includes a screening of the CBC Fifth Estate documentary about the death of Soleiman Faqiri followed by a panel discussion which includes Yusuf Faqiri, Soleiman's brother.
This event is organized with the Justice for Soli campaign and sponsored by the Nathanson Centre on Transnational Human Rights, Crime and Security and supported by the Muslim Law Students' Association, Criminal Law Society, and Mental Health Law Society.
Soleiman Faqiri was a 30 year old Afghan-Canadian with schizophrenia who died while incarcerated. He was arrested on December 4, 2016 on charges of assault and uttering threats. He was held at the Central East Correctional Centre (CECC) in Lindsay, Ontario while awaiting treatment for mental illness.
Eleven days later, he was found dead in his cell after an altercation with prison guards.
The Coroner's report revealed that Soleiman had more than 50 bodily injuries caused by "blunt impact trauma." He had also been pepper-sprayed twice.
An investigation by the CBC's The Fifth Estate heard eyewitness accounts of a brutal beating.
No charges were laid against the guards involved.
In January 2019, Soleiman's family sued the province, alleging Charter, tort, and negligence liability for the use of "excessive force" causing death.
PANEL MEMBERS
Yusuf Faqiri: Soleiman's brother and an advocate for mental health justice in corrections. He will speak about his brother's life and death and the need to improve conditions for persons with mental illness in Canadian prisons.
Nancy Chabonneau: A Toronto-based prison lawyer who studied law at McGill University and has been practicing prison law since 2005, mostly in the area of federal parole.

Lunch will be served.
To keep up to date with the Justice for Soli campaign, follow it on Facebook and Twitter.
You may also wish to support the family's campaign for justice by making a financial contribution through LaunchGood.com here.
If you are unable to attend the event, you can watch the documentary below (It may take a few moments for the video to load from YouTube)