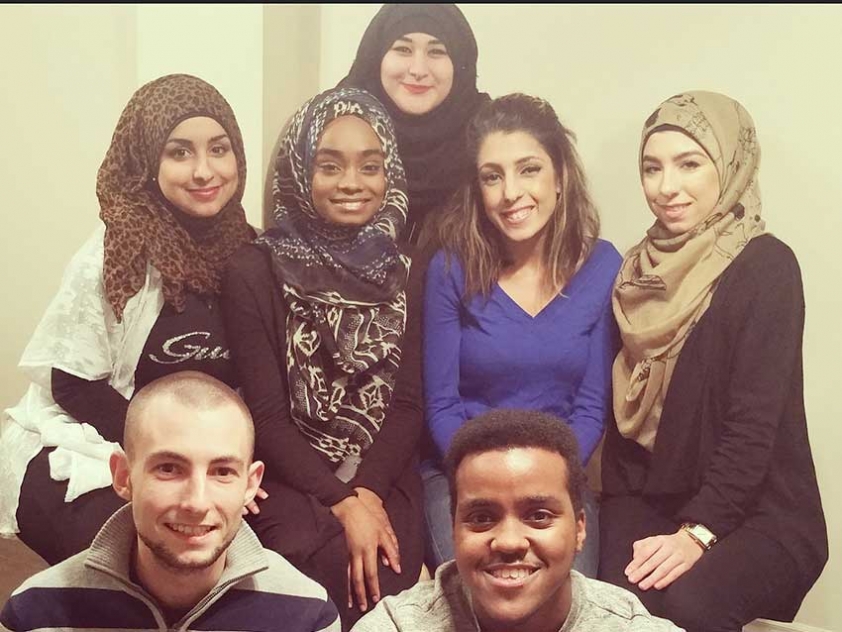 Keep Them Warm Team: Top from left Jenan Dayfallah, Nahda Said, Meisan El-Maghrabi, Zeina Dayfallah, Reama Madi Bottom from Left Eric Tibbetts, Abdusalam Mohamed Ahmed
Courtesy of Jenan Dayfallah
14
Dec


2015
Helping Homeless People in Our Community: The Keep Them Warm Project
Written by Chelby Daigle
The Keep Them Warm - Holiday Initiative was started by Jenan Dayfallah, a student at Carleton University. Her many encounters with people concerned about homelessness in our community inspired her to take to social media and create the project. Asking for anyone who wanted to make a difference to join her, the response was outstanding and a group of 15 came together to form Keep Them Warm.
When asked why she decided to take on the project, Dayfallah responded that, "In light of recent events, some of us have heard the backlash against Syrian refugees coming into Canada, and people saying "We need to take care of our own before we let people in". However, usually many of these people who say this have yet to put those words into action. Our group decided to take that matter into our own hands".
In learning about the many organizations and means available to tackle the issue, the group learned that anyone can be homeless, irrespective of their background, and that the views of homeless people being criminals are false. "Many of [those in] shelters or even [on] the street are families or individuals who were just unable to find adequate help to live a warm and safe life," she explained.
The group expects to learn more about how to support the homeless and prevent homelessness in Ottawa after the holiday season. For Dayfallah, "Focusing on this project and ensuring its success is going to be even more of a form of motivation for us to continue to learn about the needs of our community and also do this next year as well. Winter will always come, the cold will be here next year, and it is our job as better off community members to look after our brothers and sisters and keep them warm. We would like to let people in need know that they are not alone.  People of all races, cultures and faiths should not let our differences divide us, however, let them be the things that unite us as one and help us come together for a great cause. We wish everyone many blessings this season, and a winter of warmth and love."
The Keep Them Warm team is asking for donations from the public to purchase necessities to help homeless people through the harsh winter of Ottawa. The team hopes to raise at least $1000 to help 100-150 homeless members of our community this season by providing them with gift bags filled with items such as winter tuques, mittens, scarves, feminine hygiene products and basic first aid kits. The donations can be monetary or winter clothing. 
To learn more about Keep Them Warm Holiday Initiative or to make a donation visit their GoFundMe Page here.
This article was produced exclusively for Muslim Link and should not be copied without prior permission from the site. For permission, please write to info@muslimlink.ca.