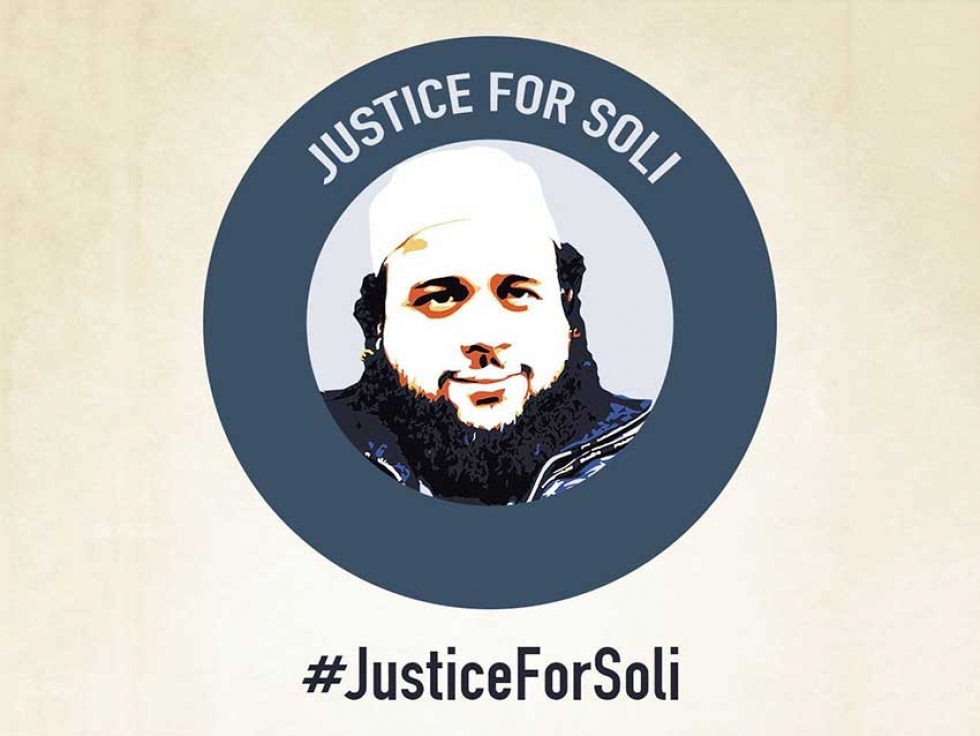 A statement from the Justice for Soli coalition after learning that the Kawartha Lakes Police Service will not be pressing charges against those responsible for the death of Soleiman Faqiri
02
November


2017
Justice for Soli Coalition Expresses its Deep Sadness and Frustration with the Kawartha Lakes Police Service's Announcement
Written by Justice for Soli
The following is a statement from the Justice for Soli coalition after learning that the Kawartha Lakes Police Service will not be pressing charges against those responsible for the death of Soleiman Faqiri.
Readers should know that this is the second time that a Muslim coping with schizophrenia has died after spending time in the Lindsay Detention Centre. The first was Somali refugee Abdurahman Ibrahim Hassan, who died in a Peterborough Hospital. Hassan was under indefinite immigrantion detention at Lindsay. Fellow immigration detention inmates went on hunger strike to demand an inquest into his death.
*****
After 10 months since Soleiman's tragic death while in custody at Central East Detention Facility, Kawartha Lakes Police Service has announced it will not press charges against those responsible. 
The Justice for Soli coalition expresses its deep sadness and frustration with today's announcement by the Kawartha Lakes Police Service.
Soleiman, who suffered from Schizophrenia, was waiting for a transfer to the Ontario Shores Centre for Mental Health, but instead his life was senselessly cut short.
Instead, Soleiman was beaten to death by prison guards while completely defenceless and helpless while in solitary confinement. According to the coroner's report, Soleiman had 50 injuries and was brutally punched and kicked to his forehead, face, torso and limbs while cuffed resulting in blunt impact trauma. "A mother and father lost their child. Siblings lost their brother. Nieces and nephews lost their uncle. The entire world lost Soleiman. Yet all of us have questions and are awaiting justice," expressed Soleiman's brother, Yusuf Faqiri. The Faqiri family has issued a statement in response to the police investigation.
Soleiman was a Canadian citizen who was murdered in cold blood while under government care. He died at the hands of correction officers who are paid through our tax dollars to protect inmates inside the facilities they are responsible for.
The outcome of this police investigation raises many questions that the Faqiri family, Ontarians and all Canadians deserve answers to. We do not live in a police state.
There is no circumstances where it's okay for a man to go into custody alive and to come out in a body bag. Why has our system failed?
Today's decision is outrageous and is an attempt to conceal the truth of Soleiman's death and evade any accountability. Our justice system will continue to violate the human rights of prisoners with mental health disabilities with impunity.
If we do not seek justice, if we do not seek answers, there is nothing to prevent another tragedy from happening to another family. Soleiman's death was not an isolated incident and today's decision sends a message that people in positions of authority can continue to abuse their power.
We condemn the Kawartha Lakes Police Service's decision, but we will not be silenced by it.
Our movement and supporters will continue to educate, organize and mobilize the public to bring justice to Soleiman, his family, and the many individuals in similar circumstances who do not have a voice.
We call on the Ontario Human Rights Commission (OHRC), human rights groups, mental health groups, and the Canadian public to speak out for justice.
We say: no more, not on our watch. We demand justice.
Media Coverage
He died in jail after 'blunt impact trauma' — now police say no one will be charged. (CBC News, October 30, 2017)
There will be no justice in the prison death of Soleiman Faqiri (Maclean's, October 30, 2017)
This article was produced exclusively for Muslim Link and should not be copied without prior permission from the site. For permission, please write to info@muslimlink.ca.