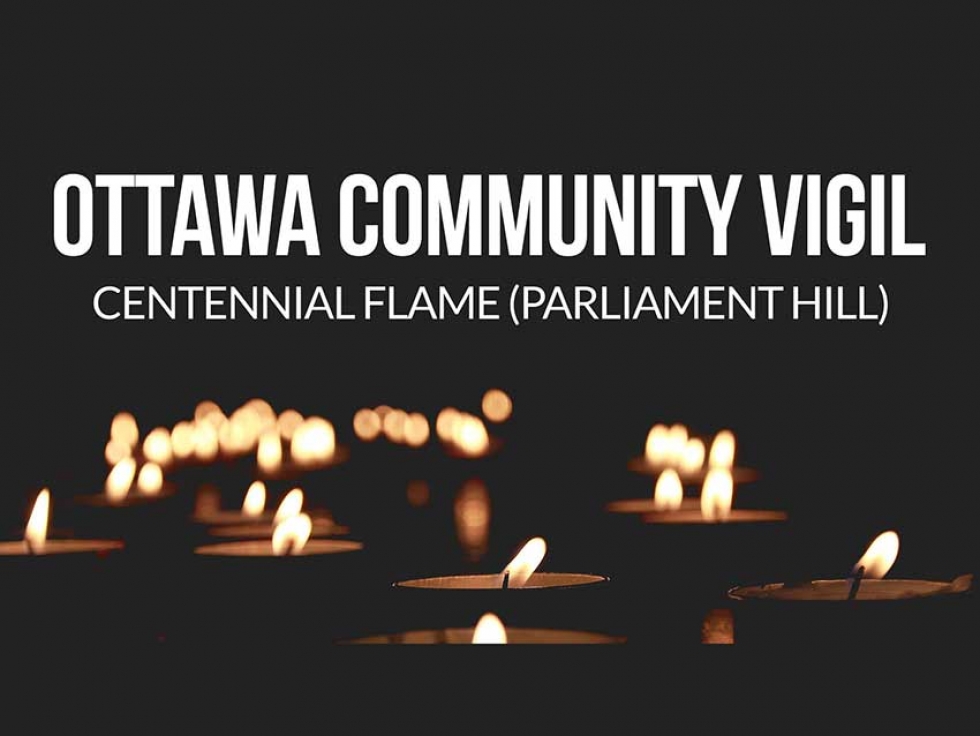 A vigil on Parliament Hill will be taking place Tuesday, January 29th to commemorate the Quebec Mosque attack.
28
Jan


2019
Vigil on Parliament Hill to Commemorate The Second Anniversary of the Quebec Mosque Attack Takes Place Tuesday January 29
Written by Chelby Daigle
On January 29th, 2017, six Muslims were murdered at the Islamic Cultural Centre of Quebec City, a mosque in the Sainte-Foy neighbourhood of Quebec City, Canada.
Six people were killed including Ibrahima Barry (aged 39), Mamadou Tanou Barry (aged 42), Khaled Belkacemi (aged 60), Aboubaker Thabti (aged 44), Abdelkrim Hassane (aged 41) and Azzedine Soufiane (aged 57)
Nineteen others were injured, including Aymen Derbali, who is now paralyzed.
Vigils, lectures, film screenings, and gatherings are taking place across Canada to commemorate the Quebec Mosque Shooting and to discuss the issue of hate, anti-Muslim bigotry and violence in Canada.
Two events will be taking place in Canada's National Capital Region to commemorate January 29th. In Gatineau, Quebec at the Outaouais Islamic Centre at 6:30pm there will be a gathering including Aymen Derbali and Imam Hassan Guillet, who delivered one of the eulogies at the funeral for some of the victims of the shoothing in 2017.
Across the river in Ottawa, Ontario, there will be a vigil on Parliament Hill at 5:45pm. There will be a short program (45 min) where Minister Ahmed Hussen, Minister of Citizenship and Immigration, Minister Maryam Moncef, Minister of Status of Women, and Members of Parliament from the NDP and the Conservative party will be speaking, along with the founder of the Push Back the Darkness initiative, Ryan Slobojan.
Muslim Link interviewed Ottawa based community organizer Shahad Khalladi, who has been involved in coordinating vigils on Parliament Hill to commemorating the Quebec Mosque attack since the day it took place in 2017.
1. How did you get involved with organizing these vigils on Parliament Hill?
In 2017, when the attack first happened I was already an organizer in the Muslim community with initiatives like Election Energized, which aimed to encourage members of the Ottawa-Gatineau Muslim community to go out and vote. When I heard of the attack, I thought it was essential to be part of creating a space for the community to come together and find support and so I made sure I took part in the planning when there was initial discussion about organizing a vigil. Since then I've been involved in planning the vigil; this will be my third January 29th Vigil.
2. Why is it symbolically important to have a vigil on Parliament Hill to commemorate January 29th?
Anti-Muslim Rhetoric has violent consequences everyday in Canada. Especially for Muslim women, as we are seen as easy targets and often face various forms of violence in public spaces, such as public transit. The Quebec mosque shooting however claimed the lives of community members that were supposed to be in a space where they felt safe, where they can be Muslim without worry. They were gathered in their mosque, a place of worship. January 29th marks the day that Anti-Muslim rhetoric became PUBLICALLY fatal.
3. Why was it important to ensure that there are speakers from all three major political parties?
It's important that Canadians witness the denouncing of Anti-Muslim discourse across all parties. When we see political leaders setting a tone, culture is influenced, and the public perception of what is tolerable and what isn't is changed.
4. Why should people, both Muslim and non-Muslim, attend the vigil on Parliament Hill?
Similar to why politicians need to be at this vigil and need to speak out, the support of all Canadians is equally as important. When a Muslim Canadian comes to a vigil they are saying "Hey, our community is facing a lack of acceptance, violence, and discrimination and you NEED to listen to us and do something about it." When non-Muslims attend the vigil they are sending the message that "Yes, we hear you and we support you."
5. The National Capital Region is unique as it spans both Ontario and Quebec and Muslims live on both sides of the Ottawa River. How do you feel this informs your own perspective on organizing against Islamophobia in the region?
Simply put, the political and social difficulties of Muslims in Ontario and Quebec differ greatly, and the impact of their respective experiences in dealing with hateful rhetoric and policies that effect the community differs greatly.This of course influences the drive to organize in each community. Ontario Muslims are currently not struggling to maintain the right to wear hijab in public service jobs as our Quebec counterparts are due to the policies of their provincial government. However, for those of us in Ontario, we have recently experienced both a provincial election and municipal elections where candidates openly expressed anti-immigrant rhetoric and the Anti-Muslim rhetoric. What we see happening now in Quebec began as rhetoric and is now evolving into policies. So as Muslims in the National Capital Region who live and work on both sides of the Ottawa River, we have a heightened awareness of how easily discriminatory rhetoric can evolve into discriminatory government policy.
6. Two years on, where do you feel we are as Canadians in terms of preventing tragedies like the Quebec Mosque shooting?
Unfortunately, I cannot claim that we've shifted the dial much. Hate crimes toward the Muslim community continue to rise in Canada. Policies dis-proportionally effecting Muslims continue to be the most debated political topics. It is tragic that despite the loss of Canadian Muslim lives our country continues to turn a blind eye to the seriousness of Anti-Muslim bigotry.
7. Ryan Slobojan from the Push Back the Darkness initiative will be speaking at the vigil. What are your thoughts on this initiative?
It's important that ordinary Non-Muslim Canadians take part in the public conversation on pushing back against Anti-Muslim bigotry. As allies, individuals such as Ryan take these conversations from outside Muslim communities to those who can relate to him. By stepping up, initiatives such as Push Back the Darkness demonstrate that racial and religious discrimination is an issue for all Canadians to have on their radar, and we all have the moral obligation to work towards eradicating discrimination and hatred in our country.
For details about the January 29th vigil on Parliament Hill in Ottawa, click here.
For details about the January 29th gathering at the Outaouais Islamic Centre in Gatineau, click here.
To learn about January 29th vigils taking place across Canada, click here.
To learn more about the Push Back the Darkness Initiative, click here.
This article was produced exclusively for Muslim Link and should not be copied without prior permission from the site. For permission, please write to info@muslimlink.ca.