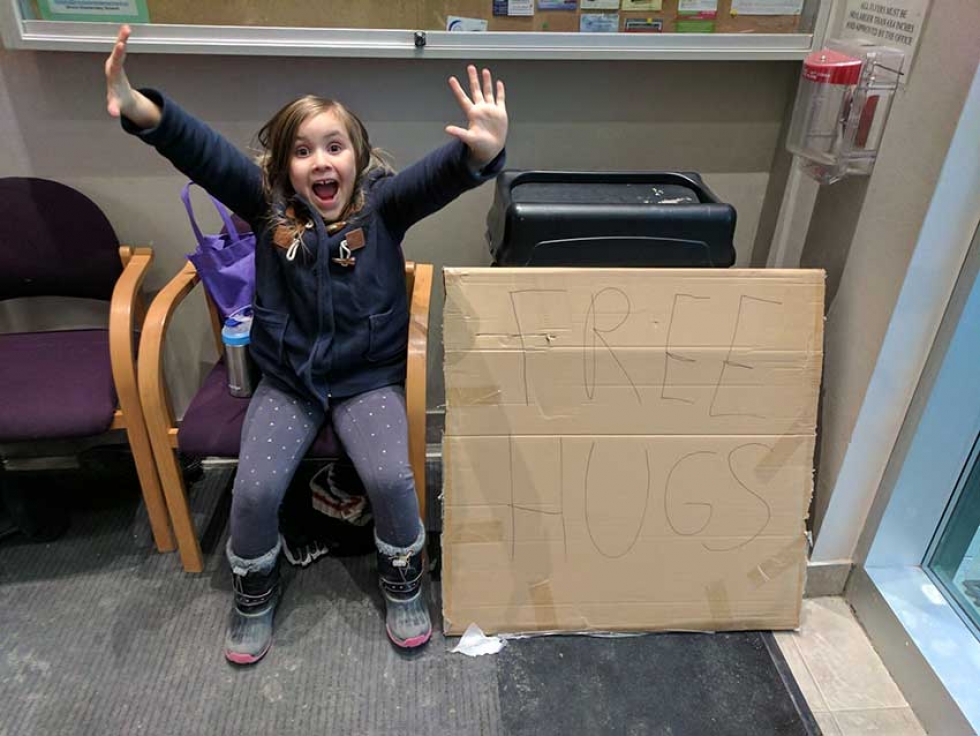 My daughter, Elizabeth, offering free hugs at the Pickering Islamic Centre on January 30, 2017.
30
November


2018
On January 29, Join the Push Back The Darkness Initiative
Written by Ryan Slobojan
My name is Ryan Slobojan, and I live in Pickering, Ontario. When I first heard about the attack on the mosque in Quebec City on January 29th 2017, I was devastated.
There had been a rising tide of intolerance and hate in many places in the world over the preceding few years, but I felt a certain sense of complacency about the situation in Canada because it seemed that those dark ideas were much less common here. That illusion was shattered as I followed the news on that cold Sunday evening, and learned that 6 people had been murdered, here in Canada, in a hate crime targeted at a particular religious group. That evening, I realized I had to do something ­ "thoughts and prayers" were not enough, it was time for meaningful actions.
The next afternoon, when my daughter Elizabeth (then 5) got off her school bus around 3pm, we wrote "FREE HUGS" on a large piece of cardboard and went to the local mosque (Pickering Islamic Centre) for the first time. To say I was nervous was an understatement ­ I had never been to a mosque before in my life, and I had absolutely no idea what to expect. I was also very concerned that, since this was less than 24 hours after the shootings in Quebec City had happened, that I might scare people by my sudden first ­time appearance there.
Compounding the whole situation, this very mosque had previously had a window shot out two years earlier ­ I was worried that things might go very badly very quickly, but I knew that I had to overcome my fear of the unknown and hope for the best if I wanted to take a real step to try to do something to improve things. We had planned to stand outside the main doors to give out hugs, but we were very quickly invited inside where it was much warmer. That day, we met (and hugged) well over a hundred people ­ it was one of the most incredible and heartwarming experiences of my life, and Elizabeth had a fantastic time giving out hugs to people who would burst out in huge smiles when they saw us at the door with our sign. Many people told us how grateful they were to see us and how much it had brightened their day (some with tears in their eyes), and I began to understand how much stronger the fear and panic would have been for me if I had myself been a member of the group targeted in the Quebec City shootings.
On the one year anniversary of the Quebec City attack, I purchased and assembled a whole bunch of candles just like this one and gave them out at the mosque, along with friends we had met there. The symbolism behind the candle comes from Martin Luther King Jr. who said: "Darkness cannot drive out darkness; only light can do that. Hate cannot drive out hate; only love can do that."
Since then, my goal has been to drive out the darkness of ignorance and hate through the light of knowledge and friendship. This initiative, Push Back The Darkness is a big part of that.
Push Back the Darkness is an initiative to raise awareness across Canada about the negative, even deadly, impacts of hate and ignorance. This initiative will encourage people to put a light in their window on January 29, 2019, the second anniversary of the tragic mass shooting at the Quebec City Mosque in which six men were killed, many others were permanently injured, and 17 children were left fatherless. Further, communities will be encouraged to hold vigils, share stories, and teach­ins about racism and find collective ways to counter it.
How can you help:
● Contact me and let me know that you support this initiative, so I can include your logo among supporting organizations.
● Send a message supporting this initiative to your contact networks to spread the word.
● Share posters and documents which we will provide with your contact networks (detailed below).
● Post on social media about this (suggested hashtag: #PushBackTheDarkness)
Events around this initiative:
● Members of Parliament and Senators making statements in support of this initiative in the House of Commons and Senate on or around January 29th 
● Collecting of stories and drawings about examples of solidarity, as well as experiences of racism and its impacts, from around the country to send to MPs and Senators and to also publish on a website for the public to access
● A vigil outside on Parliament Hill on January 29th
● A template for events (including vigils, teach­ins, and screenings of the documentary 'Your Last Walk in the Mosque') to be held in cities across the country
● Making January 29th at 8pm, the time and date of the Quebec City mosque attack, "A Day to Push Back the Darkness" by asking the public to put a light in every window
Learn more about Push Back The Darkness online our Website
If you are in Mississauga on December 16th, I will be speaking about the initiative at ISNA Canada. For details, click here.