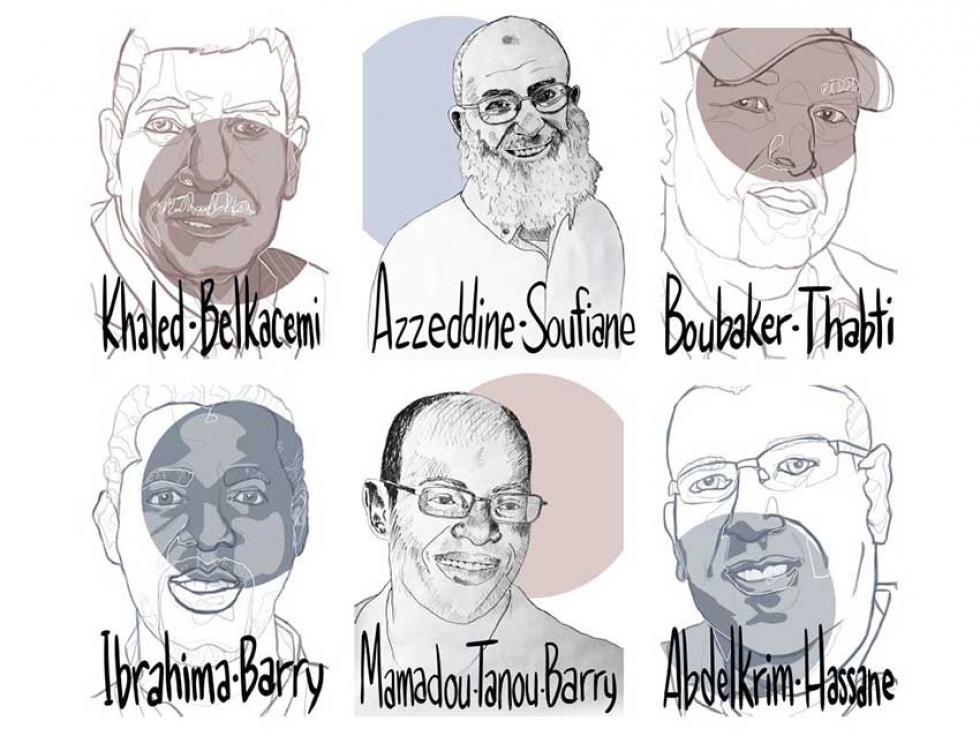 The Council of Canadians was honoured to partner with artists Melisse Watson and Syrus Marcus Ware to create these portraits to commemorate the six victims of the attack on a mosque in Quebec City on January 29 2017: Azzeddine Soufiane, Mamadou Tanou Barry, Khaled Belkacemi, Aboubaker Thabti, Ibrahima Barry and Abdelkrim Hassane.
15
January


2019
Events Across Canada Commemorating The Quebec Mosque Shooting
Written by Chelby Daigle
On January 29th, 2017, six Muslims were murdered at the Islamic Cultural Centre of Quebec City, a mosque in the Sainte-Foy neighbourhood of Quebec City, Canada.
Six people were killed including Ibrahima Barry (aged 39), Mamadou Tanou Barry (aged 42), Khaled Belkacemi (aged 60), Aboubaker Thabti (aged 44), Abdelkrim Hassane (aged 41) and Azzedine Soufiane (aged 57)
Nineteen others were injured, including Aymen Derbali, who is now paralyzed.
Vigils, lectures, film screenings, and gatherings are taking place across Canada to commemorate the Quebec Mosque Shooting and to discuss the issue of hate, anti-Muslim bigotry and violence in Canada.
Muslim Link is compiling a list of these events. If you would like to add an event taking place in your city, please email us at This email address is being protected from spambots. You need JavaScript enabled to view it..
St. John's
Saint John
Quebec City
Laval
Pierrefonds-Roxboro
Montreal
Gatineau
Ottawa
Kingston
Kitchener
Whitby
Mississauga
Brampton
Pickering
Toronto
Hamilton
London
Windsor
Winnipeg
Calgary
Vancouver
This article was produced exclusively for Muslim Link and should not be copied without prior permission from the site. For permission, please write to info@muslimlink.ca.