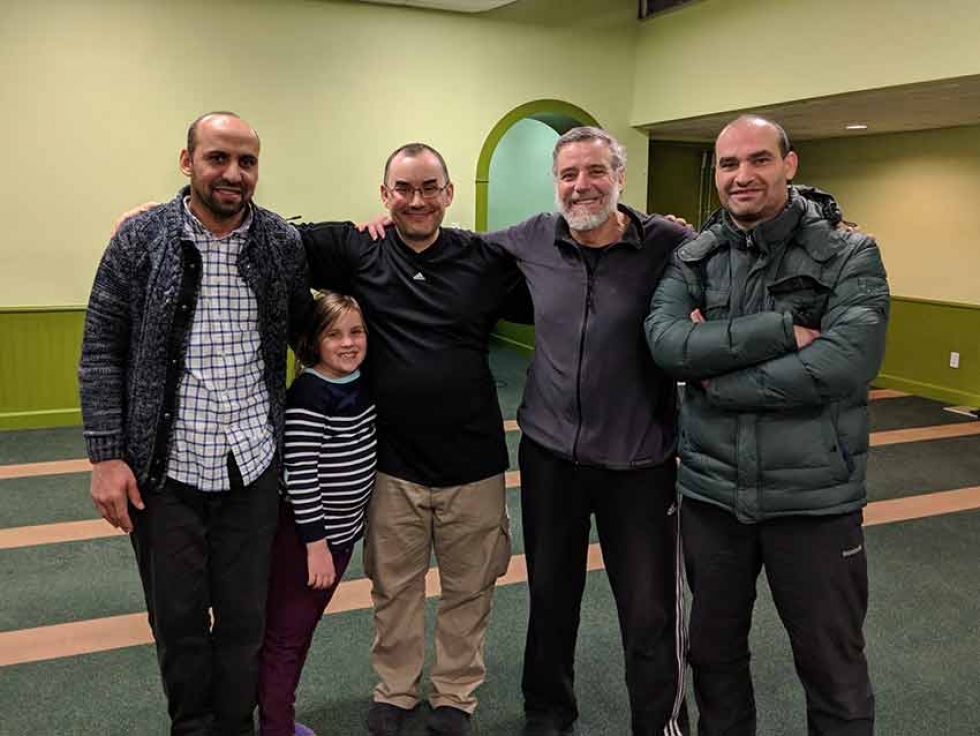 Ryan and Elisabeth with new friends Group picture with three new friends Saïd, Hakim and Ahmed at the Centre Culturel Islamique de Québec.
Mohamed Haroun
27
January


2019
Push Back the Darkness Founder Visits the Centre Culturel Islamique de Quebec
Written by Ryan Slobojan
Ryan Slobojan is the founder of the Push Back the Darkness initiative aimed at encouraging all Canadians to place a light in their windows at 8 pm on Tuesday, January 29th in commemoration of the victims of the Quebec Mosque Attack and as a sign of commitment to "push back the darkness" of ignorance and hate in Canada. The initiative has also helped to support the organizing of vigils in cities across Canada.
Ryan and his daughter Elisabeth had the chance to visit the Centre Culturel Islamique de Québec on January 18th.
Here is Ryan's reflection on that visit:
It's Monday afternoon. I started writing this on Sunday evening. I arrived back from Quebec City last night on the train, and my mind is still processing all the things that happened while we were visiting Centre Culturel Islamique de Québec (CCIQ) on Friday January 18th, coincidentally my 39th birthday. I suspect it will be for a while.
Before we even get there, the kindness starts. Mohamed Haroun, Boufeldja Benabdallah, and Ramdane Guenineche all offer kind words and promises of help before we've even gotten on the train Thursday morning. And, kindness is also there up to to the moment we leave - Ahmed Elrefai picks us up at our hotel on (an extremely cold!) Saturday morning and drops us off at the train station along with a bag full of food for our trip.
I wake up Friday morning, and receive birthday cards and a gift from Elizabeth - today is my 39th birthday, and she has made a purple bracelet with a daisy pattern on it ("I know purple is your favourite colour!"). I thank her with a big hug, and we grab some breakfast before our 11am taxi to CCIQ.
When we arrive at the mosque before Jummah, we are pretty early and the door is locked - one phone call to the office and the door is buzzed open, and we go inside. Probably a wise security precaution, given the past.
We set up our sign, and started offering hugs - the smiles we receive are huge, and the hugs are warm and friendly. Laughter and happiness rings through the air, and many new friends are made. I meet Mohamed Haroun in person, and thank him for all his help in organizing this visit to the mosque. As we stand there, I notice two bullet holes in the glass of boarded-up windows near the entrance - a sense of sadness fills the moments between the happiness of the hugs.
We meet Boufeldja Benabdallah, the president and co-founder of CCIQ, and he welcomes us warmly and has a big hug for both of us. He asks Elizabeth if she wants to go upstairs to give out hugs to some of the women, and she agrees and heads off. There are more smiles and hugs, and as Jummah begins I sit down at the back and put the sign aside. I'm sitting at the entrance where the attack occurred, leaning against the door frame, and watch as many file in during Jummah to take their places. The mosque is full enough that the entrance is crowded, and there are many people behind me standing beside the shoe racks looking for a space to pray. It's cold by the entrance - as cold as it was when...
Elizabeth comes back downstairs shortly before Jummah ends, and she's crying - poor thing, this must all be so overwhelming for her. She spent all day yesterday on a train, and she's in a new place by herself where the primary language is one she's still very much learning in her Grade 2 French Immersion classes, and she's only 7 years old. It's a lot for me, and I'm 39 today - I give her a hug, and she settles down and dries her face.
Jummah ends, and I am invited up to make my statement. I see Aymen Derbali at the front on the left-hand side, distinctive due to his wheelchair. I'm very nervous as I walk up to the microphone - my hands are shaking, and I cannot fathom how someone would have wanted to do so much harm to such friendly and welcoming people. I make it all the way through, with a couple of brief pauses to hold myself together when the emotion surges. Although I'm speaking in French, I know what the words mean, and I can feel my voice shaking as I conclude. I again thank Caroline Rioux in my head for her help in making this possible by translating this from English to French for me.
Here is an excerpt from my speech:
"The day after the January 29th, 2017 attack here at the Great Mosque of Quebec City, I struggled with how to show support for the Muslim members of my community in Pickering. The idea I finally came up with was to go to the local mosque and give out free hugs, just as my daughter Elizabeth and I did here today. And, we were warmly received then, just as we were today - thank you very much for that.
When I started the Push Back The Darkness initiative in August, I knew I wanted to reach out to you but I wasn't sure of what to say. For months I struggled with this, and didn't say anything. No words seemed sufficient to the magnitude of the tragedy that you faced on January 29th. Then, I realized that no words would ever be sufficient, and actions would be required - that's why my daughter and I are here today, to show our support via our actions.
Before the attack, I thought things were alright in Canada - they were getting worse in America and other parts of the world, but here in Canada things were better. I was complacent. I'm very sorry that my complacency, and the complacency of so many others across Canada, caused us to do nothing until after you were attacked on that cold Sunday two years ago.
As I stand here in this place, and as I look out at each of you, my neighbours and fellow Canadians who were targeted by ignorance and hate; I swear to you that I will spend the rest of my life making others aware of the need to take actions, both large and small, to push back the darkness of ignorance and hate with the light of knowledge and friendship. We must never forget the high cost of complacency, and the need to take action to ensure that Canada remains the shared, diverse, and welcoming place we all want it to be."
After my speech, I give out many more hugs as I make my way to the back of the room where Elizabeth still sits, and there are many more brief conversations, softer this time. Elizabeth has a few people around her trying to cheer her up (she's sad that I left her for a few minutes), and she cheers up again when she sees me. We give out many more hugs, and make our way over to Aymen to talk with him before he leaves. We have a very good conversation (Aymen speaks English very well), and end with a hug.
Lahcen Benomar offers to give us a (very much welcomed) ride back to our hotel, and also offers to stop somewhere for lunch. I gladly accept (being quite hungry) and we arrive at Epicerie-Boucherie Assalam. As we are parking, Lahcen tells me that this is the store which was owed by Azzeddine Soufiane, who died in the attack.
We go to the hot food counter, and place our orders. I whip out a $50, give it to the lady behind the counter, and insist on paying for food, since Lahcen has been so kind to us and is giving us a ride home. He tells her the story of why we are here and where we came from, and she gives me my money back and doesn't let anyone pay for the food - it's on the house. I put a $10 into the tip jar as thanks when nobody is looking. The swirling and complex emotions in my head continue to churn unabated.
We have a long and interesting conversation as we are eating, mostly in French. My French language skills are pushed to the limit, but apparently I recalled more of the language than I thought I did. The food is really good, and Elizabeth goes and offers hugs to the people behind the counter when she finishes eating. As we are leaving, we meet a few people who were at the mosque for Jummah, and there are more happy conversations and hugs. I'm welcomed back any time, which makes me feel very happy. So much kindness everywhere.
We return to the hotel, and Elizabeth spends a few hours watching TV while I mentally process the day so far. I post the statement I made online in both English an French, and keep thinking about all that has happened so far today. I've been invited back at 6 pm by Ramdane Guenineche, and book a taxi for the return trip. As the afternoon progresses, it stars to snow heavily and Ramdane calls to say (with profuse apologies) that traffic will delay him past 6pm. No problem at all - the window for Isha prayers opens around 6pm here, so we'll go for that time anyways.
We arrive at CCIQ again at 6pm, and set up our sign again. There are many kids running around playing, and there appears to be evening classes being held there. We give out a few hugs, and then Elizabeth is invited upstairs to join the other kids (if that's alright with me). It absolutely is - all of our children, playing together and being friends, that's such an important part of removing ignorance and building knowledge and friendships. She goes upstairs, and spends the next hour running around playing with another girl her age.
When Ramdane arrives (more apologies and more hugs) he asks if I want to sit in on one of the classes upstairs, and I agree - it's a Quran reading class, and I listen to many children half-reading, half-yelling verses along with the teacher (who speak-sings the verses well, as a muezzin does). I'm reminded of Sunday School from when I was young, and I watch as the teacher manages several very energetic kids through the reading process. One boy passes me the book to read along and points at the current verse - it's all in Arabic, so I smile and nod and pretend to read along. After 20 minutes (and a good discussion with the teacher about the different sounds in different languages and the incredible abilities of kids to pick up on these) I leave to go give out hugs, and everyone in the class rushes over for hugs.
I return to the prayer room to give out more hugs as Elizabeth continues to play upstairs ("She's playing with my daughter - do you want me to go get her?" "Nah, she's having fun, let her play"). Much more laughter, many more smiles and hugs, and many who are glad to see me for the second time that day. Someone surprises us with two (large) meals in take-out containers, and I set them aside so we can eat them when we get back to the hotel. We stay through prayers (which start at 7:30pm), and offer more hugs on the way back out. I'm introduced to Ahmed Elrefai, who offers to drive us back to our hotel that evening - again, I gratefully accept, because there's still an Extreme Cold warning in effect for Quebec City and it'll be much easier than finding a taxi.
I speak to a few people who are lingering after Isha prayers, and am introduced to a group of people who were present during the attack and its immediate aftermath two years earlier, including Hakim Chambaz, Saïd Akjour, Mohamed Haroun, and Ahmed Elrefai. I'm suddenly reminded of one detail of the attack - that it occurred after Isha prayers, as some were sitting and chatting and others were leaving, just before 8 pm. I glance around and realize that this is exactly how it must have looked two years ago when the shooting started - people sitting around laughing and talking, with no inkling of what was about to occur. My mind starts calculating escape routes and cover locations before I silence it and focus back on the conversations in progress.
Hakim speaks very good English, and we have a long conversation about many topics. He tells me about how some of the people who were present at the attack have gone into virtual hiding - a very understandable reaction to seeing that tragedy occur to such friendly people in such a welcoming place. He also tells me about how the group of people that I am talking to has taken a more active role in helping others and advocating for awareness and change. I learn of their visit to Pittsburgh after the Tree Of Life - Or L'Simcha Congregation attack, and of their involvement in One World Strong Foundation - I also learn that Saïd, who was shot in the shoulder, is training to run a marathon in the near future.
I am invited to the event in Quebec City on January 29th - I very much want to go to this to support my new friends, but I am already committed to be in Ottawa that day for the commemorations in the House of Commons and on Parliament Hill. I promise that we will return in the summer, when it's much easier to walk around and to see the city, and also promise to work together with Hakim, Saïd, Mohamed, Ahmed, and all of the CCIQ community to help and support them in any way I can and to do everything possible to encourage others to help to push back the darkness of ignorance so that attacks like that on CCIQ never happen again. We end the discussion with warm, heartfelt hugs and a group photograph which will be among my most cherished memories of this trip.
Ahmed Elrefai drives us back to the hotel, and we discuss our mutual experiences at the University of Waterloo (he's a Civil Engineering grad, and I'm a Computer Science grad). He offers to drive us to the train station in the morning as well, and I accept since it is expected to get even colder overnight. Elizabeth and I return to the hotel exhausted, and set the alarm for 6:30 am to catch our train the next morning. When Ahmed arrives, he also brings a bag with food and drinks in it for the trip - between the leftovers from last night's meal and this gift, we have enough to feed us through supper on the train ride home.
As I sit there on the train heading back to Pickering, I keep asking many questions over and over. How can people who had such evil inflicted upon them by a stranger still be so welcoming of strangers afterwards? Would I have been so welcoming if something like this had happened to me? How could anyone have walked into a place like this, so full of love, and done something so hateful? How are we as a community going to find ways to work together with one another as friends and neighbours to ensure that the ignorance that is required for such an act is removed from our communities?
I don't know the answers to these questions, but I do know that I must do whatever I can to help and support my friends, both those I've met and those I have yet to meet. Our children deserve a better world than we had, and we must work together to ensure that we build that better future and push back the darkness of ignorance and hate with the light of knowledge and friendship.
Follow Push Back the Darkness on Facebook
Visit the Push Back the Darkness website
To find vigils and events commemorating January 29th, click here.