Home away from home for University of Ottawa students
Written by Chelby Daigle
Muslim Link checked out one of the weekly iftars organized by the University of Ottawa's Muslim Students' Association (MSA) on Wednesday, July 24th. Hundreds of people, mainly University of Ottawa students, attended theiftar where food was mainly provided by students and their families.
For Jamila Bah,who studies Bio-Pharm at the university, this was her first time coming to a MSA iftar.  "I didn't know a lot of people in the community before. I just heard about the iftar last week so when I found out that they were short on food my mom was like "˜let's cook' so we brought couscous and chicken," she explained.
For Rima Lokman, who also studies Bio-Pharm, the iftar was like a school reunion. "I like seeing everyone again after such a long time, after the school year ended. It's nice how Ramadan can bring everyone back together," she said.
Zainab Muse is a Nigerian international student studying Health Sciences.  "I love the togetherness of the iftars. Even at jummah, I never see this many people. Everybody in my primary school, my high school were all Muslims, so coming here to Canada, it's such a different environment. Coming to this iftar is like getting back to my roots," she explained. She considers the Muslim Students' Association to be very important for international students like herself. Mahmoud Dief, the MSA's Financial Officer, agrees and adds, "My family is in Vancouver so it's also great for students who don't have family in Ottawa."
Mohamed Ibrahim, the MSA's Service Officer, thinks it's important to haveiftars at the university in order to expose more Muslim students to the MSA. "There are so many brothers here who don't even know that the MSA exists, so many brothers who don't even know that there's a musallah at the school; so many brothers who don't k,now that there are other Muslims who they can connect to in their program. Same goes for the sisters. So it's a way of connecting the Muslims at the university. Also people from Carleton come by, people from Algonquin come by, so it's a way of connecting people who are the same age, going through the same experiences, building brotherhood and sisterhood."
The MSA plans to have their final iftar in August at the Ottawa Main Mosque in order to connect more students to Ottawa's broader Muslim community.
To learn more about the University of Ottawa's Muslim Students Association visit:
www.uomsa.ca  
This article was produced exclusively for Muslim Link and should not be copied without prior permission from the site. For permission, please write to info@muslimlink.ca.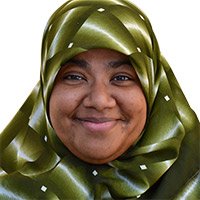 Chelby Marie Daigle is Muslim Link's Editor in Chief and Coordinator. Under her direction, Muslim Link adopted its Diversity, Equity, and Inclusion Policy so that the website strives to reflect the complexity of Muslim communities in Canada. She knows that she fails to do justice to this complexity every day but she will continue to try to improve as she recognizes the frustration of being both marginalized in the mainstream and also marginalized in Muslim communities. As Coordinator, she works to build relationships with Muslim and mainstream organizations and manages the website's social media, event listings, and directories. She organizes regular Muslim Link gatherings. She also works closely with the Publisher to find ways to keep Muslim Link sustainable. Find her on Twitter @ChelbyDaigle