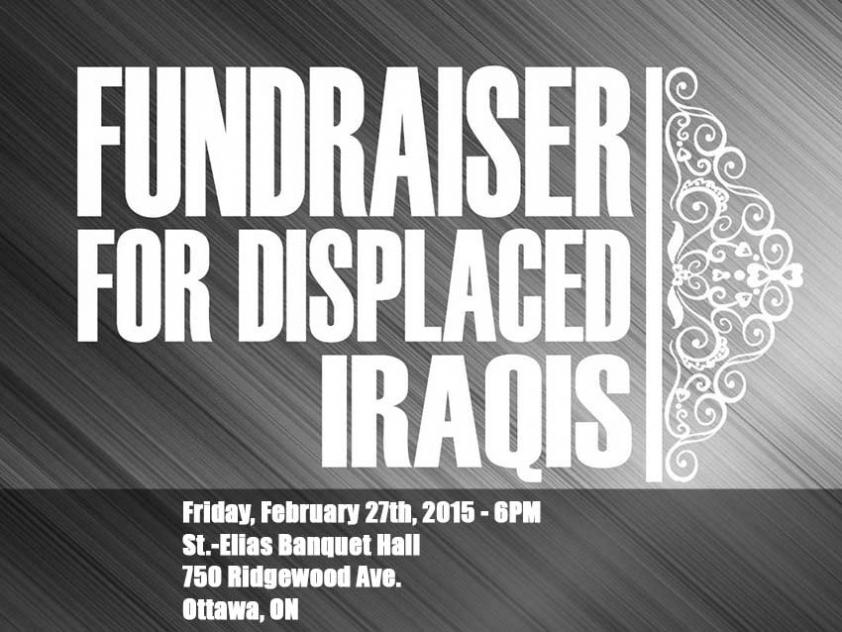 23
Feb


2015
Check Out The Fundraiser for Displaced Iraqis This Friday Feb. 27
Written by Chelby Daigle
Several local businesses have donated prizes to support this event including Hela Celebrations, Accacia Pastry, Shawarma Palace, and Pearl Décor. The event is also being supported by the Iraqi Students' Association of Carleton University. There will be performances by singers Humam Fadel and Muna Bahumaid as well as pianist Abbas Albaghdadi.
Muslim Link interviewed one of the event organizers, Wisam Salih about the event and why people should attend.
Tell us about yourself and why you became involved in organizing this event.
We are a group of concerned Canadians who are horrified by the violence and subsequent displacement of over one million Iraqis, due to this wave of conflict. We are hoping to host a fundraising dinner, filled with heartfelt and inspiring speeches that will be delivered by various religious representatives, politicians, and representatives from Human Concern International. 
Tell us what you know about the plight of displaced Iraqis?
The International Organization for Migration (IOM) estimates that over 1.8 million Iraqis have been displaced within and outside of Iraq. Those who have been forced to leave their homeland under extenuating circumstances have sought refuge in neighboring countries, like Jordan, Lebanon, Syria and elsewhere.
How is charity work bringing Iraqis in Ottawa together?
We hope to have an event that will cut across ethnic and religious lines. Although our event is non-religious, we will hope to take a moment to celebrate the religious diversity of Iraq, by having representatives of the Sunni, Shia and Christian traditions, to unite under a common banner of peace, tolerance and equality.
Will this fundraiser benefit Iraqis of all religious backgrounds?
Funds raised from this event will not be directed towards a particular group of people, but rather will go towards displaced Iraqis outside of Iraq, in countries such as Jordan or Lebanon, irrespective of their ethnicity or religious beliefs. The way that HCI works is that they collect money for different "funds", which correspond to different countries. In our case, we are raising money for the "Iraq" fund. From there, organizations on the ground are able to apply for funding out of the corresponding fund. We have a great working relationship with HCI, which has allowed us to actually pick and choose exactly how our money raised will be allocated and spent. In this light, we have chosen to have our money directed to displaced Iraqis OUTSIDE of Iraq. This way, we feel, our money will be better tracked and be able to reach those Iraqis most in need.
What entertainment could attendees look forward to at the event?
We are very proud and honored to feature local talent, which will include a variety of old Iraqi classics and also more contemporary songs from the Middle East.
What are other highlights participants could look forward to at the event?
Guests can look forward to enjoying a traditional Iraqi meal, while enjoying Iraqi art. Those who are interested and able to donate, are encouraged to not only attend our event, but also participate in the raffle, which includes many prizes and gifts donated from local businesses in Ottawa.
Please join us on February 27th at St. Elias Centre! 
This article was produced exclusively for Muslim Link and should not be copied without prior permission from the site. For permission, please write to info@muslimlink.ca.