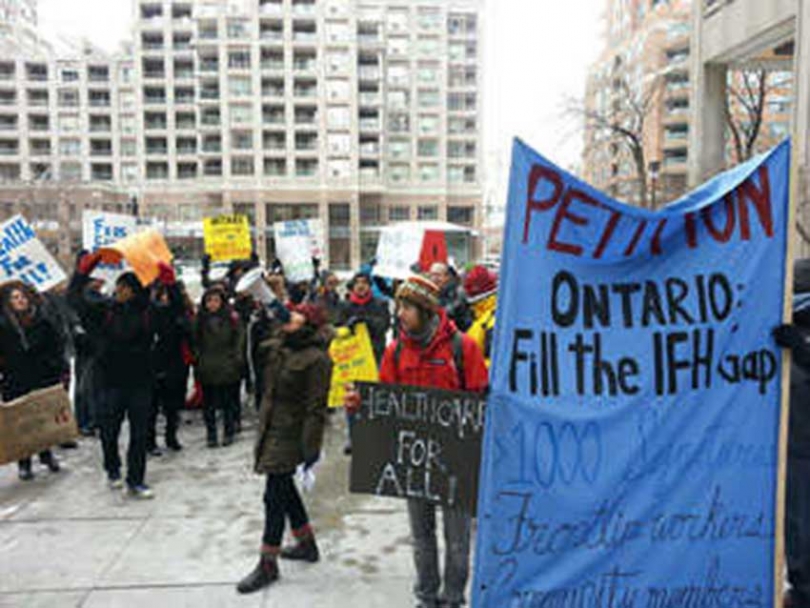 19
March


2013
Federal cuts deny refugees life-saving treatment
Written by Matthew Behrens
Ahmad Abdorahman Awatt, faces serious threats to his health because of his immigration status. Awatt, a Kurd originally from Iraq, came to Canada in 1999. Although he lost his refugee case, he cannot be deported because his country of origin is on a moratorium list of unsafe countries that prevents Canada from returning him there.
Like many "failed refugee claimants" who have endured years of status limbo in Canada, Mr. Awatt lost his access to the Interim Federal Health program (IFH) last summer when the Conservative government enacted massive changes to an initiative that has provided health care to immigrants since 1957. Those health care cuts, decried at the time by doctors, nurses, lawyers, pharmacists, and a range of human rights groups, have had a devastating impact on a range of immigrant communities, among which are people like Mr. Awatt who face life-threatening illnesses. Those affected are legally in Canada, pay taxes, and often work, yet they are unable to access a system that by law is supposed to be accessible to all in Canada.
For Mr. Awatt, the genetic disorder Wilson Disease, which prevents his body from eliminating excess copper, the prognosis is potentially lethal organ damage because of a copper buildup in his brain, eyes, and liver.  A minimum-wage, occasional labourer, he requires ongoing blood and urine tests and monthly liver ultra-sounds to monitor the progress of his medication, but he can no longer receive them because under the government's new guidelines, he is now deemed ineligible to access health care in the same manner as any Canadian citizen.
As a result of this constant threat to his life, Mr. Awatt last month joined two other rejected refugees also facing similar health care issues in a legal challenge to the federal government cuts to refugee health care. One of them  – Daniel Andres Garcia Rodrigues – fled from Colombia and, in danger of losing his sight, is unable to get his detached retinal surgery covered even though his wife, a Convention refugee, is sponsoring him. The other plaintiff is Hanif Ayubi, who came to Canada from Afghanistan in 2001 and who, since June 2012, has been denied insulin and appropriate medical care for his diabetes.
Because of the fear associated with speaking publicly about these challenges, the courage required for these three men to step forward was considerable. The fact that they represent what doctors say is only the tip of the iceberg is what gave rise to the lawsuit, as months of public education, lobbying, street protests, and occupations of MPs' offices by groups unused to hoisting placards – physicians, nurses, and medical students – failed to generate a response from the Harper government.
The Canadian Association of Refugee Lawyers (CARL) argues that these cuts violate the Canadian Charter of Rights and Freedoms as well as international human rights instruments to which Canada is a signatory, from the Refugee Convention to the Convention on the Rights of the Child. Indeed, among the many case studies of individuals being denied health coverage since the cuts were enacted are pregnant women and babies as young as six months. Opponents of the cuts believe they are ideologically driven, especially considering, as CARL notes in its court challenge, that "as recently as 2011, representatives of the [Canadian government] publicly acknowledged to a Parliament committee that the IFGH was inspired by Canada's international obligations toward persons seeing its protection, a commitment to protect their health, a desire to protect the Canadian public from infectious diseases and an undertaking to ease the strain on provincial and territorial health systems."
As University of Toronto law professor Audrey Macklin pointed out at a late February press conference, "This isn't about cavities getting filled; it's about life-saving treatments. This is about children's lives that are at risk.  No other country with a publicly-funded health care system does this to refugees."
She declared that the policy amounts to cruel and unusual treatment, and the government's rationale – saving money, something for which she says no statistics have been provided– is without substance, as the annual cost per Canadian taxpayer of the IFH program is approximately 59 cents.
"Laws are passed in this country in our name….it's important to understand that in our name [Immigration Minister] Jason Kenney believes that Canadians would rather see children die because they don't get insulin, rather see children hit by a car die than get emergency care and rather see people drop dead of a heart attack than get care at public expense," Macklin said. "The government's actions have put life and security of the person directly at risk. And they have acted in a way that is discriminatory, drawing arbitrary distinctions on whether somebody's life is worth anything or any amount of health-care based on their country of origin."      
Indeed, refugee claimants who arrive from Designated Countries of Origin (a list drawn up by the Conservatives of countries they assume to be safe, even though they have a record of producing a large number of refugees, from Hungary to Mexico) will receive zero health care coverage except for contagious diseases and psychotic states that involve a risk to others. Health care advocates point out that such arbitrary decisions that base access to care on country of origin could entrap someone like a pregnant woman fleeing an abusive husband in Mexico who, upon arrival in Canada, is refused coverage for prenatal care, delivery of her child, and postnatal care.
In another conundrum, eligible individuals who have their claims turned down can have coverage cut off even though they have not exhausted their appeals process.
While some immigrants to Canada will retain health care (a concession the government made following an initial storm of protest), the rules are so convoluted that many of those who have a right to IFH are nonetheless being turned away by some emergency rooms, clinics, and physicians because of the uncertainty.
Dr. Phil Berger of Canadian Doctors for Refugee Care, which also joined the legal challenge, said a fall 2012 survey of some 30 Toronto clinics revealed only five were accepting IFH clients. There is a chill factor with some refugees not even approaching physicians for fear of being turned away or saddled with a hefty bill.
Dr. Berger said it was "a measure of contempt" that the government has refused to meet despite repeated attempts by such august bodies as the Canadian Medical Association, Canadian Nurses Association, the College of Family Physicians of Canada, Royal College of Physicians and Surgeons of Canada, pharmacists' groups, and numerous others.
"This is an untenable decision for doctors; unseen since the introduction of public health care," Dr. Berger continued. "We are being asked to make medical decisions based on immigration status and not on patients' health care needs."
Meanwhile, CARL, the doctors, and others continue to gather incidents that they can only describe as outrageous in a country where the health care system is touted as a core national value. Among those is that of a Libyan refugee who has lived in Canada for 25 years because that country remains on the moratorium list. After his right leg was amputated below the knee, likely because of diabetes, he continues to face infection in his bones and cannot go to rehabilitation to be fitted for a prosthesis because he, too, has lost IFH coverage.
Individuals who have been turned down for health care should contact This email address is being protected from spambots. You need JavaScript enabled to view it.  
This article was produced exclusively for Muslim Link and should not be copied without prior permission from the site. For permission, please write to info@muslimlink.ca.