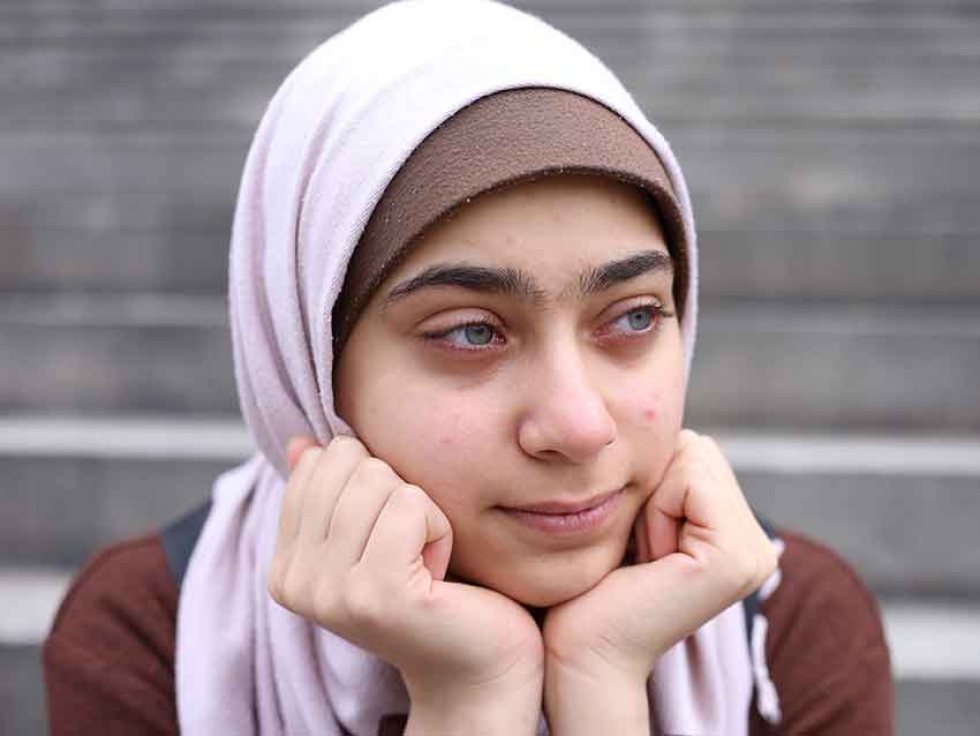 Sedra in St. John's New Brunswick
Photo courtesy of CBC
21
August


2018
Help A Teenage Refugee Reunite With Her Family
Written by Staff Writer
Reunite a Family Torn Apart By War
We are a community of people that have been inspired and moved by the bravery and perseverance of a teenage Syrian refugee named Sedra. We learned of her story from this documentary that was produced in Canada, by filmmaker Sura Mallouh, where Sedra and her ailing parents and grandmother were relocated while simultaneously and involuntarily being separated from her family. We have banded together across countries to help connect others who are as moved as we are to pull our resources and help reunite this family by supporting this LaunchGood campaign.
The Story
Sedra, like so many refugees who have had to flee their beloved home countries, is a bright and compassionate teenager learning English and working hard to adapt to life in a new society. Unfortunately she is also solely responsible for her father, her mother, and her grandmother, all of whom are struggling with disability and illness.  Because of these health issues, the family was government-sponsored to come to Saint John, New Brunswick, by the Canadian government. Even though Sedra and her family were told her adult siblings and their families would follow just days after they were relocated to Canada, it became apparent as days, weeks and then years passed that reunification was a dream more than a reality. Now, Sedra's family worries that the pressure on her to take care of the whole family is too much and impacting her mental health and diminishing her chances at achieving her full potential. 
How Does Your Support Help?
The support we are generating to help Sedra and her family is intended for her adult siblings and their families to be sponsored so they can be reunited together in Canada.  $30,000 is roughly the cost to bring a family of four to Canada. Sponsoring just one sibling and their family would be an incredible blessing and relief on the entire family. 
Ways to Support
There are two ways to support. By contributing directly to the campaign you are helping us get one step closer to a family being reunified. By sharing the campaign and asking others to support you are helping our campaign to help make an incredible difference in this family's life. We know that once you see Sedra's story, you too will be compelled to help give this beautiful woman a chance to achieve her full potential with her whole family by her side.
Other Ways to Help
We also need to identify sponsors who can agree to sponsor one of Sedra's siblings and their family. We are ideally looking for people in Saint John, New Brunswick. If you or someone you know could potentially assist with this, please email us at This email address is being protected from spambots. You need JavaScript enabled to view it..
We are also hoping to connect Sedra and her family to more people in Saint John who could offer them regular social supports. If you feel you could commit to helping regularly, please email us at This email address is being protected from spambots. You need JavaScript enabled to view it..
Where Do Funds Go If We Are Unable to Sponsor One of Sedra's Siblings and Their Family?
If we are unable to sponsor one of Sedra's siblings and their family for any reason, the funds raised will go towards Sedra's post-secondary education in order to offer her and her family some relief. 
This article was produced exclusively for Muslim Link and should not be copied without prior permission from the site. For permission, please write to info@muslimlink.ca.