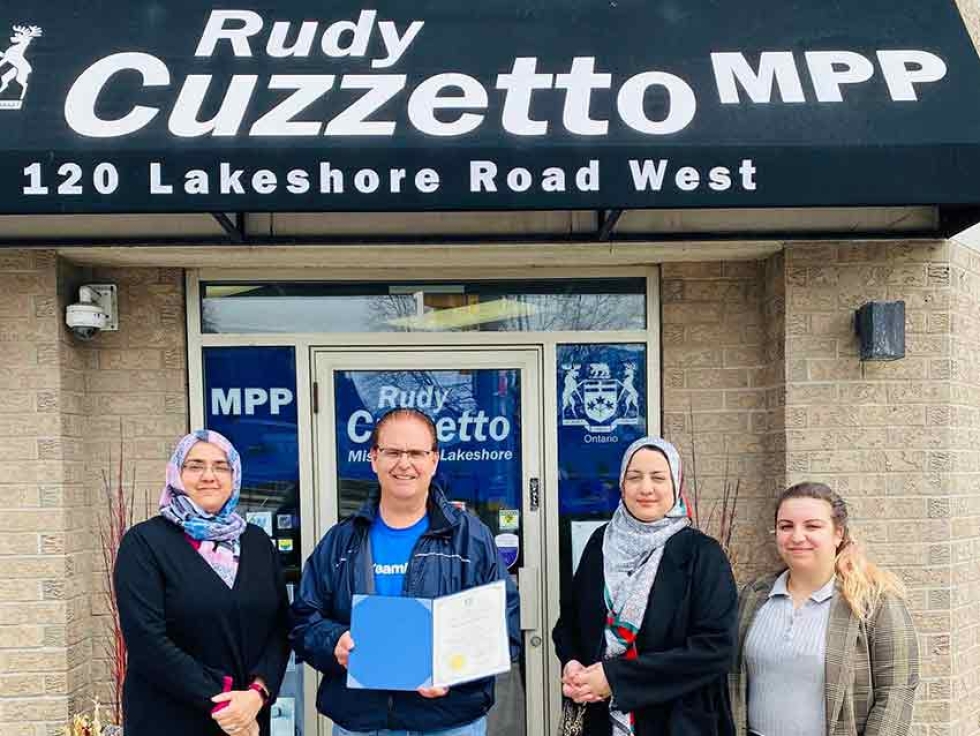 Rudy Cuzzetto, MPP for Mississauga-Lakeshore presents grant to members of DEEN Support Services
Rudy Cuzzetto, MPP for Mississauga-Lakeshore Facebook Page
19
May


2022
DEEN Support Services Receives $141,300 Grant From the Ontario Trillium Foundation's Resilient Communities Fund
Written by Rudy Cuzzetto MPP
[On April 27, 2022] Rudy Cuzzetto, MPP for Mississauga-Lakeshore, announced that 15 local non-profit organizations will receive a total of almost $1.4 million to help them offset the impacts of the COVID-19 pandemic, so they can deliver the best services possible for the people of Mississauga-Lakeshore, and create a stronger Ontario. These grants have been provided through the Resilient Communities Fund.
"Non-profit organizations are a crucial and valued part of any community, especially here in Mississauga-Lakeshore," said Cuzzetto. "Countless people rely on their services every day, and even facing the impacts of the COVID-19 pandemic, they still deliver. This funding will help them offset those impacts and continue supporting those who need it most."
A total of 15 non-local profit organizations will receive $1,373,100, including:
$150,000 for Armagh House, for a new fundraising plan, to provide technology support and wellness programs to staff, and to renovate the basement for more program space.
$150,000 for the Small Arms Society, to hire new staff, develop new fundraising initiatives, create new marketing materials, and redesign their website to expand online programming.
$148,600 for Team Unbreakable, to create new physical and mental health content tailored for diverse youth populations, and to launch a new community engagement initiative directed at schools and the community.
$141,300 for DEEN Support Services, to help adapt their programs and services to better support those with intellectual disabilities.
$140,900 for MonstrARTity, to adapt their virtual-only and in-person-only South Asian arts workshops for schools into a new hybrid model.
$121,200 for Epilepsy South Central Ontario, to hire new staff and upgrade technology for fund development, staff training, digital transformation, and increased organizational social impact.
$102,800 for Frog in Hand, to purchase, construct, and co-create an 'art shelter' using a geodesic dome for shared community use.
$101,400 for the Don Rowing Club of Mississauga, to purchase a fleet of coastal rowing boats and blades to expand their rowing programming.
$98,500 for the Mississauga Canoe Club, to purchase new equipment and to adapt their existing canoes and kayaks to help increase participant safety.
$62,800 for the Port Credit Figure Skating Club, to purchase additional equipment to enhance health and safety, and minimize shared equipment and physical touching, in accordance with new health and safety protocols.
$60,400 for the Southside Shuffle Blues & Jazz Festival, to update their safety program and protective equipment, purchase new sales and audio-visual technology, and develop a fundraising plan and training for volunteers.
$49,800 for Blooming Boulevards, for a community greenhouse project that will enable the organization to rebuild services and effectively engage stakeholders.
$21,400 for the Eagle Spirits of the Great Waters, for an Indigenous web page designer to improve their social media, and for hosting Indigenous events and workshops in our community.
$14,000 for the Hispanic Canadian Arts and Cultural Association, for personal protective equipment, cleaning supplies, and plexiglass barriers, and for health and safety training for staff and volunteers.
$10,000 for Arts on the Credit, to help coordinate virtual gallery exhibitions, increase social media presence, upgrade artist directory website, and produce a virtual production celebrating their tenth anniversary.
In total, the Ontario government is providing $95.8 million this year through the Resilient Communities Fund to help 1,146 non-profit organizations across the province recover and rebuild.
The Resilient Communities Fund provides grants of up to $150,000 to eligible non-profit organizations to cover a broad and flexible range of needs, such as:
Mental and physical health and wellbeing supports for staff or volunteers.
Support to adapt or re-imagine program delivery and services to meet the needs of communities, employees and volunteers, incorporate new health and safety processes, or purchase new technology and personal protective equipment.
Renovations and facility updates to meet the changing needs of the communities they serve.
"Since the beginning of the COVID-19 pandemic, our government has committed to supporting those struggling the most," said Lisa MacLeod, Minister of Heritage, Sport, Tourism and Culture Industries. "That's why it's been a priority for us to fund successful programs like the Resilient Communities Fund, which helps non-profits adapt and grow – ensuring they can continue providing the best service possible to the people of Mississauga, and make a positive difference in the lives of individuals and families."
The Ontario Trillium Foundation will continue to offer the Resilient Communities Fund in 2022-23 to help more eligible non-profit organizations that have been impacted by COVID-19. Application details and a full list of grant recipients to date are available on the OTF website.