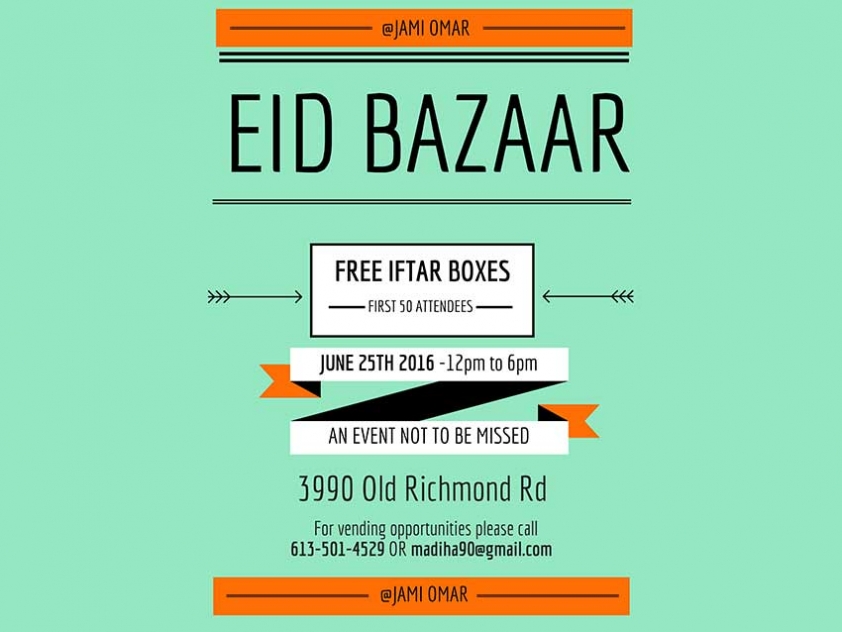 The Jami Omar Eid Bazaar takes place Saturday, June 25th. Muslim Link interviewed Madeha and Fariha Irshad, the two sisters who are trying to build the Bazaar into an annual community event.
23
June


2016
Check Out The Third Annual Eid Bazaar at Jami Omar This Saturday
Written by Muslim Link
Sisters Madeha and Fariha Irshad are collaborating again for this year's Eid Bazaar at Jami Omar, taking place from 12pm to 6pm Saturday, June 25th. Muslim Link interviewed the sisters about how they are trying to build the Bazaar into an annual community event.
Tell us about yourselves
Madeha Irshad is the owner of Colour Boutique, an e-commerce clothing business that caters to modest fashionistas and is also a Marketing Expert. Fariha Irshad is a small business owner as well who is very involved within the Jami Omar Muslim community. 
How did the idea for the Eid Bazaar at Jami Omar first begin? 
Having grown up in the west end of Ottawa, there was a lack of Muslim oriented events and festivities for our holidays. With our third annual Eid Bazaar we have tried to get people excited about Eid and Ramadan. Most people want to get clothing/gifts before Eid rather than after which is why we created this event. Also, having it at a mosque between Duhr prayer and Asr prayer times means people don't have to miss their prayers in order to do some shopping. Our timing also doesn't interfere with iftar times or taraweeh times so it is very convenient during Ramadan.
How has the Bazaar grown over the years?
Every year we keep learning and improving on the diversity of vendors and how to organize the event properly. We have seen an increase in overall engagement of people attending and talking about the event on social media. 
What do people have to look forward to if they attend this year?
This year we have free Iftar boxes for the first 50 people who arrive at the event, along with many clothing stalls for women, face painting for the kids, and henna for everyone who wants it. We will have vendors who will display goods from Turkey, Palestine, Pakistan, India, U.A.E and more. It's the perfect place to shop for all styles and cultures.
Any future plans?
We will also inshallah be doing a Eid Al Adha bazaar this year so look out for that!
For details about the Jami Omar Eid Bazaar visit here
This article was produced exclusively for Muslim Link and should not be copied without prior permission from the site. For permission, please write to info@muslimlink.ca.