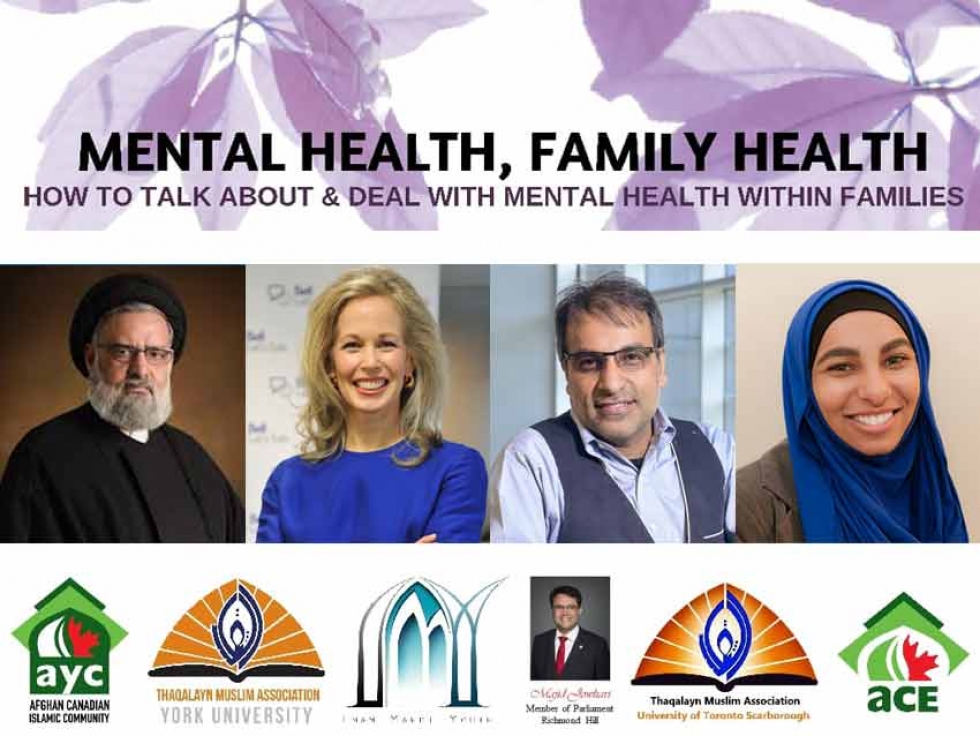 "Mental Health, Family Health: How To Talk About & Deal With Mental Health Within Families" on Saturday Jan. 26 at Imam Mahdi Islamic Centre in Thornhill, Ontario
25
January


2019
Check out the Mental Health, Family Health Conference at Imam Mahdi Islamic Centre This Saturday
Written by Chelby Daigle
The Thaqalayn Muslim Association of UofT Scarborough (TMA UTSC), Thaqalayn Muslim Association of York University (TMA York), Imam Mahdi Youth (IMY), the Office of Majid Jowhari, Member of Parliament for Richmond Hill, the Afghan Youth Committee (AYC), and the Afghan Committee for Empowerment (ACE) have organized their FREE second Annual Mental Health Conference which will take place this Saturday, January 26th.
This year, the event will take place at the Imam Mahdi Islamic Centre, focusing on the topic: "Mental Health, Family Health: How To Talk About & Deal With Mental Health Within Families."
The event will be divided into two sessions: a workshop, followed by the conference.
(1) Benefit from a fruitful workshop by Dr. Majied Kaveh, a registered psychotherapist. The workshop will take place before the conference, from 4pm to Maghrib prayers. The focus of the workshop is Family Mental Health.
(2) The conference will be from 6pm to 10pm. Speakers and special guests include Maulana Sayyid Muhammad Rizvi, Sheikh Vinay Khetia, Dr. Tayyab Rashid, a clinical psychologist with the University of Toronto-Scarborough Campus, Mary Deacon, chair of Bell Let's Talk, MP Majid Jowhari, founder and co-chair of the Parliamentary Mental Health Caucus, Naseeha Mental Health, and Sarah Walji, a registered nurse.
Speakers and guests will engage in a Q&A panel discussion as well.
This is event is free of charge. As the event is taking place within a mosque, please note that Islamic dress code applies.
For more details about this event and to register to attend, click here.
Watch an interview about mental health first aid with Mary Deacon, Chair of Bell Let's Talk below:
Watch Dr. Tayyab Rashid's TEDxUTSC Talk below:
This article was produced exclusively for Muslim Link and should not be copied without prior permission from the site. For permission, please write to info@muslimlink.ca.