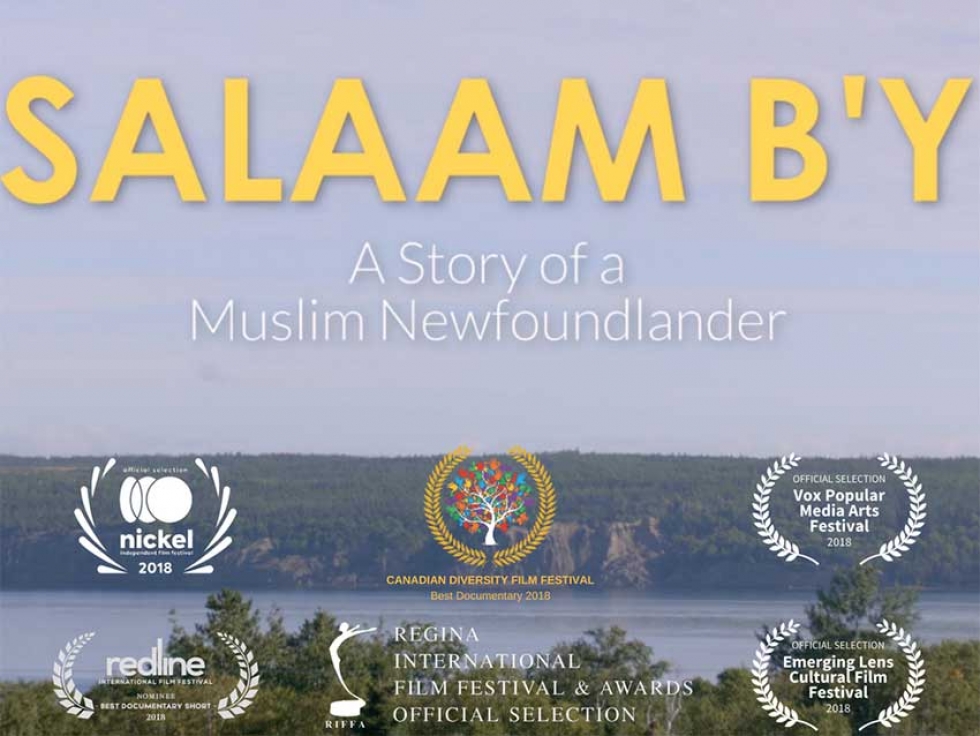 Salaam B'y - A Story of a Muslim Newfoundlander at MuslimFest
30
Aug


2018
Check out Salaam B'y - A Story of a Muslim Newfoundlander at MuslimFest
Written by Chelby Daigle
Aatif Baskanderi grew up in a place where not many people looked like him or believed in the same things that he did. As a Muslim child of Pakistani immigrants, Newfoundland became home. His experiences growing up on "the rock" was like something out of a storybook. On this cold, isolated island in the Atlantic ocean, Aatif learned sincerity and appreciation for others that would set him up for remarkable success in life.
As an engineer with a keen interest for social justice, he embarked on a journey to connect the two. Guided by his Muslim & Newfoundlander values, this led him to studying at the London School of Economics, researching Fair Trade farmers in Palestine, working on malaria prevention in Sierra Leone, informing science policy in Canada, the UK & Europe, leading Engineers Without Borders across Canada, and currently working as an innovation specialist at a global power company in Calgary, Alberta.
While things are going well for Aatif, the same cannot be said for his home province, which is facing tumultuous economic times.
In hopes of inspiring a new generation of Newfoundlanders to live their dreams, Aatif returns to Newfoundland to share his story of pluralism and tolerance.
At a time of increasing racial and religious friction across the west, Aatif's story is a reminder of what can happen when a community welcomes newcomers with open arms.
The documentary about Aatif's journey, "Salaam B'y", will be screened on September 2 in Mississauga as part of MuslimFest.
Muslim Link took the time to interview Aatif about his documentary.
Would you say that the beauty of the landscape of Newfoundland is a major character of your film?
The beauty of Newfoundland is not just the magnificent natural beauty of the outdoors, which is definitely highlighted in the film, but the major character is the beauty of the people of Newfoundland.
Throughout the film, we get to connect to various people in Newfoundland that form this welcoming, inclusive community.
The other side of the Newfoundland character is it's resilience, where we explore in the film how Newfoundlanders are dealing with the tough economic times that it is in, and seeing diversity and inclusion as an opportunity to enable local innovation for community sustainability.
You have won awards and the film has been screened at several film festivals. Could you share some highlights from this experience?
Some highlights include our premiere at the Emerging Lens Film Festival in Halifax in April, which is a film festival originally started to champion the stories of African-Canadians and has broadened to various Canadian minorities.
The morning of the premiere, I was fortunate to be interviewed by a fellow Newfoundlander on Global Morning News Halifax.
Another huge highlight was the Newfoundland premiere at the Nickel Film Festival in St. John's with a great reception at a renowned local theatre to a great crowd who gave a humbling large applause after our film. We were approached by people who said it made them cry, which absolutely floored my wife and I.
What feedback have you received from Newfoundlanders to your documentary?
I have been meeting with Newfoundland & Labrador government departments on various issues. It was an absolute pleasure to meet with the Department of Education to discuss multiculturalism in education. They asked me the open-ended question with full sincerity, "what could be done in the education system to promote multiculturalism?"
.. funny enough, I didn't expect the straight-up question, but I discussed a conversation my wife and I have often, how to get past surface-level multiculturalism and instead embrace deep culture. Specifically, how can we highlight excellence that comes from around the world.
Why is it that I did not learn names of a historical African intellectual, Chinese playwright, Latina scientist, or Indigenous engineer while in school, yet read 5 Shakespeare stories and could name you a slew of European historical icons. Not just for minorities to see excellence in their own/other cultures to get past a curriculum that reinforces white supremacy of intellectualism and leadership, but for everyone to see value and excellence that comes from around the world to tackle root causes of racism/prejudice, i.e. seeing the value of others. Aside from mitigating systemic racism, it also enhances the overall education by opening up the global marketplace of intellectual and leadership excellence, an option more accessible now than ever thanks to technology.
What remains a highlight is that Newfoundlanders are sincerely open to this conversation, not defensive, or thinking we live in a post-racial society, or leveraging relativism to say we're better than some other places at this, but open to take any ideas that can help make Newfoundland reach it's full potential, particularly in recognizing the value of others and discussing complex issues such as decolonizing education. A characteristic that further validated the theme of "Salaam B'y".
I looking forward to continue working with the Newfoundland & Labrador Governments and other groups to continue the cause of social inclusion to foster innovation for Newfoundland and Labrador's community resilience and development.
If people attend the screening of your film at MuslimFest, what can they expect in addition to seeing the film?
We are so excited to screen at MuslimFest. My wife, Nazia Sharfuddin, who is the visionary behind the film, and myself will provide an introduction. The screening with be followed by a panel discussion with the film's subject, myself, Aatif Baskanderi, the film's award-winning director & producer Amar Wala, and human rights leader & journalist Amira Elghawaby.
We look forward to discussing the impact of storytelling, particularly within the Muslim community.
Is there anything else you could like to add?
I would like to highlight my wife's role as the visionary and engagement strategist around the documentary. While she is not a Newfoundlander, she absolutely loves and enables the story to be told. Since visiting Newfoundland, it holds a special place in her heart.
*******
To learn more about the "Salam B'y" screening at MuslimFest, click here.
To learn more about Salaam B'y, including how to host your own screening of the film, click here.
This article was produced exclusively for Muslim Link and should not be copied without prior permission from the site. For permission, please write to info@muslimlink.ca.