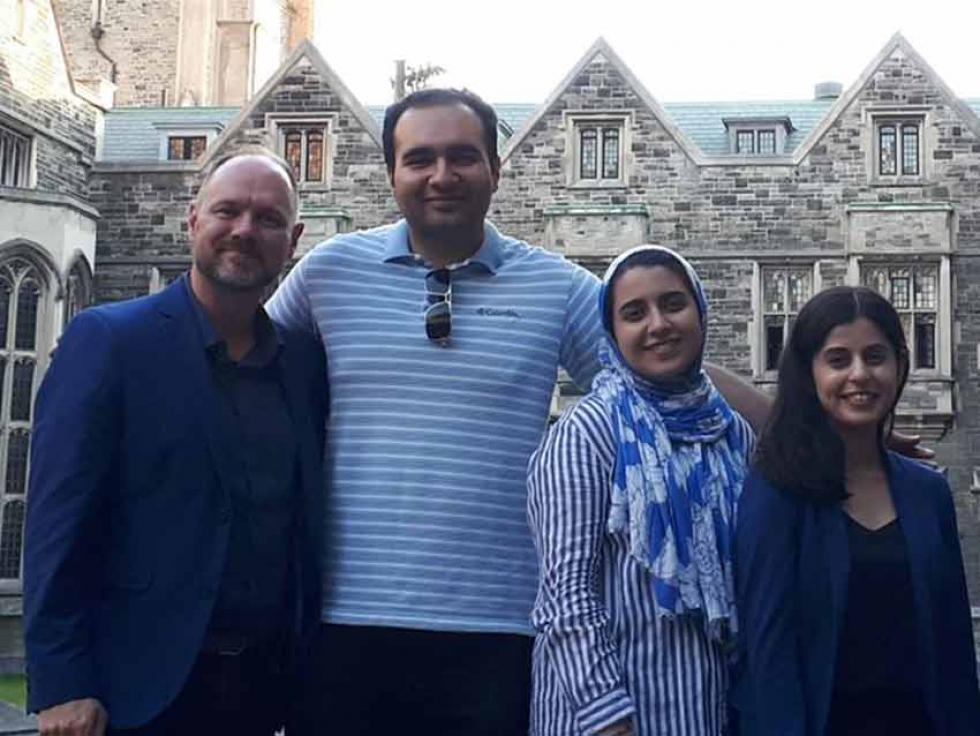 Mohammad Asadi-Lari and his sister Zeynab Asadi-Lari with Bushra Ebadi and Sébastien Goupil (June 2019)
Canadian Commission for UNESCO
09
Jan


2020
Dear friends and colleagues,
It is with sincere regret and unimaginable sadness that we inform you about some devastating news. As you may already know, Ukrainian International Airlines flight PS752 crashed in Iran shortly after takeoff from Tehran late last night. This morning, we learned that one of our dear and valued YAG members and a huge part of the CCUNESCO family, Mohammad Asadi-Lari, along with his sister Zeynab, were on that flight.
Mohammad was an incredible human being who worked tirelessly to advocate for peace, inclusive STEM education, equitable and just global health, meaningful youth engagement and social entrepreneurship and innovation. He was a global citizen, humanitarian, and entrepreneur who accomplished incredible feats before the age of 23.
Born in Iran, Mohammad grew up in the UK and Iran, visited over 20 countries, and finally settled in Canada 6 years ago, when he was in grade 12. His fascination for science started when he was in grade 9, in his Iranian high school's chemistry lab.
Mohammad joined the Canadian Commission for UNESCO as a Youth Advisor in December 2016. Since joining the Commission, Mohammad made a profound impact on everyone he met. He never hesitated to support his peers and help them understand the immense power and capacity they have to change the world and improve the lives of marginalized people. He was frequently called upon to serve as an expert speaker on issues related to health, science, education, and youth engagement both in Canada and abroad.
Mohammad was a Co-Founder and Managing Director of STEM Fellowship, Co-Founder and Vice President of the Canadian Association of Physician Innovators and Entrepreneurs, Director of the Pre-Health Sciences Curriculum with NextGenU.org, VP Global Health for the University of Toronto's Medical Society, a Global Shaper with the World Economic Forum, a Campus Editor for LinkedIn, and an advisor to PeerBuds (block-chain educational startup in Silicon Valley), all while in the midst of completing an MD/PhD at the University of Toronto. He graduated from the Honours in Cellular, Anatomical and Physiological Sciences (CAPS) program from the University of British Columbia. Mohammad also led and/or advised youth engagement initiatives within the Canadian Red Cross, the Canadian Institutes for Health Research, Science World BC and the League of Innovators. He published research on nano chemistry, cancer immunology, neurosurgery, and neuroscience.
It was hard not to notice Mohammad's impact, intelligence, kindness, profound humanism, and deep sense of empathy. In recognition of his many achievements, Mohammad was selected as a TEDx speaker, 3M National Student Fellow, Governor General's bronze academic medal recipient, UBC Faces of Today Leadership Award, Society for Scholarly Publishing Fellow, 2018 RBC Top 25 Immigrant Finalist and a winner of scientific Olympiad medals on a national and international level.
Beyond his incredible achievements, Mohammad had an ability to bring people together and inspire them to do and be better; -- better friends, family, professionals, academics, and citizens. His passing is not only an unimaginable loss for his immediate and extended family, including the Canadian Commission for UNESCO and the many institutions he was part of, but for the entire world. He will always remain in our hearts and his legacy and impact on the world will forever remain. It was a gift to spend time with and be in the presence of such a beautiful and remarkable person.
On behalf of the Canadian Commission for UNESCO, we send our most sincere condolences to Mohammad and Zeynab's family and friends.
Should you wish to send messages of condolences, we will pass them on to their family.
Sincerely,
Bushra Ebadi, Member of the Executive Committee and President of the Youth Advisory Group
Sébastien Goupil, Secretary-General, Canadian Commission for UNESCO