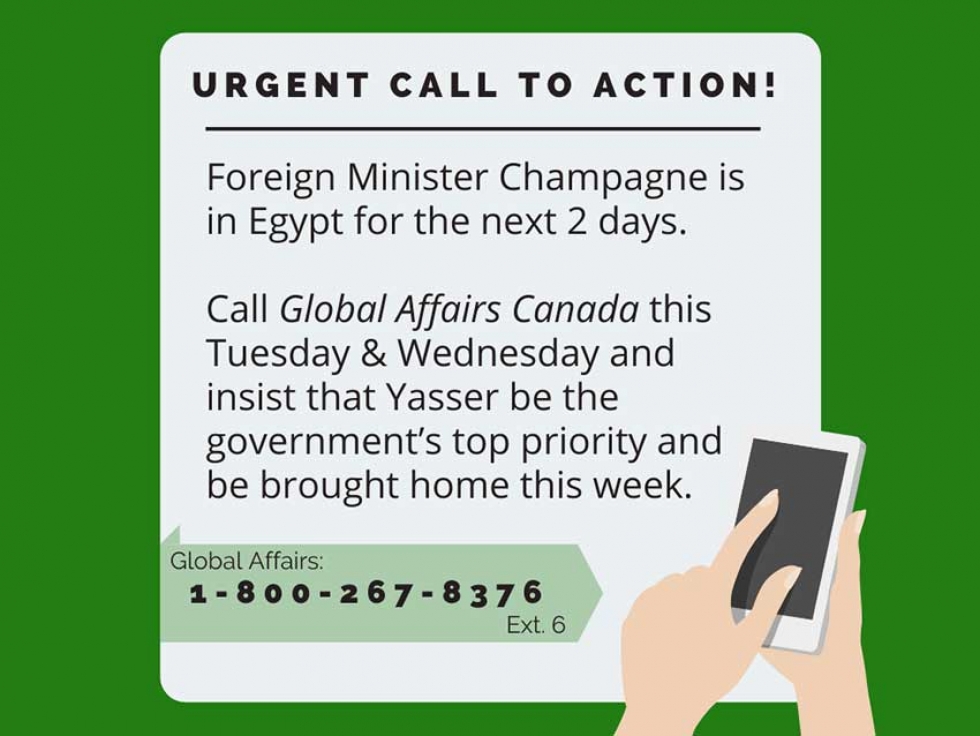 11
Dec


2019
Canada's Foreign Minister François-Philippe Champagne Must Bring Yasser Albaz Back Home During Egypt Trip
Written by Free Yasser Albaz
Foreign Minister François-Philippe Champagne heads to Egypt and must bring Yasser Albaz back home
Yesterday, Global Affairs Canada announced that Minister Champagne will attend the inaugural Aswan Forum for Sustainable Peace and Development in Africa in Egypt, on December 11 and 12, 2019.
Over the last several months, Canadians have been raising concern about Yasser Albaz's conditions and his need for immediate release and the Canadian government's intervention.
In the last couple of weeks, hundreds of Canadians called their MPs, specifically asking for the Minister to go to Egypt and bring Yasser home. We hope as a family, and as Canadians, that Minister Champagne will treat Yasser's case as a top priority on his trip, come to a resolution with Egyptian authorities and bring him home.
Yasser has been arbitrarily detained for over 9 months. He has never been charged and remains in Tora prison without cause or justification. He has several serious medical concerns not being addressed. Since February, he has been sleeping on concrete floor without a mattress in a small, crowded cell with 17 men, one washroom and limited ventilation. He faces brutal and unhygienic conditions. It's time Canada makes this a priority. It's time to end our family's nightmare.
We ask that you join our call to action and Call Global Affairs Canada today and tomorrow and insist that Yasser be the government's top priority and be brought home this week.
Yasser should not spend another night in a prison cell. It's Canada's responsibility to end this once and for all. And with the Minister in Egypt, there isn't a better opportunity.
Follow Free Yasser Albaz on Facebook here
National Post: Family of Canadian detained in Egypt demands action from federal government to bring him home

Toronto Star: Family of Canadian man detained in Egypt urges government to help bring him home