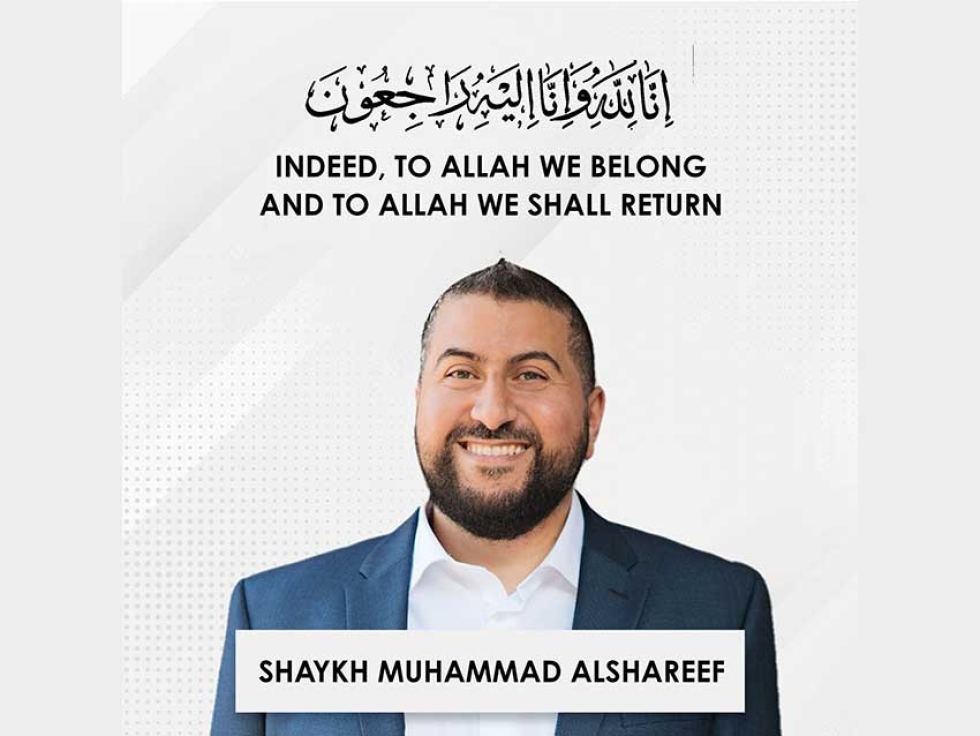 22
Jul


2022
Egyptian Canadian Shaykh Muhammad Alshareef, Founder of AIMaghrib Institute, Dies at 47
Written by Making Headlines
To Allah we belong and to Him we return.
Today, Shaykh Muhammad Alshareef - founder of DiscoverU and AlMaghrib - suddenly passed away.
This man was a giant in our Ummah, taught us the power of Dua, and to always rely on Allah. He raised a nation of Dua makers in all of us.
So today, we ask Allah to make us all a hujjah for him in the Akhirah, for everything he taught us to be counted in his scale of good deeds with him, and that Allah beautifies his reception, forgive him his sins, and enter him into Al-Firdaws.
Shaykh Muhammad was healthy with no illness, but life is not promised.
He was someone who took full advantage of his time spending it on what mattered most and what would lead to goodness in the Akhirah.
He has always said that the identity he aspires to be is that of a righteous man (as Najashi was described by the Prophet ﷺ - "today a righteous man has died"). We pray that with Allah, he is entered among the righteous. A true nation builder.
May all of his work continue to be a sadaqah jariyah for him until the Day of Judgment.
May Allah grant his family patience in this difficult time.
Please keep him, and his family, in your Duas.
******************************************
Shaykh Muhammad Alshareef was born to Egyptian parents in 1975 in Winnipeg, Manitoba, Canada. He graduated with a degree in Islamic Law from the Islamic University of Madinah in 1999. As the founder of Al-Maghrib Institute in 2002, he pioneered a revival of interest in Islamic knowledge by making it more accessible to young men and women in English-Speaking countries around the world. He passed away on July 21, 2022 in Dubai, UAE. At this time, his cause of death has not been make public. 
Coverage of Shaykh Muhammad Alshareef's Legacy in Canadian Media:
Ottawa Muslims mourn death of popular Islamic scholar (CBC Ottawa News)
The following are some reflections on his passing by Muslim Canadians whose lives were touch by him:
The shocking news of the passing of our Beloved Brother Shaykh Muhammad AlShareef has just torn at my heart. He was one of the most sincere and innovative Islamic scholars and activists that I have known. His loss is a devastating blow to the Islamic movement in the West but his rewards are immense Inshallah.
In 2010, Shaykh Muhammad joined my colleague Tariq Mahmoud and I, on a trip to Granada, Spain. He was already accomplished and well known, but so humble that he joined as a participant. By the end of trip he was teaching some of the history himself!
May Almighty Allah accept his work and give him the blessings of the countless people who benefitted from Al Maghrib Institute and his inspirational teachings. May Allah give him the highest part of Paradise and raise him with the Righteous.
The day after I accepted Islam over 30 years ago, in Winnipeg, Manitoba, I attending the local mosque on Hazelwood Avenue for zuhr (early afternoon) prayers. I was met by a teenage Muhammad Al-Shareef and his father. We were the only ones in the mosque. I was still obviously unfamiliar with the specifics of prayer and mentioned to them that I was new to Islam and still figuring things out. After giving me the biggest smiles and 'welcome to Islam hugs' (Egyptians are good huggers), we lined up for prayer behind bro. Muhammad.
Once we completed the prayer Muhammad realized that he only completed three of the four rakats of zuhr prayer. We stood up, completed the prayer and added what is called sajdah al-sahw (prostration of forgetfulness). Afterwards I joked with them saying that, "I've been a Muslim for only 24 hours and even I know that zuhr is four rakats!" The echo of their heavy laughter filled the empty mosque. We remained good friends ever since.
Muhammad Al-Shareef was a brilliant student of the Quran. His time at the Al-Rashid Islamic Institute in Cornwall, Ontario was legendary. From his youth, he was always disciplined, driven and most importantly, spiritually sensitive; oft-times shedding a tear as he beautifully recited the Book of Allah. The most important advice he offered me, especially in my early days as a Muslim, was to make sure that I developed a strong relationship with the Quran; by reciting, memorizing and learning it's meanings. "True Islamic education begins and ends with the Quran," he said.
The suddenness of death brings clarity to the mind. Life is a full circle for a believer. When you are born the world rejoices and your eyes cry. When you die, the world cries and your soul rejoices. So as we bid farewell to our dear brother, let us rejoice with his soul and celebrate the promise of Allah to the righteous. Allah says: ˹Allah will say to the righteous,˺ "O tranquil soul! Return to your Lord, well pleased ˹with Him˺ and well pleasing ˹to Him˺. So join My servants, and enter My Paradise." (Quran 89-27-30)
May Allah be pleased with Shaykh Muhammad Al-Shareef, grant him the highest of Paradise; and may He illuminate his grave, forgive him and grant patience to his family and loved ones left behind. And may He, who has Power over all things, grant us all a good and righteous end.
This article was produced exclusively for Muslim Link and should not be copied without prior permission from the site. For permission, please write to info@muslimlink.ca.