A declaration of mutual respect between Sunni and Shi'a communities in North America
Written by Chelby Daigle
Prominent religious leaders from North American Sunni and Shi'a Muslim communities have developed an agreement meant to stem violence and tension between their respective communities.
The Washington Declaration For the Protection of Nations and Societies from the Menace of Sectarian Violence aims to facilitate mutual respect and unity between Muslim communities in North America and address the rise in sectarian violence in countries such as Pakistan, Iraq, and Syria.
The declaration was first unveiled on September 1st at the annual conference of the Council of Shi'a Muslim Scholars of North America and announced at the 50th annual convention of the Islamic Society of North America (ISNA) in Washington, D.C.
According to the declaration, a committee of leaders from both Muslim communities was established for the purpose of "providing advice, decision-making, and to take mutually-accepted stances to counter extremism or any situation that requires the reaction of religious scholars, and the clarification of their position towards the sanctities of Islam, Muslims and their interests." This committee will include representatives from The Fiqh Council of North America, ISNA, Zaytuna College, and the Islamic Shia Ithna Ashari Jamaat of Toronto.
 "It was a very moving moment for the history of Islam in America.  ISNA is a platform for the unity of Muslims. Whatever brings Muslims together strengthens all of them," said Imam Sh. Mohammed Magid, the ISNA representative on the committee. 
Jaffar Hashmi, the President of the Ottawa Shia Islamic Association (OSHIA), sees the Washington Declaration as an important but long overdue first step. "In Ottawa, we should seize this declaration as an opportunity to build upon the efforts initiated by Abo Ther AlGhafari Mosque under the leadership of Sheikh Mumtaz Ali and reciprocated by Imam Samy Metwally of the Main Mosque," Mr. Hashmi remarked, referring to a visit by Imam Metwally of the Ottawa Muslim Association (OMA) to Abo Ther Al Ghafari Mosque this past Ramadan.
Imam Zijad Delic of the South Nepean Muslim Community (SNMC) welcomed the declaration and sees it as a "progressive" move. He feels that there is a need for Muslims, particularly those committed to interfaith dialogue with non-Muslim communities, to also be committed to building bridges with Muslims from other branches of the faith, as well as from other legal schools (madhabs) within their own respective communities. "We often talk about interfaith work with Christians and Jews. This is important but what about intrafaith work? We need to start building a foundation of positive relationships between our own groups. If we are doing interfaith work but we don't have a good relationship with our own brothers and sisters in Islam, it seems hypocritical."
Excerpts from the declaration:
All Muslims are one nation, even if the schools of thought are diverse. Such diversity is a source of intellectual enrichment and should not be the cause of accusations of disbelief, murder, and the desecration of sanctities. For the main reason for the manufacture and escalation of what has been come to be known as "sectarian violence" is not holding steadfastly to the rope of Allah Almighty through holding onto the rightful leaders and the pious and insightful religious scholars, but instead following those who misinterpret the holy Qur'an and leave the authentic (Saheeh) traditions of the honorable Sunnah, hence passing false verdicts.
It is forbidden to violate man's rights, those things sanctified to him, and to indict others based on religious beliefs, sect, and thought. It is also forbidden to attack others by name-calling one Nasibi, or the other Rafidhi, or even Kafir, and so forth. For such judgments are Allah Almighty's to make and no other. In Islam there is nothing more sanctified than life, family, and property. For Allah Almighty has graced mankind with dignity and has forbidden the slightest of offenses against it, both physically and emotionally.
It is important to understand the role of religion in public life. The role of religious scholars is to spread knowledge, tolerance and brotherhood within society. This is the best method of creating a secure and peaceful coexistence within humanity. Religious scholars are expected to rise above the petty politics. Rather, they are expected to speak the truth, guide and admonish its politicians and workers. It is no one's right, without exception, to make religion a servant to politics, personal agendas or the goals of its beneficiaries.
To read the declaration visit: www.isna.net/sunni-and-shirsquoa-muslims-coming-together.html  
This article was produced exclusively for Muslim Link and should not be copied without prior permission from the site. For permission, please write to info@muslimlink.ca.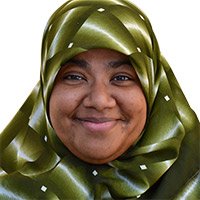 Chelby Marie Daigle is Muslim Link's Editor in Chief and Coordinator. Under her direction, Muslim Link adopted its Diversity, Equity, and Inclusion Policy so that the website strives to reflect the complexity of Muslim communities in Canada. She knows that she fails to do justice to this complexity every day but she will continue to try to improve as she recognizes the frustration of being both marginalized in the mainstream and also marginalized in Muslim communities. As Coordinator, she works to build relationships with Muslim and mainstream organizations and manages the website's social media, event listings, and directories. She organizes regular Muslim Link gatherings. She also works closely with the Publisher to find ways to keep Muslim Link sustainable. Find her on Twitter @ChelbyDaigle