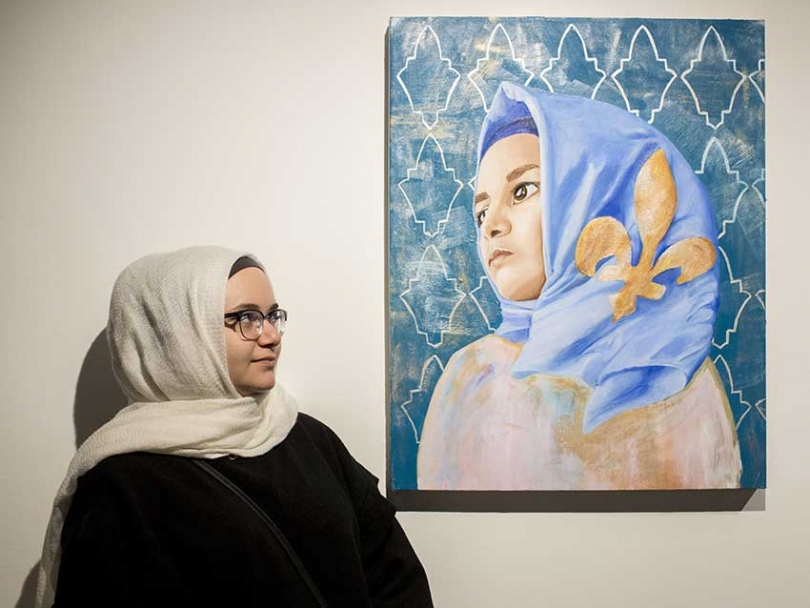 Zahraa Sbaiti's self-portrait "My Crown" explores the intersection of Muslim and Quebecois identity.
Sebastien Roy
16
Feb


2017
Zahraa Sbaiti: Reconciling Muslim and Quebecois Identity Through Art
Written by Aicha Lasfar
A painting hangs on a wall in Montreal's Museum of Fine Arts. In varying hues of blue, soft yellow and beige, it is the portrait of a young woman. Her head is tilted slightly, her eyes looking into the distance. She is tight lipped with a resolved look on her face, but most noticeable of all is her sky-blue headscarf, emblazoned with a yellow Fleur-de-Lys- the national symbol of Quebec.
This is a self-portrait of Zahraa Sbaiti, a visual artist from Montreal, Quebec. Born and raised in Canada, Zahraa is 24 years old and of Lebanese decent. She is a student at Concordia University, soon graduating with a Bachelor's of Fine Arts.
Zahraa's self-portrait is titled "My Crown". It was her submission for an exhibit at Montreal's Museum of Fine Arts named "Art of Inclusion: Muslim Youth Take the Lead". Along with the art of nine other applicants, Zahraa's portrait was featured in this exhibit aimed at giving a voice to young Muslims from Quebec.
The exhibit was a partnership between the Montreal Museum of Fine Arts, the Michaelle Jean Foundation and the Institute for Research and Education on Race Relations.
Zahraa's passion for the arts was recognized by her mother early. "I started as a child, I just had a natural talent," she recalls.  "I really loved scribbling. I even scribbled on my dentist's wall. And my dentist still remembers it till today. I used to draw a lot in classes, and my friends would ask me if I can make them a drawing. I was encouraged by mom, and so she enrolled me in an art studio. I was 16 at that time. That's when I took art seriously."
Where Zahraa's mother encouraged her to pursue her talents, some of her other family members were not so convinced. "They would say artists don't make enough money. That it's best for me to study medicine or engineering," she explained, "But now they have changed their mind. My father and my brothers are very proud of me now that I'm really into it and making exhibitions."
Indeed, Zahraa's "My Crown" is something that she is quite proud of and something that she feels very emotionally attached to. Like many Muslim women living in the West, she grew up constantly having to reconcile two identities that people often like to pit against each another: Being Muslim and Being Quebecois.
"I worked on the idea for "My Crown" in my first year of university," she said, "During that time, the Parti Quebecois was in power. And you know about the Charter of Values they were suggesting. There was a lot of chaos. Many Muslim women wearing the veil were harassed. I was too, four times in a row during one week! I have experienced intimidation physically and mentally by random people in the streets, in buses, and on subways. " 
At first the idea for "My Crown" was not executed in portrait form but rather as a live performance piece. As part of a textile class, Zahraa decided to sow a Fleur-de-Lys pattern onto a white hijab. Sitting on a stool, Zahraa donned her Fleur-de-Lys hijab. In the background, taped to the wall was a piece of paper that said in French, "You are crazy to have chosen to wear that piece of cloth." 
Zahraa feels that people saying such statements are, "insulting my crown". Historically, the Fleur-de-Lys symbolized royalty before it ever came to represent Quebec. To Zahraa, the symbol stands for the province she calls home and for a sense of empowerment as well.
When asked about why Zahraa regards her hijab as a crown she says, "I express resistance over the bullies, as a crown itself defines power. I achieve victory by keeping my hijab despite people who are trying to force me to take it off. And it's obvious I'm not going to listen to them or change my identity."
The responses to her performance piece were mixed. "Some people told me that it was a strong statement including a Fleur-de-Lys on a veil, that it showed pride in having an identity that merges the culture of Islam and the culture of Quebec," she explained. However, one fellow student did express being very upset with the piece.
But Zahraa was looking to evoke strong reactions. "My idea was originally to anger racist Quebecers," she said, "I'm talking about politicians who want to apply laws banning the hijab and other religious symbols in the workplace and public institutions," she clarified, "And the people who want those laws to happen." "I want to convey in my artwork that even though I wear the veil it doesn't make me less Quebecoise," she explained, "I'm grateful for being brought up between these two cultures."
Zahraa continued working with the idea of "My Crown" which eventually made its way onto canvas as her submission for the Art of Inclusion Exhibit.
According to Zahraa, the exhibit encountered some resistance at first. "There were people who disapproved of this exhibition, especially because it was in the Montreal Museum of Fine Arts," she explains. "When we, the chosen artists, had our first meeting with the organizers, we were told not to announce to people about the process. Because they have received calls, people threatening to not let the exhibition happen and expressing their anger about how the museum could promote Islam." 
In light of recent events in Quebec, including the tragic shooting at a mosque in Quebec City, some people may feel that the future is bleak for Muslims in the province. But Zahraa is hopeful. She feels that positive relationships between Muslim and non-Muslim Quebecers can really make a world of a difference."Sometimes I feel like leaving Quebec because I'm very angry and fed up with how people treat me. But then I remember that I have classmates and friends who are very open and accept me for who I am."
Zahraa plans to continue her work as an artist and hopes to become an art teacher and continue having her art featured in exhibitions.
Follow Zahraa on Instagram here
Photo Credit: Sebastien Roy
This article was produced exclusively for Muslim Link and should not be copied without prior permission from the site. For permission, please write to info@muslimlink.ca.