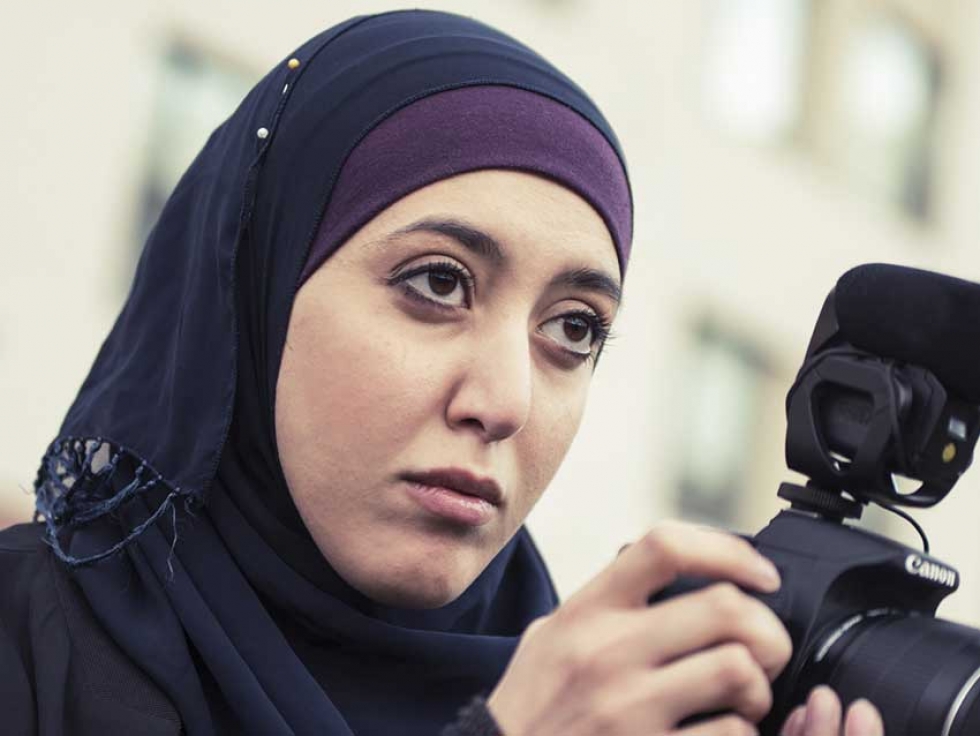 Muslim Link interviewed Palestinian Canadian documentary filmmaker Sura Mallouh
Sura Mallouh
11
Aug


2018
'We are the heroes of our own stories': Interview with Documentary Filmmaker Sura Mallouh
Written by Chelby Daigle
Muslim Link had the opportunity to interview Palestinian Canadian cinematographer and documentary filmmaker Sura Mallouh about her upcoming documentary about a teenage Syrian refugee in New Brunswick for CBC and the joys and challenges of being Muslim while filmmaking.
1. Tell us about yourself
I'm a Palestinian-Canadian Muslim filmmaker based in Toronto. I grew up in Greece, Kingston and Ottawa where I learned early on that diversity matters. Greece taught me that differences needed to be celebrated. Kingston taught me that people might not like me because of my religion and ethnicity and Ottawa taught me that my faith was not something I ever had to compromise. Those experiences have guided my work and my personal belief that art can change hearts.
I've lived in three different continents and have taken my camera along for the journey.
As a documentary filmmaker, it's important for me to humanize misunderstood individuals and challenge the status quo.
To be honest, this is the hardest question to answer. I'm an introvert and I'm always focused on telling other people's stories that I find it uncomfortable being the story.
2. When did you know you were interested in being a documentary filmmaker?
This career path never crossed my mind. I always thought I'd become a lawyer. I was really interested in social justice and wanted to be part of making positive change. It wasn't until I was 20 that I seriously considered becoming a filmmaker. But even then, it seemed so foreign.
I didn't know where to start. I ended up watching a couple of documentaries and it hit me - the power of sincere storytelling. I wanted to be part of that. So I emailed the filmmaker of those documentaries and she gave me advice and told me to go for it. That gave me the courage to apply to film school. The rest is history.
3. How did you study for this career?
I went to film school. But the best learning experience has been the practical part of just going out with a camera and trusting my instincts. For two years, I kept a camera on hand and filmed everything. I learned to capture nuances in human interactions, which to this day has helped me pinpoint important moments in a documentary before they even happen.
4. Do you feel that there is a common theme running through out your films?
I would say that for the past two years there has been a common theme. I've centered a lot of my work on the Muslim community. But it wasn't always like that. I think the current political climate forced me to look inward and focus on my community to amplify our voices. We're a minority and I think we need to speak for ourselves, make stories for ourselves, and see ourselves on screen. We need to know that we are worthy of being showcased. We need to see ourselves as the heroes of our own stories and that's what I try to do in the films I put out.
5. You recently collaborated with CBC to produce a documentary about a Syrian refugee family in New Brunswick. Tell us about this film.
Sedra is a documentary that will premiere on CBC Short Docs. It can be found online as of August 14th. It follows a 17-year-old Syrian refugee, Sedra, as she struggles with rebuilding her family's life after they land in Saint John, New Brunswick. The story examines a father-daughter bond and the overwhelming love they have for each other despite the burdens they are carrying.
What if being here isn't all sunshine and rainbows? Are there enough support systems in place for refugees? Are they the lucky ones?
https://twitter.com/SuraMallouh/status/991348496996470785
6. Do you feel that the fact that you are yourself Arab and Muslim impacted how you approached this story?
As a Palestinian, I'm not a stranger to the refugee story and can empathize with Sedra's family. My family has been displaced by war as well and knowing I was approaching their story with that sensitivity, gave us a special connection.
I also recognize that my Arabic is broken and barely passable, but being able to converse with Sedra's family in a language that they are comfortable with made them feel heard.
I don't necessarily think being Arab played a factor in my creative approach beyond it being pragmatic in removing a language barrier.
But I think being Muslim deeply affected how I approached the story. Our trust was built on our faith.
It was important for me to show what an amazing young woman Sedra is. I was incredibly aware that we were breaking stereotypes by showing a strong Muslim woman be her own hero.
7. What advice would you give to other Muslim Canadian women interested in becoming documentary filmmakers?
Take the leap. Your voice matters and you can do it. There will be a lot of highs and lows. You will encounter a lot of Islamophobia and sexism but you will also encounter a lot of people who want to empower you. Both will teach you different things, don't let the lows crush you and don't let the high's inflate your ego. They are both fickle beasts.
From a practical standpoint, I'd say what my mentor told me: Be a jack of all trades. Understand every aspect of filmmaking. You don't have to be the best at every part but you need to be competent in it. Making a film is equal parts technical understanding and subject matter. Focus on pacing and motivation and follow your gut.
If it's not you empowering the next generation of Muslim women than who?
8. What's next?
I'm currently on production on a documentary which I cannot speak about due to its sensitive nature. I also have a series I am in the middle of developing and a civil rights documentary following Imam Omar Suleiman and Pastor Michael Waters coming out soon.
https://twitter.com/SuraMallouh/status/983505828752838657
To learn more about Sura visit her website and follow her on Twitter
To learn more about Sura's short documentary about Syrian Refugee Sedra and how you can help Sedra and her family, click here
This article was produced exclusively for Muslim Link and should not be copied without prior permission from the site. For permission, please write to info@muslimlink.ca.