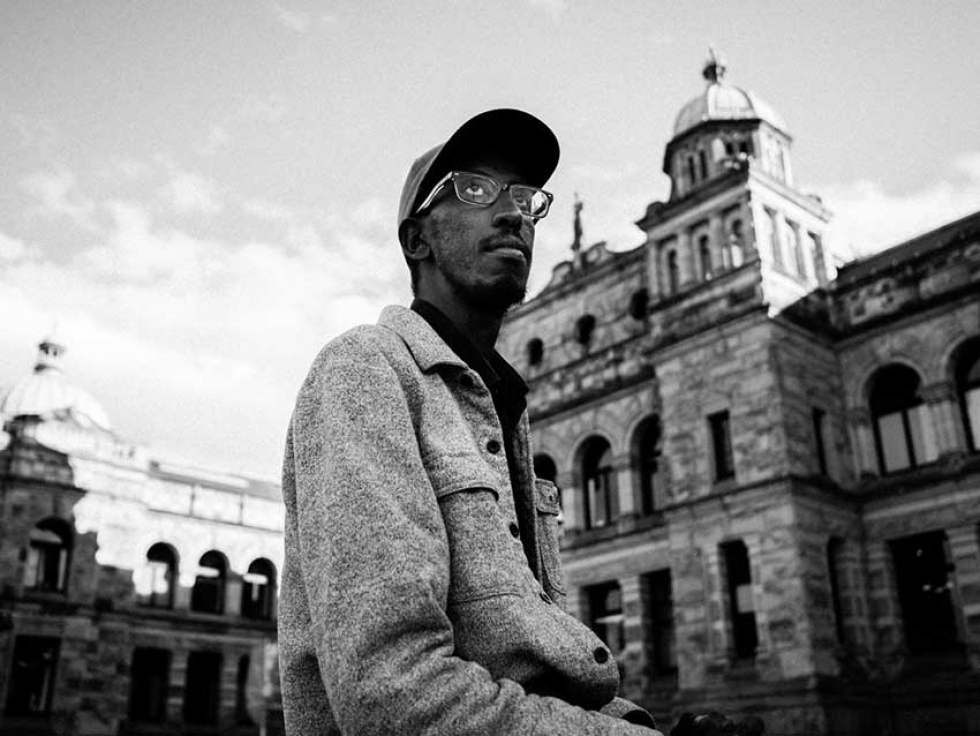 Somali Canadian Sharmarke Dubow works with refugees in Victoria, BC.
Quinton Gordon
04
Apr


2018
A Somali Canadian's Reflections on Refugee Rights Day in Canada
Written by Sharmarke Dubow
Refugee Rights Day is a day to create awareness in the public consciousness about the rights and protection of refugees in Canada. Celebrated on April 4th, this day is significant particularly for refugee claimants, because it brings attention to the advances made in the protection of refugee rights in Canada as a result of the Supreme Court's 1985 Singh Decision. In this decision, the Supreme Court found that the Canadian Charter of Rights and Freedoms protects the fundamental rights of refugees. The Court decided that 'everyone' includes refugee claimants in the sentence: 'Everyone has the right to life, liberty and security of the person and the right not to be deprived thereof except in accordance with the principles of fundamental justice.'
Refugee claimants are therefore entitled to the right to have their refugee claim heard, in accordance with the principles of fundamental justice and international law.
I came to Canada as a refugee from Somalia. I live in Victoria, BC, a city with a growing refugee community. 
Every year on June 20, cities and communities in Canada and around the world celebrate and commemorate World Refugee Day which gives the world a chance to focus its attention on forced migration and refugee issues.
But World Refugee Day wasn't celebrated in Victoria.
I wanted to change that.
I wanted the city, community organizations, community members, faith groups and elected officials etc to come together to celebrate and recognize their coworkers, neighbors, friends, supervisors, doctors etc who have refugee history in their families, or refugee or former refugees to honor refugees and recognize their resilience.
I really wanted to see the community coming together to talk about how we can be more welcoming and create more empathy and understanding for our shared future in this city.
Days like Refugee Rights Day and World Refugee Day create an opportunity to raise public awareness about the long-term challenges refugees in Canada face beyond just settlement. 
What many Canadians often don't realize is the importance of family reunification after part of a family is able to settle in Canada. One of the many shared experiences of refugees is family separation, which has devastating impacts on their wellbeing, and their ability to contribute more to their host countries. Keeping families separated is not good for Canada. When families are united they are able to contribute more to the economy and the mental health of the family is greatly improved.
As a Somali Canadian, I have seen the negative impact of delayed family reunification all too well. I like to think that Somali people are resilient, resourceful and friendly. I take pride in how Somali people have strong family values and support each other, because of that, I was privately sponsored as a refugee to come to Canada by my uncle.
In 2015, just three countries produced half the world's refugees, and Somalia was one of them. Many Western countries are closing their doors on Somali refugees and that includes Canada. For the last few years I have been advocating to make it easier for African refugees to come to Canada through the Canadian Council for Refugees.
Even though Canada has provided a new home to many Somali refugees in the decades since the fall of Siad Barré, it has not offered special immigration measures to respond to the longstanding catastrophic situation in Somalia as it has with other communities. On the contrary, some immigration policies have particularly discriminated against Somalis, with devastating consequences.
In February 1993, as the number of Somali refugee claimants was rising, Canada's Immigration Act was changed so that accepted refugees had to provide satisfactory identity documents in order to be granted permanent residence. Many Somali and Afghan refugees could not provide satisfactory identity documents, because of the lack of a functioning government in their country of origin. Others were also affected, but the Somalis were by far the most numerous to be caught up in the ID issue over the coming years. The consequences for refugees who could not become permanent residents were dire:
They could not reunite with spouses or young children outside Canada.
They could not go to university or college (unless they could afford to pay foreign student fees). They were not eligible for student loans.
They could not travel outside Canada.
They often could not get better-paid jobs as employers didn't want to hire someone without permanent status.
People's mental health suffered because of their powerlessness.
By 1999, the number of people in limbo in Canada because of this policy change was estimated to be 13,000. Finally in 2000, the government agreed to the settlement of a legal challenge, launched in 1996, which argued that the ID rule was discriminatory against Somalis (the case is called Aden). Under the terms of the settlement, Somali refugees without ID would be able to submit instead affidavits from someone who knew them before their arrival in Canada or from a credible Somali organization in Canada. The terms of this agreement were written into the 2002 regulations of the new Immigration and Refugee Protection Act.
During the 1990s, it was often pointed out that keeping thousands of refugees in limbo would have devastating long-term social impacts. Even though the ID issue was largely resolved a decade ago, some of the struggles in the Somali Canadian community today may well be at least partly due to the impacts of these policies, which are felt into the next generation. Families were only reunited after a long separation, people were unable to educate themselves or get decent jobs, and many fell into depression. Many Somalis felt that their community had been rebuffed and rejected by the government.
Somalis being Muslim and Black faced discrimination, but the community resisted and remained resilient and thrived despite the challenges because community members came together and organized and built social networks which have helped refugees who have came after 2000s. Somali refugees like me.
https://twitter.com/deardubow/status/949792875469942784
I am so proud of the Somali Canadian community for all the things they have achieved. I have traveled in the last six years across the country, and met Doctors, Lawyers, Business people, scholars, activists, social workers, public servants, community leaders all of Somali origin. Many Canadians are of course familiar with Canada's Minister of Immigration, Refugees and Citizenship, Somali Canadian Ahmed Hussen, who came to Canada from Somalia as a 16 year old refugee.
Somali Canadians work hard to continue making Canada a better place – a place that I hope will welcome more refugees. The Somali community's experience must be retold again and again, so we can learn from it. The Somali community have a lot to share to improve the settlement and integration of refugees today.
I was a refugee for more than two decades before arriving in Canada. It was these experiences that have convinced me to dedicate my life to creating more just, inclusive and peaceful communities; both in my new home country of Canada and in areas where conflict and instability continue to ravage and destroy many lives. I appreciate that these have led me to become who I am, and that's why I continue to work harder to play my role to make Canada a better place for everyone.
https://twitter.com/deardubow/status/974027757205123072
I have worked with a variety of refugee populations in protracted situations in various urban and camp-based locations in the Middle East and North Africa (MENA). Fortunately I continued my work with refugees when I arrived in Canada. I manage volunteer support services for refugees in Greater Victoria at the Inter-Cultural Association of Greater Victoria and formerly facilitated wraparound support services for vulnerable immigrant and refugee youth in Greater Victoria at Immigrant and Refugee Centre Society. I closely work at the national level with the Canadian Council for Refugees - this gives me the opportunity to work around policy issues while locally I work on frontline issues. Through my life experience and my work with refugees at various organisational and community-based levels, I have gained a deep understanding of the protection-related issues refugees are facing in their countries of origin and asylum. This has strengthened my ability to be a strong advocate for refugees.
https://twitter.com/deardubow/status/978039842230513665
One of the big questions I am exploring now is how can Indigenous communities and refugee communities learn more about each other and work in solidarity with one another.
I recognize that as a new Canadian citizen, I am a guest on this beautiful Victoria/Lekwungen territory… land that rightfully belongs to the First Nations.
We are all settlers – including those of us who came here as newcomers or migrants, either in this generation or in generations past, whether voluntary or as a result of war, persecution or conflict.
Unfortunately, there is lack of education for newcomers about the history and realities of Indigenous communities upon arrival. Often newcomers pick up negative stereotypes about our brothers and sisters who are Indigenous peoples. I think settlement agencies can draw out some of the similar challenges and cultural similarities of newcomers and Indigenous communities - they may share similar experiences with injustice due to persecution, oppression, colonization, discrimination, stereotyping and exclusion. One in five Canadians is an immigrant so it is crucial to continue building bridges and respectful relationships in order to continue the reconciliation process.
I hope after reading this you will take the time to educate yourself more about refugee rights in Canada.
This year, the Canadian Council for Refugees (CCR) is running the campaign slogan "Protecting Refugees = Stronger Communities"
CCR and all its member organizations are calling on the Government of Canada to:
Resettle 20,000 government-assisted refugees annually.
Ensure applications of privately sponsored refugees are processed within 12 months.
Reform the refugee determination system so that all claimants have access to a fair hearing before an expert independent tribunal.
To conclude, I would like to quote my role model, refugee advocate Barbara Harrel-Bond, who said "Refugees are ordinary people in extraordinary circumstances."
This article was produced exclusively for Muslim Link and should not be copied without prior permission from the site. For permission, please write to info@muslimlink.ca.