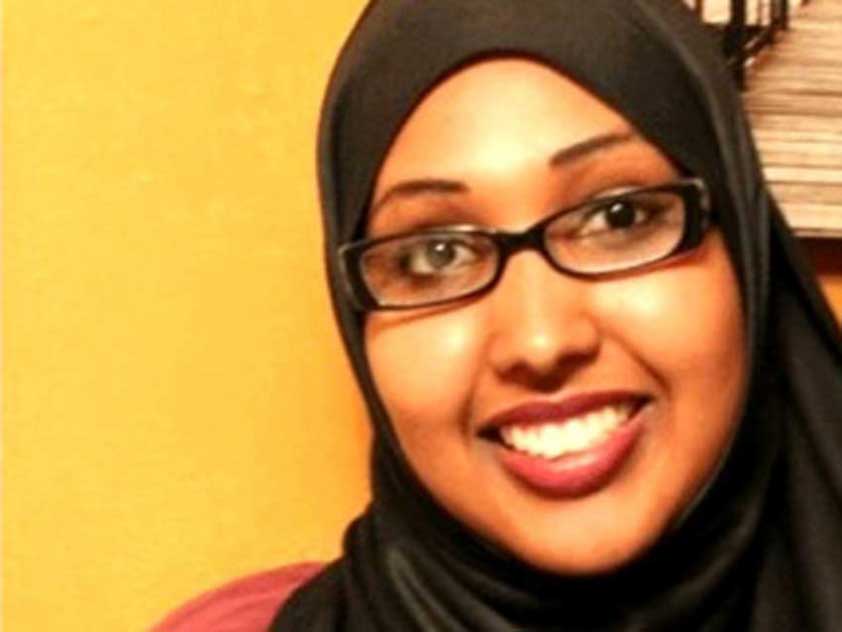 Somali Canadian law student Faiza Hassan
Courtesy of Faiza Hassan
28
Sep


2014
So You Want to Go To Law School? Faiza Hassan
Written by Faiza Hassan
Muslim Link's new series "So You Want To…" interviews students and established professionals for advice and reflections on their various fields of study and professions, with the aim of helping other Muslims aspiring to join those fields.
In this article, Somali Canadian law student Faiza Hassan discusses her experience as a law student in Ottawa.
Tell us about yourself
I have many identities! I am a Muslim by faith. I'm ethnically Somali and nationally Canadian. I am black and I am a woman. My parents and I came to Canada as refugees during the early 90s as a result of the war in the Horn of Africa when I was four years old. While I think by the status quo's standards some would think that I lost the jackpot of life, I consider myself incredibly blessed to be given so many opportunities to identify with marginalization and develop empathy. I think empathy keeps our world going round and life is a constant struggle to be empathetic to the challenges others face.
Why did you want to attend law school?
Law school was a happy coincidence in my life. Growing up as a quiet and somewhat awkward bookworm, I never pegged myself as a one-day lawyer. There is this association the general population makes between being argumentative and "being a lawyer", but this is a misconception.
I completed my undergraduate degrees in Health Science and Psychology with the intention of staying in the health care field, but fate had other plans. After working in the social work sector, in particular with youth trying to get a second chance after incarceration, I became interested in criminal law policy and applied for law school. At the time I was also interested in pursuing a graduate degree in psychology so I decided to apply for both and leave it to God to determine my path. It just so happened that I heard back from law school first so I took the divine guidance and pursued law.
What advice do you wish you were given about attending law school that you wish to share with aspiring law school students?
As I already briefly touched upon, let go of the archetype of what a 'law student' or 'lawyer' looks like. There is no prototype for a legal personality. I have met every type of personality in the field. The only consistent characteristic I have found all lawyers to have is a critical mind. Critical thinking is an important component of what it takes to be a competent lawyer to be able to most effectively represent your clients.
Secondly, I wish someone had told me that law school is nothing like anything you have done before nor is it anything like the actual practice of law. That being said, take it for what it is – a training ground. Do not let it consume you, turn you off, inflate your sense of self-worth or take away from your self-worth.
Law students run the gambit of society, albeit a bit skewed to the more privileged end of the spectrum. You will meet people that you will connect with and people you will not; however, above all things remember that all of your relationships in law school must be understood in the light of professionalism. You will be told over and over again that your reputation is your currency in the profession. For this reason, I cannot stress enough how important it is that you remain aware of your actions and their implications on your reputation.
What barriers, if any, do you feel someone from your particular background might face when attending law school?
Law school was a bit of a cultural shock to me to be honest. While my alma mater, the University of Ottawa's Faculty of Law, was probably one of the more inclusive faculties, there is still a culture of privilege that is attached to the legal profession and it exists in law school. It isn't a good or bad thing; it is just a fact of life. While I consider myself relatively privileged compared to most people in the world, most of my friends and family do not come from money and legacy. Prior to pursuing law, I didn't know anyone in a "professional field". After law school I was suddenly interacting with people who were related to managing partners of large national firms, judges, leading experts, etc. There is a whole decorum attached to class, and when you do not have training in that, there is a learning curve that takes some time to adapt to. Over time you adapt and you learn, but I wish I had been better mentally prepared for that process.
Describe what level of law school you have just completed and what advice you would give to students going into that level
I have just graduated from law school Alhamdulillah (Thanks to Allah), so that would mean I completed my third year of law school. My advice to someone starting third year would be to make the most out of your final year. There is that old adage that in third year they bore you to death, which is another way of saying that by that time you have mentally checked out to the point that you do not care. The politics of the value of a third year of law school aside, looking back from my vantage point as an articling student, I wish I had spent more time taking 'hands-on' courses in my final year. While I do not regret taking the classes I took in my final year of law school, they were disproportionately more academic than practical. Once you are in the working world you will always have resources at hand to look up the basic principles of areas of law, but you can only learn skills like cross-examination and mediation through practice. The earlier you can start practicing those skills, the better.
Have you done any grassroots activism/community work with your law skills? If so, describe it and the impact you hope it had within the community
I haven't really had a chance to put my law skills to practice at the grassroots level post law school but while I was in law school I completed a placement at a legal clinic and volunteered with ACORN. While at the clinic I was working on poverty law in the area of Ontario Disability Benefits. I found working with the clients extremely rewarding. While I had many 'Wow, I really feel like I'm making a difference' moments, one I distinctly remember was going in to conduct my first one-on-one client intake interview. The client was a woman from Haiti who, upon seeing me walk in and introduce myself as the law student on the file, broke into a smile and told me how much it meant to her to see another black person on the other side. I think identity politics are important, so it meant a lot to have that moment to stop and reflect on how something truly beyond myself was communicated in my simple presence.
ACORN is a non-for-profit organization that also addresses a number of social justice issues, most dominantly assisting individuals living in social-housing communities in asserting their rights against their landlords. This was truly a full circle position for me. Having grown up in social housing, I knew all too well about the draining process tenants in these communities go through in dealing with landlords. It was extremely rewarding to work hand-in-hand with clients at obtaining basic living conditions.
What challenges do you feel you will face in your current level of law school?
Well now I'm in the working world – sorta. As an articling student I think the greatest challenge I will face is adapting to what it means to be a lawyer. While I am not yet licensed, I am finding that in a little over 8 months I will be looked upon to resolve legal problems in people's lives; to issue legal opinions that will significantly impact the trajectory of policy.
When you think about it, there is a lot of power that is put in the hands of lawyers and with that comes a heavy burden to discharge our responsibilities in the most professional manner possible. I think that this realization has made me more measured and more intentional. However, within this professional identity I am crafting, I think one of my challenges will be to maintain a sense of authenticity to who I am as an individual. Learning to wear these two hats and eventually marry them will probably be an ongoing challenge for me as a new lawyer but I am confident that insh'Allah (God willing)eventually I will be able to obtain a happy medium.
Do you feel Muslim lawyers should be providing/building networks of support for Muslim law students? Do you see similar networks of support for students from other communities?
As I already mentioned, I strongly believe in identity politics and the power of seeing yourself reflected in a particular field or whatever it may be. So yes, I do believe that Muslim lawyers should be providing and building networks of support for Muslim law students. It can be alienating being let's say the only person fasting in your office or going to find a space to pray. It would be nice to have some of this normalized by people who come before. That being said, I have found a lot of support and allies amongst non-Muslims. Most of my mentors are not Muslim or even people of colour so I would say do not make assumptions of who would or would not be a support system.
This article was produced exclusively for Muslim Link and should not be copied without prior permission from the site. For permission, please write to info@muslimlink.ca.