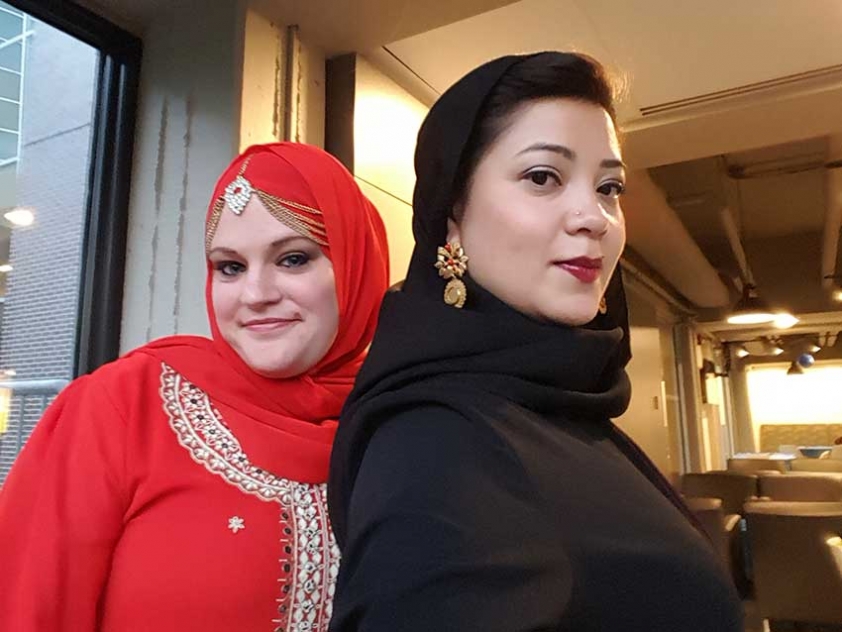 Stephanie Renee and Eren Cervantes-Altamirano attended iftars and prayers across Ottawa-Gatineau during Ramadan
Courtesy of Eren Cervantes-Altamirano
16
Jul


2015
Two members of Ottawa's Muslim community, both converts to Islam, wrote into Muslim Link discussing their experiences during Ramadan.
One of the letter writers, Mexican Canadian Eren Cervantes-Altamirano, attended the screening of Unmosqued co-organized by Muslim Link, where she also raised similar concerns about the treatment of converts. Because these types of concerns were raised at our Unmosqued event, she and her co-writer French Canadian Stephanie Renee decided to submit this letter to Muslim Link.
The opinions expressed in this letter are those of the letter writers and not of Muslim Link.
*****
Ramadan is a time when believers are called upon to revisit our Islam practice, refuel our eeman and rethink our contribution to the local and greater Ummah. As women and converts, our jihad often takes the shape of finding proper spaces within the community, a space to practice and grow our Islam. It is with this goal in mind that we, two converts in our late-20s, took upon the challenge to visit the different spaces of worship in Ottawa/Gatineau, in an attempt to discover the place women and convert occupy in these spaces.
Radicalization is the topic of the day. As Canadian Muslims we have come together in many ways, whether it is through workshops, talks, collaboration with the authorities and online activism, to denounce violence and extremism. In Canada, we have stood as a unified Ummah to condemn Al-Qaeda, Boko Haram and ISIL. However, it is unfortunate that we do not pay the same kind of attention to issues of equity within our own community. We understand that we do not have the ability to produce change in an instant; yet, we must start somewhere.
To be completely frank, since our conversions, we have experienced women and convert spaces in Canadian communities, from the East to the West coast, with growing disappointment, particularly in the lack of attention that is paid to equity issues within our mosques. Issues with women's spaces in mosques have been previously documented by well-known Canadian filmmaker Zarqa Nawaz' documentary "Me and the Mosque" and, most recently, by the American film "Unmosqued." Hence, we are not bringing up anything new. What is more, in North America, Muslim women have been fighting for appropriate women's spaces for well over 30 years with little to no positive changes.
As converts we may share some views and disagree on others. However, we hold Prophet Muhammad's example (SWS) and his sunnah in the highest esteem. When it comes to prayer, Prophet Muhammad (SWS) had women praying behind the men. In fact, Abu Hurairah (RA) narrated that Allah's Messenger (SWS) said, "The best rows for men are the front ones, and the worst rows are the last ones. And the best rows for women are the last ones, and the worst are the front ones."  Thus, no curtains, no barriers, no balconies, no basements and certainly no storage rooms!
However, visiting one mosque after another this Ramadan, we have witnessed the lack of clean, equal and respectful spaces for women. Women can be found praying in basements, balconies, behind barriers, hallways, kitchens and even in front of bathrooms. We are also continuously crammed into small, poorly lit and ventilated spaces with broken fans and old carpets, accessible only through back alleys (and through the garbage cans), side entrances and small hallways and stairways.
Ableism, discrimination against people living with disabilities, continues to be a challenge in Ottawa and Gatineau's mosques, especially for women. While some mosques are better equipped to receive men living with disabilities or limited mobility, women spaces, in these same mosques, are located on balconies or basements, which have neither ramps nor elevators. Washrooms are also largely inaccessible because there are almost no wheelchair-accessible bathrooms across the city's mosques and no stall big enough for walking aids.
In addition, as women and as converts one of the very first things that we learn is that Prophet Muhammad (SWS) stated that paradise lies beneath our mother's feet. However, mosque teachings, in this regard, clash with the realities of being a mother in mosque spaces.  In our mosques, women's spaces tend to be, by default, children's spaces. Yet, they are poorly equipped to address the needs of mothers. Many mosques do not have changing tables available in bathrooms, and when they are available they tend to be old, broken or dirty. Breastfeeding spaces are also inexistent in many mosques. Thus, mothers cannot comfortably feed their children without being chastised by other members of the community for using prayer spaces to breastfeed.
Prayer is also so much more challenging when there are no appropriate spaces for children at the mosque. Toys, books, baby-sitting services and even simple things like toddler barriers are a luxury in many mosques. Furthermore, women are expected to pray and care for children in less than half of the space reserved for men. Hence, children cannot be properly cared for and women cannot fulfill their prayers in comfortable spaces. Sadly, the other half of the equation is that we often forget that men are fathers too. Men's facilities do not include changing or feeding facilities in most cases. Also, children are discouraged from entering men's spaces and are sent to the women's automatically. What are single fathers to do if they need to care for their children?
Whereas these are some of the challenges that we have faced in mosques, the reality is that this is a broader problem that touches even Muslim university spaces. One would think that student organizations led by highly educated community members in academic spaces that encourage gender equality, religious freedom and critical thinking, would do a better job of providing appropriate spaces for women. However, we have been exposed to strikingly demeaning situations in universities' gender-segregated spaces.
Let us be clear: we understand and respect that some women and men prefer segregated spaces whether it is to eat or to pray. Nonetheless, gender-segregation must be done in respectful and equitable manner. For instance, Carleton University's Formal Iftaar provided Muslim students with two spaces: a man's section and a women-and-families section. The men's section was cleaner, had bigger tables, better decorations and was segregated. The women-and-families section had smaller tables, did not properly accommodated children, and had MEN!  There is no reason why we, as unmarried childless women, should be forced to sit in crammed spaces, where not even strollers fit, that also include married men.
Let us also remember that our communities often encourage segregation on the grounds of protecting women's privacy and discouraging unlawful gender interactions. Yet, in this space, women who wished to be segregated were given no space to do so. Instead, the message was that single-men's comfort was more important than our right to sit in clean and well-prepared women-only spaces. Not to mention the difficulties that sitting with families and married men pose to women who choose to wear the niqab.
As women facing these challenges, we see no other choice but to speak against these unislamic and unequitable practices. This is why in recent events and gatherings we have addressed the issue with community members. We have made a point to raise awareness about the Prophet's (SWS) sunnah, and the ways in which it can be implemented in mosques within the city. Whereas we have found some agreement within the mosque leadership, there has been very little done to translate this into action. What is more, there seems to still be a common assumption, among community members and some of the leaders, that unless women are confined to women's areas in the mosque, their physical and emotional safety cannot be guaranteed. Thus, we have been reminded, once more, that in the last 30-years, we have failed to develop proper gender-camaraderie in our mosques. Women are still said to provoke chaos in non-segregated spaces, which deems them not safe from harassment and such while in the mosque.
Finally, in writing this letter, we wish to raise awareness about gender inequality and unIslamic practices within our mosques, which disproportionally target women. Our communities need to be educated about women's Islamic rights to equity, safety, respect and full participation and inclusion at all levels in our communities. For this to be achieved, we need community leaders, sheikhs and imams to encourage this through khutbas, workshops, classes and day-to-day interactions. We also need community members, men and women, to truly listen to women and their concerns rather than dismissing them. Our communities must be active in implementing strategies to promote women's rights within the mosque, rather than expecting change to happen by itself. This is not a women's issue, this is a community issue that deserves as much attention as the issue of radicalization. The last thing we want is for our daughters and grand-daughters to face these same issues for the next 30 to 60 years.
Change is long-overdue.
This article was produced exclusively for Muslim Link and should not be copied without prior permission from the site. For permission, please write to info@muslimlink.ca.