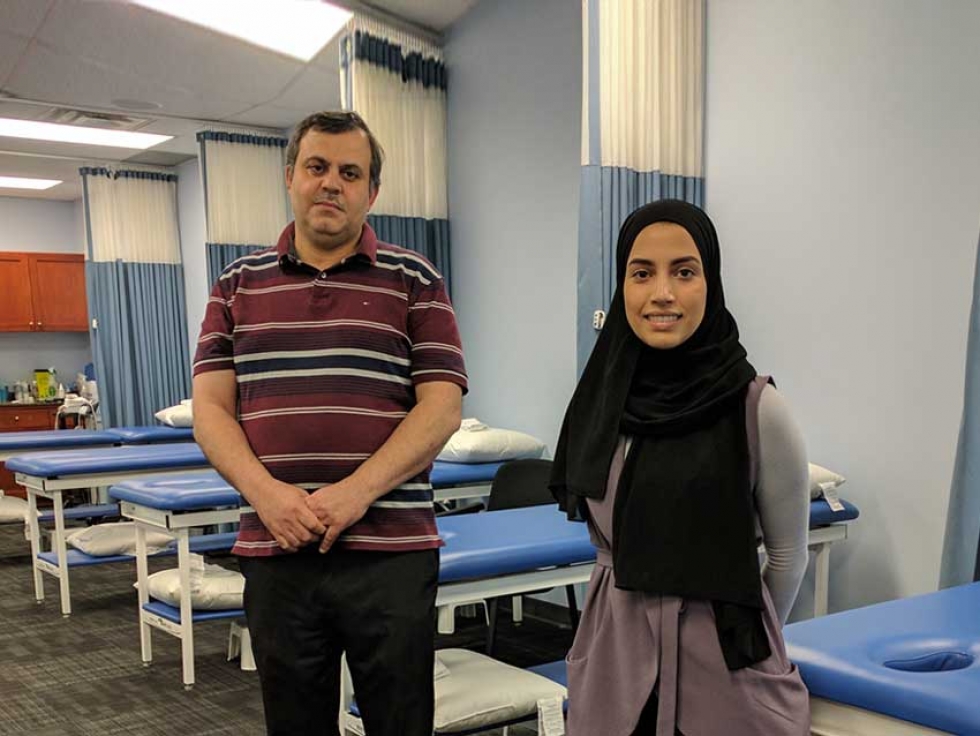 Physiotherapists Mohamed Fouda and Keltouma Nouah work at Prime Physio Plus in Ottawa.
16
Nov


2017
#PhysioHelpsLives: What Are the Benefits of Physiotherapy?
Written by Chelby Daigle
The Ontario Physiotherapy Association is currently running a campaign called ##PhysioHelpsLives to educate Ontarians about physiotherapy.
Muslim Link spoke to physiotherapists Mohamed Fouda and Keltouma Nouah. Fouda is the manager of Prime Physio Plus Clinic in Ottawa and Nouah is a recent graduate of the University of Ottawa's Master in Physiotherapy program who works at the Prime Physio Plus Clinic. We asked them about physiotherapy's benefits, why more Muslims should consider seeing a physiotherapist, and why Muslim youth should consider a career in physiotherapy.
Physiotherapy is a physical means to treat health problems. Best known for treating issues such as muscle pain, Fouda explains that it can also help in many other ways, "It can help people who are having breathing problems, like asthma. Some dermatological problems require phototherapy. Other issues may be treated with hydrotherapy, so you work with the patient in a pool. If you have back problems, we can use spinal decompression."
While accepted as a mainstream form of medical treatment, it differs in its approach to healing, "We try to use as little intrusive means as possible to heal the patient. So we don't use medication, we don't use injections," Nouah states.
Physiotherapists use a combination of methods to heal the patient. Treatments can include massage therapy, which is used for soft tissue pain and tightness, but that is just one of many treatments. Other treatments might involve the use of heat, cold, electrical currents, ultrasounds or even acupucture.
Both Nouah and Fouda find that many people think of physiotherapy as just massage. "People just expect us to massage them," says Fouda,"They have knee pain, back pain, neck pain and they think their only option is gentle massage. People don't realize that a lot of different techniques could be used to help them."
Despite growing up in Canada, Nouah herself was not aware of physiotherapy until three years before she applied for the program, "I heard the term but I didn't really know what we did."
Something that physiotherapy might not be traditionally associated with is pregnancy. It can help during pregnancy with back, neck, and knee pain, but it can also help mothers during labour and after birth. "There are also techniques you can use to help with a smoother delivery and that can also reduce pain during delivery. You also have a condition called diastasis recti, so this is when the muscles of the belly have so much pressure on them that they separate and your stomach pushes out. This condition can be treated by physiotherapy," explains Nouah. Fouda points out that physiotherapy can also help with issues after birth such as incontinence or uterine prolapse.
In addition to helping with many different health conditions, physiotherapy can also play a role in preventative medicine—to help prevent certain conditions or injuries. Fouda stresses the importance of addressing health issues early on, "For example, if you have shoulder pain, you go to a physiotherapist to get it check out because it could develop into a condition called frozen shoulder that means you can't move your shoulder at all. But that condition could be avoided just with very simple exercises if you get assessed early enough."
For Nouah, she would like to see more Muslim women using physiotherapy, "I find that Muslim women, it doesn't matter what culture we are from, we don't seem to take care of our bodies all that well and we ignore the fact that there are ways to treat pain; we don't have to just be patient with it. You can be patient with other things, but not your pain. It is important to know that physiotherapy can help. There are women physiotherapists who can help you. Often we have a lot of clients who are uncomfortable going to any other clinic; they like coming here because they know that they can definitely get served by a female physiotherapist, we offer privacy for women. We can serve them in Arabic if they need that. "
"If you have discomfort, check it out before it gets worse," Fouda recommends, "Sometimes you go to the doctor for an issue and they can't treat it or they just give you pain medication, but that doesn't really address the problem. But you can also come into a physio clinic, get yourself assessed, it doesn't take that long, and we can figure out what treatment is best for you."
Physiotherapy also involves developing exercise plans for patients. Fouda states that patients have an active role in physiotherapy, "You have to be active in your treatment if you want to see improvement. That is why we create exercise plans and it is so important that people follow through with them."
Typically, Nouah explains, patients tend not to leave the clinic without exercises, "We always try to tailor it to the patient's time, what they are capable of, and also how much pain they are in. But we want to help people be able to handle their conditions outside of the clinic. We are not trying to get people to come to our clinic every day for the rest of their lives. We want you to come in, we work with you, we bring down your pain level, but we also give you the tools so you can manage your condition at home so that you won't always have to see us. Although we would love to see you again!"
So, why consider becoming a physiotherapist? For Nouah, she discovered physio by volunteering at a physio clinic near her home. She loved it and realized that the Muslim community is not as diverse as it could be when it comes to careers, "It is either be a doctor, be a lawyer, be an engineer, be a teacher if we are really pushing it. But that doesn't make us a strong community. It is better if we have someone in our community who does every job, so they can be a go to person, a resource.
But in the Muslim community, particularly if you wear hijab, it is like we feel some careers are off limits for us. Because physiotherapy is seen as involving a lot of touching, I think some people may see it as a taboo for us to go into it. But the reality is that there is more touching in medicine. And the way I see it, I want to help people, and I feel that physiotherapy is really needed and it can help a lot more people at this time because of the type of conditions we are seeing people develop, particularly as they age."
The Master program in physiotherapy that Nouah just graduate from is the first of its kind here in Canada. Anatomy, exercise prescription, and rehabilitation are just part of the program. They also focus on the cardiovascular and respiratory systems to help people breathe better, on the nervous system to support conditions such as MS or Parkinson's, and on geriatrics to help people as they age. The last year of the program includes a lot of clinical work to provide sufficient hands-on experience for students.
Nouah, who wears hijab, discusses the challenges she had while studying physiotherapy, "It is never not awkward when you wear hijab and are pursuing a career where there are not many women who wear hijab. But my professors were very supportive," she shares, "You just have to know who you are and be a strong person. As part of our program, you have to do rounds and placements in hospitals so I can't tell a patient, 'I'm sorry, I can't treat you because you are a man.' As a healthcare professional, you can't discriminate because of gender. If you want to be a good practitioner you need to know everybody type, you need to know what feels right or what doesn't feel right and unless you are touch, you won't know."
Nouah is glad she has pursued this career because she feels it puts more Muslim women at ease who need physio treatment to receive services from another Muslim woman. " I speak Arabic and French, as well as English, so I can offer them the support they need as a trained professional who also understand the language and the culture," she explains.
In Ontario, most private healthcare plans including Ontario Auto Insurers and workplace injury claims cover physiotherapy. But to be eligible for physiotherapy treatment under the Ontario Health Insurance Plan (OHIP), you do have to meet certain criteria.
For Fouda, this is a concern, "But what about the people who don't meet these criteria and don't have the money to pay for treatment? I was able to apply to be covered to treat newly arrived Syrian refugees because many of them need physiotherapy. But we need to find a way to make physiotherapy more widely available for those who need it because it can help so many people."
To learn more about services at Prime Physio Plus in Ottawa click here

To learn more about how physiotherapy may help you or your loved one visit here

To find a registered physiotherapist anywhere in Ontario visit here

To find a physiotherapist anywhere in Canada visit here

To learn how to become a physiotherapist visit here

This article was produced exclusively for Muslim Link and should not be copied without prior permission from the site. For permission, please write to info@muslimlink.ca.