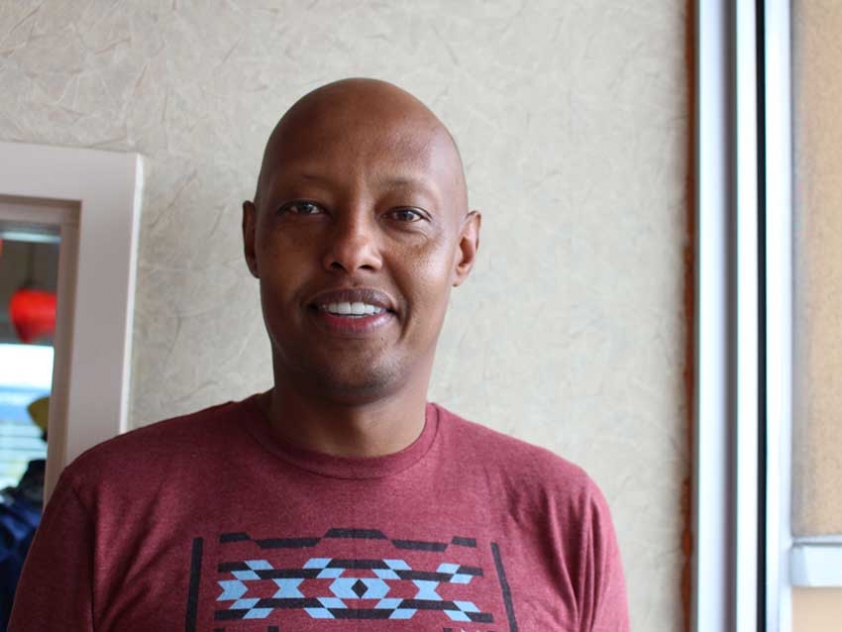 Abdirizak Mohamud has been a foster parent with the Children's Aid Society of Ottawa for over 10 years.
Courtesy of Abdirizak Mohamud
29
Feb


2016
On Being a Muslim Foster Parent with the Children's Aid Society: Abdirizak Mohamud
Written by Chelby Daigle
Somali Canadian Abdirizak Mohamud has been a foster parent with the Children's Aid Society of Ottawa for over 10 years, during which time he has fostered over 15 children. The majority of these children have been from Muslim backgrounds. Muslim Link interviewed Abdirizak about his experience as a foster parent and why more Muslim foster parents are needed in Ottawa.
Why did you decided to become a foster parent?
Somebody has to do it.
There was a situation where a family in my community had eight children at risk of being taken from their home. There were conversations amongst the Somali and Muslim communities around what was going to happen to these children, but there seemed to be less discussion around what could actually be done to support this family.
That particular case prompted me to look into fostering. I thought to myself, maybe we should look into becoming foster parents so that these children can have homes that share their culture and religion.
My wife and I went to an info session at the Children's Aid Society of Ottawa to get more information on how we could help. We felt that something needed to be done. We then proceeded to complete the foster parent application.
What training did you received in order to become a Foster Parent?
The training I received was provided by CAS and it was over 10 weeks of training. It was like a course. We learned about the structure of child protection and the roles of different individuals and sections within child protection. We also learned about the role, responsibilities, and expectations around being a foster parent and the fact we are part of that child protection team. We also discussed how to handle different types of behaviours in terms of discipline.
We also learned about how to help the child transition into your home. It is a traumatic event for a child to be removed from their home and then having to live with people they don't know. But the truth is that this reality is not something that just training can prepare you for. It is something you need to learn as you go along from your first placement to your second placement.
Why do you think it was helpful for Muslim children who came into foster care to be placed with a Muslim family like yours?
It makes things easier for both the child and the birth parents. It makes it easier to work together with the birth parents when they know their children are staying with a family of the same culture. They're eating the same food, practicing the same tradition. This usually results in less boundaries working with the birth parents, and better outcomes overall.
You also fostered children who are not Muslim. What was that experience like?
We had to learn about their cultures and we had to accommodate them. So we may have had to do things in our home that we wouldn't regularly do. For example, I fostered two siblings who came to us around Christmas time. So we had to do something for them because they were Christian and they celebrated Christmas. We don't celebrate Christmas or usually participate in Christmas-related activities, but for these children it was important that we made them feel welcome in our home by giving them the space to celebrate Christmas and buying them Christmas gifts.
What advice would you give to anyone who is considering being a foster parent?
When you are being interviewed by the Children's Aid Society of Ottawa to become a foster parent, you need to be prepared for some very personal and intrusive questions, like intimate details about your relationship with your wife. I work in social services, so I have worked in an environment where I was the one asking those kinds of questions so the questions didn't intimidate me. I understand why they are asking these kinds of questions but it can come as a shock to some people and might even discourage them from becoming foster parents.
But you need to look at it this way, if someone was going to take your children and put them in some stranger's home, you would want to make sure that that person knew everything there was to know about that stranger's background to ensure your child's safety. So my wife and I prepared ourselves for these types of questions so we knew how we were going to answer them beforehand.
As a foster parent you also need to be prepared for CAS to be coming to your house regularly.
If you are a foster parent you need your own supports so make sure to get your extended family and friends involved in your decision to become a foster parent because you are going to need their support.
Anyone who wants to be a foster parent has to understand that situations are always different from one placement to another. And you don't know what is going to happen from one placement to another. I have had placements that lasted over two years and others that lasted only a few days. You are going to build relationships with these children, but some day they will leave so you have to prepare yourself and your family for that.
This is particularly important if you have your own children. I have three children, so I have to look out for them too. My children have an important role in welcoming new children in our home. My children are very welcoming and they help the foster kids feel at home.  They help smooth the transition.
I recommend talking to other foster parents about their experience and how it has affected their family. I also recommend starting slow. For example, you could start as a relief foster parent then you can see what it is like.
Do you think it is important that people in the Muslim community know you are a foster parent?
It has benefits when people know because I know that at least within the Somali community, we like to ask each other for information, we like to go to the people we know to learn about something.
People often really want to understand what the role of Children's Aid is because child protection agencies don't exist in many of the countries we come from. They want to know what might happen if someone from CAS has contacted them to do a home visit. So I get a lot of general questions about child protection.
I think it is good to be a resource. Now, that there are more foster parents from the Somali community, it is good because I don't get as many calls as I used to. But there is definitely a need for more foster parents from other Muslim cultures who can also be those resource people in their community.
Do you think there might be particular challenges Muslims would face being foster parents?
If you are thinking about being a foster parent you need to be open-minded. These are not your children so you have to respect their values. You may have children coming to ask you questions about sexual health for example. You can't impose your value system on them. You need to work with them where they are at. I would recommend preparing yourself to be able to handle these types of questions or situations if you are not used to that. You don't have to change your values but you need to be able to support this child. So I recommend making sure you discuss these questions and situations with the CAS social worker and even your imam. I have a social work background so these types of questions are something I am familiar with and really are not anything different than what my own children have asked me. But it may be a challenge if you are not used to having these conversations with children.
Why have you continued to foster children?
Because it is necessary. Muslim children coming into care need to be able to have foster homes from the same culture and religion.
I grew up in home where there were only four siblings but there were never less than seven or eight children in the home at any given time because my mother took in children from relatives whose families didn't live in the city. She put them through school. My wife grew up in a similar household. So we are used to having a lot of people in the house. But managing the administrative side of being a foster parent, where you are meeting with the child protection team that is supporting the child which can be a CAS caseworker [or] even a lawyer, that was new but we have gotten used to it.
What has been your experience being a foster parent and collaborating with the Children's Aid Society?
I've dealt with a large number of protection workers but my bigger bonds are with foster care workers. They are amazing professionals and they do amazing jobs. I've had great experiences with all of the workers that I've had the pleasure of dealing with.
In Ottawa, relationships have been built between CAS and Muslim and Somali communities. But it is also good to make sure we have more child protection workers from our communities. And that is also important for other cities. We need more foster parents and staff from our communities because the reality is that we are a growing population, we have many children, so the reality is that you will see Muslim children in care. So, we need more foster parents and staff from our communities in the child protection system.
I commend CAS for really going out into the community and doing information sessions at local mosques. At the end of the day, you need more families stepping forward to be foster parents, so the focus should be getting more Muslim foster parents.
Are you familiar with the work Muslim Family Services with the Children's Aid Society?
Yes, I am aware of their mentorship program. I don't really need that service myself because I am very engaged with the Muslim community so foster children just go with my family to the mosque and community events. But I think that service will be really useful for Muslim children who are placed in non-Muslim homes.
I also think it would be good for the community to know more about CAS Friends as well and their work.
*******
Foster parents like Abdirizak Mohamud are fundamental to the services offered by the Children's Aid Society of Ottawa. The agency relies on foster parents to help improve the situations and experiences of children and their families. Thank you to Abdirizak and his family for everything that you do to improve the lives of children and youth in our community!
For more information on how to become a foster parent, visit The Children's Aid Society of Ottawa's website at www.casott.on.ca/en/fostering or call 613-742-1620 ext. 1.
This article was produced exclusively for Muslim Link and should not be copied without prior permission from the site. For permission, please write to info@muslimlink.ca.