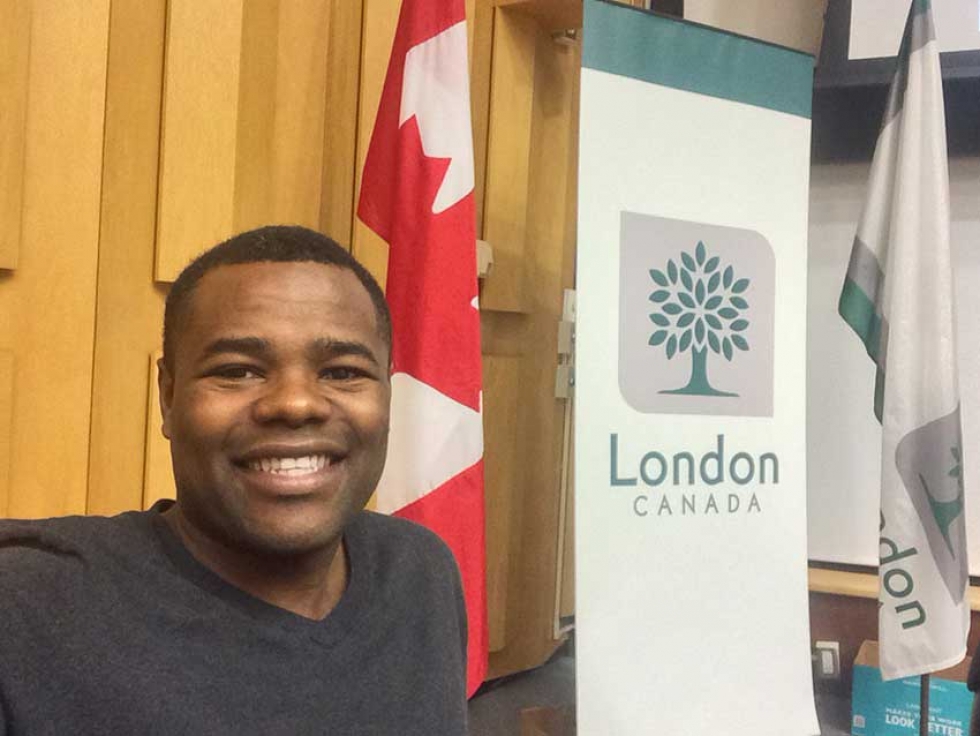 Sudanese Canadian Mohamed Salih was recently named Best Local Politician by The London Free Press's Best of London 2018 survey.
28
Feb


2018
Mohamed Salih: On Being a City Councillor in London, Ontario
Written by Chelby Daigle
Sudanese Canadian Mohamed Salih was recently named Best Local Politician by The London Free Press's Best of London 2018 survey. He was elected to the city council of London, Ontario in 2014.
Muslim Link interviewed Mohamed about his experiences being a city councillor.
Why did you decide to get into politics?
I decided to run for city council and involve myself in politics because, as I was following local politics and politics across the country, I didn't see myself being represented. I didn't see some of the issues that I thought were important being discussed. Whether it's things from issues related to my generation being millennial, to issues related to the Black community, to issues related to everyday things that I feel sometimes are taken for granted by politicians and aren't really spoken about and really they become agendas of their own versus an agenda for the people and really pushing for what the people actually want.
Is London, Ontario very diverse?
The Black community have a strong history, the roots go very deep and far and the ties there are strong. We also do have a vibrant Muslim community here in London, Ontario as well, so I bring those perspectives. I don't represent a city ward that has that much diversity. I would say that diversity is slowly growing in different pockets of the city. I think it was important for me to run so I could connect with the broader community while being able to talk about issues that sometimes aren't on the city's agenda and bringing the perspective of someone who is young, Muslim and Black. I came to Canada as a refugee when I was a child so that is another perspective I bring. I just wanted to be at the table to be able to bring that lens, as well as raise concerns about issues that impact everyone.
What are some of the issues that you've raised?
One example is concerns about carding by police, or random "street checks", that disportorionately impact young Black men in this province. There is a real lack of diversity on the police service boards across our province. But I now sit on the London Police Services Board.
Another example is being able to peel the onion and look at some of the systemic discrimination in city policies. For instance during the whole Uber debate in our city, as I'm sure you've also struggled with in Ottawa, it's no secret that most people in the taxi industry, at least in the major cities, happen to be immigrants or people from diverse backgrounds. I was looking at some of the policies and I noticed that one of the things that they were required to do is to take an English exam. I mean, when you look at it real quick you think that's not an issue. But then when you ask yourself, "Well, if I open up a restaurant or open up a food truck or build a building in this city, if I do anything else in this city, I don't need to take an English test. Yet, if I want to become a taxi driver, well of course I already need go through the rigmarole of getting a special driver's license and all those other requirements. So for me that was an example of an issue of systemic discrimination and I pushed to have that requirement removed so now they don't require the English exam. But that's only in the city of London, Ontario. I still believe that still exists in many other municipalities but to me that was an example of systemic discrimination within city policies.
You were considered to be relatively young to be a city councillor. It's not common for people in their late 20's or early 30's to run for city council. Why do you think that is?
I know that it's not common but I think that it's changing, you are seeing more and more younger people running for city council. Still, there's not that many young faces around and I think that's for a number of reasons.
Just to run for city council, there's some barriers. Finding the finances and the resources to fund a campaign, that can present a real barrier. For young people, think of someone who just finished university, having to pay for student loans or someone who's just starting their career, can they really afford to put that on pause to run for city council?
So, sometimes, running for city council really becomes exclusive and doesn't give people an opportunity to engage because of the challenges it presents to building a career. None of these positions will come with necessarily a pension, they don't come with real job security and you never know if you're going to get kicked out at the next election or not. I mean, and for someone who's just starting off their life you know sometimes with a young family, you have to make those difficult decisions. So I don't blame our generation for not being too involved in that sense, and I can understand why it would be such a deterrent. It can often be easier for older people. If I already retired from another career and I have a pension, running for office isn't as much of a challenge.
Did you experience any issues of racism and Islamophobia while campaigning? How did you cope with that? How have you dealt with these issues since coming to office?
You know, racism and Islamophobia, that's just ongoing. I wouldn't say it's a daily occurrence but it does happen whether it's in subtle ways or whether it's just direct. It depends on what's going on and what issues I may be talking about at the time. During the campaign, I realized that a lot of people who did have those feelings, some of them were just not educated on what I was hoping to do or were really just afraid essentially. At times, I would have to spend half an hour to two hours at a door talking to someone about what I'm not and then get into policies and what I'm hoping to deliver for them. But that was it. It was really more about putting in the extra effort to fight misinformation. People would have misconceptions like "Oh you're going to bring in sharia law!" and I just took that as an opportunity to correct this misinformation and then explain what my campaign really was about
Sometimes, people would say I don't know about Muslims and they'd have all these concerns and reservations and some people wouldn't say anything at all and sometimes they'd voice it at the ballot. But overwhelmingly, I received people's support. I had over 50% of the vote, and if I'm not mistaken, I was running against four other candidates. I did knock on every door my ward three times. I put in the work and really fought back against the negative messages and negative campaigning from some people who were out there who wanted to push that negativity. So those were the challenges but I was able to overcome that.  I'm a human being like anyone else, I pushed forward and worked through it and I was successful because voters believed in me.
More Muslims in Ontario are being encouraged to get involved in Canadian politics, so have you been invited by the community to speak about your experience or to be seen as a role model?
Yes, I have been invited to speak locally and at a couple different cities. But sometimes, due to scheduling conflicts, I haven't been able to attend. More people do want to engage and get into politics so it's been positive in that sense that I've been able to be kind of an example and encourage others to get involved.
However, and this is very important, Muslims getting into politics have to understand that it's not just about looking out for your own community. You have to do this for EVERYONE in your riding! The diversity of our lived experience should be an asset for everyone in our riding. We are aware how it is easy for each of us to just think about the issues we are familiar with. So, you make it a priority to think about who might not be represented. You think, "Well, maybe this issue is not a priority for this group of people, but it might be a priority for this other group of people."
For example, let's talk about the gender lens. If you are discussing a bus stop. This bus stop is kind of out in the outskirts of the city, no one's really going to be around, and people will stop at this bus stop late at night. You have to decide whether to put up a light or not, and of course the light will cost the city money. You could say, "Let's save money and not put up a light." But if you have a gender lens, you could say, "We should put a light here because I know that women may have reservations about being at a bus stop late at night without proper lighting."
Your diverse lived experience can help your colleagues better understand situations they are not familar with. And hopefully they will agree and say "That makes sense, I didn't think about that. Let's make sure to put up a light."
I don't represent that many Muslins in my riding. But I like to think that my diverse lived experience helps me try to make everyone in my riding feel included.
Tell me about your riding .What are some things you love about your riding? What are some things that are key issues for your riding that you're trying to push for at city council?
My riding has a significant senior population, so I have pushed for some changes at city council, trying to bring that seniors lens. Whether it's some simple small things like making sure there's more sidewalk benches because some of those small things really make a difference for seniors in terms of whether they decide to go out for a walk or whether they go out to the local store down the road from them because if they need to rest, they know that there will be benches along the way for them to rest on.
I'm a younger person so this might not have been something I would have thought about, but I learned about these things from sitting down and talking one on one with seniors in my riding.
A bigger issue could be something like snow removal in the city. Sometimes, city councillors might say there's not enough snow to have frequent snow removal. So I might argue that we need to lower our threshold for snow removal so we can have better response rates so that people who are living with disabilities, people who are seniors who might be on walkers, or in wheelchairs, are not stuck in their houses all winter, because a smaller amount of snow can still have a serious impact on their mobility.
Also, I look at the culture and entertainment districts of London and I think that they are of significant economic benefit to us. One time at council, I asked for an additional day for a music festival in our city and just that extra day that I pushed and advocated for has 1 to 2 million dollars in economic impact for London, so I mean that's just one extra day. I think that when we have updated bylaws that work for the community then you have people who are investing more in the community and you have events coming, like Country Music Week came and that brought multiple millions of dollars.
Do you find that people are not as aware of municipal politics as they are about provincial and federal politics? Do you think people need to be more aware of what's going on with their city council in terms of civic engagement?
I think that people are maybe not knowingly aware that they are fully aware of municipal politics. I say that in a sense because they get on the bus, they complain when they hit a pot hole, they'll get upset when the snow isn't removed in time, they'll put out their garbage and turn on their water. The city is everywhere in everything, it's hard to avoid. Maybe the voter turnout for municipal elections isn't that great across Canada but I think people pay more attention to municipal politics in London than in other cities, from what I have seen.…
Why was it really important for you to engage with people through social media? Has it been positive?
It's been absolutely positive because I feel as if when I put a policy forward, it will be successful not just because I think it's a good idea but because I'm talking and being in touch with a diversity of people everyday and seeing what people have to say. 
It's like a mini-pubic consultation?
Yes, that's exactly it. But it's almost even more genuine than when you go to a public meeting because sometimes at public meetings you have to stand up in front of everybody, and then everybody will know who you are. Not everyone wants to do that. But with social media, you have a little bit of a shield, you have a little bit more comfort. And somebody could be sitting at home at 1 AM or late on a  Friday night and this person wants to give me a piece of their mind or tell me how they feel…you get that authenticity. People are so busy that it makes it easier for people to share their thoughts on social media.
Follow Mohamed Salih on Twitter here
Follow Mohamed Salih on Facebook here
This article was produced exclusively for Muslim Link and should not be copied without prior permission from the site. For permission, please write to info@muslimlink.ca.