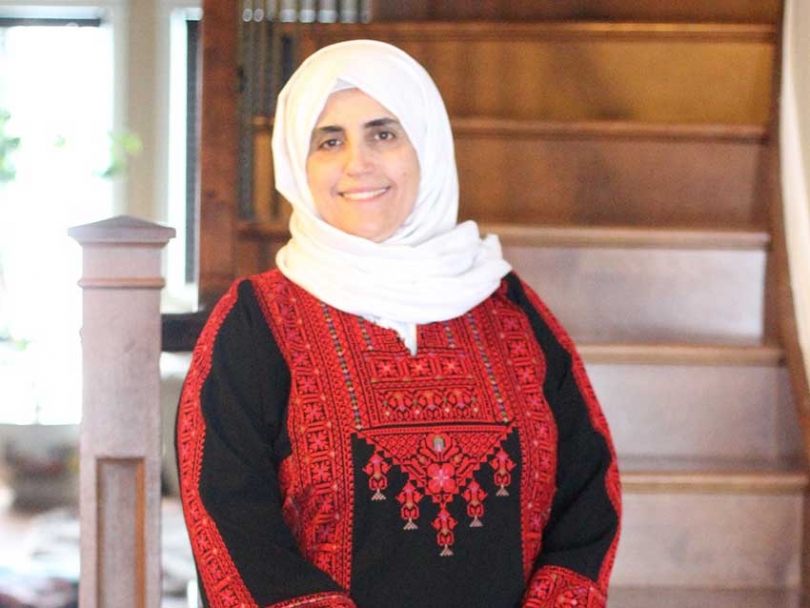 Motarrazat is an Ottawa based clothing company started by Palestinian Canadian Manal Abusheikha.
Courtesy of Manal Abusheikha
20
December


2016
Motarrazat: Bringing Palestinian Traditional Attire to Ottawa
Written by Aicha Lasfar
For many people, the first thought that comes to mind about Palestine is tragic conflict not intricate embroidery. It is an unfortunate reality, but one budding Canadian business is slowly changing that.
Motarrazat is an Ottawa based clothing company started by Palestinian Canadian Manal Abusheikha. Having immigrated to Canada from Jordan with her husband and children in 2001, she left behind most of her extended family and friends. In the beginning, the couple started a small business and sought to finish school. Manal's husband, Waleed, soon graduated in project management and she enjoyed looking through his textbooks which prompted her to also get her masters in the same field. Her interest in business led her to open her own day care and later on, her very own clothing company.
"My main goal is to connect my daughters and my family with my tradition, with our cultural clothing," Manal explains. "In the beginning I just imported a very small amount like just one piece of luggage. We saw that people liked it and now we are selling through the internet."  
Motarrazat is the Arabic word for embroideries. One look at Manal's Facebook page or Etsy store will make it evidently clear why she chose this name for her business. Palestinian traditional attire is known for its intricate needle work with striking geometric shapes and vibrant colours. 
Manal attributes a lot of her company's success to her six daughters. "In the beginning, it was my daughters who encouraged me to focus on selling Palestinian style. In their wide circle of friends, people were complimenting and asking about their traditional Palestinian clothing, so I realized there was a market for it."
But it is not just about the pretty colours and patterns. Manal believes that her clients' love and solidarity for Palestine is also a factor, "Now Alhamdulillah (thanks to God), we have clients from many different countries and origins. Through clothing, people express their feelings for Palestine and the people there." 
"Even non-Muslim Canadians buy the clothing as well," she adds. 
While Motarrazat started out selling mostly Palestinian clothing, they have expanded their brand to include clothing from other cultural backgrounds, including items from Kuwait and Qatar. But still, Palestinian clothing remains their main selling point, especially since it's so dear to the Abusheikhas' hearts. 
For Inas Abusheikha, Manal's eldest daughter, wearing traditional clothing is all about celebrating her culture and holding strong to her ancestry. "We are so blessed to be in this country [Canada] but at the same time, we also feel really happy to have such a culture and share it with others," she shares "It's not so much about pride as much as it's celebrating the beauty that is in our culture. Especially in a culture that has been oppressed. We rarely hear anything about Palestine other than people getting killed or imprisoned. But the culture is there, its present." 
For Manal who grew up in Palestine, her memories are very powerful. "We grew up seeing these clothes on our relatives and I feel like it's part of my history and part of my life there," she recalls "My aunt and my grandmother used to tell me that when women would design their dresses, they would make them by hand and put their life and history in it. From city to city, village to village there are special designs and stories [in the embroideries]." 
Like many other cultures, Palestinians used patterns on clothing items as a means to communicate their ancestry or tribal affiliations. Today, artisanal items are an important part of the Palestinian economy. By importing clothing from Jordan, Manal is directly helping her people.
"We try our best to keep our prices reasonable. It's very close to the actual prices in the [Jordanian] market," Manal assures "The merchandise is from Jordan, but the workers are Palestinian. They are immigrants in Jordan and importing from them encourages them to work, open factories and businesses." 
Yet Motarrazat is still very much a family business. Manal and her husband have 7 children and she says they are all involved in one way or another. Their daughter Amira uses her talent in photography to help showcase the items, while her sisters model the clothing. Inas updates the Facebook and Etsy pages while Manal takes care of shipping and handling. 
"From my husband to [my youngest daughter] Amena, we are 9 people and everyone puts something, efforts and ideas in this business. Sometimes my husband will be travelling [to the Middle East] and will enquire for me about prices and send me pictures of different styles." 
Working together on a project inevitably tends to bring people, even family members, closer together. As Inas explains "I think as a family we're pretty close but then this [business] has "forced" us to sometimes work closer. Sometimes I'll call my mom about a new transaction or an order, but at the same time that's not the whole conversation. The conversation will carry on to other things like 'What are you doing today? Let's do something together.'" 
It's a project that not only brings the family together, but also becomes a learning opportunity for Manal's children. They help their mother out with the company while acquiring knowledge in return.
"I try my best to give my daughters experience in business. It keeps them connected to our culture." says Manal proudly, "Most of the time, they give me ideas about designs and how they like the sleeves [for example]. They give me brilliant ideas on how to improve our styles." 
Where Palestinian embroidery traditionally tends to adorn long sleeve dresses, Motarrazat offers different cuts and styles of clothing with the same traditional embroidered look.  
"The original Palestinian dress stays original and hopefully won't be affected, but it's always nice to have something new. Especially in a time where people get bored of the same thing over and over again," explains Inas.
 It's also a win-win situation for the Palestinian seamstresses and cloth makers who are getting valuable feedback and exposure. "The manufacturers are so happy to get our ideas and [it helps] them improve their companies as well. I'll send them some pictures that Amira takes and they like it and say that it helps them," says Manal.
In the end, what makes Manal happy is knowing that people are eager to learn about Palestinian culture. "In my second country of Canada, I'd like the people here to have a good idea of Palestine. My friends tell me that they love Palestine and they're always happy to learn more about our traditional dress. I hope that my business will bloom, serve the community, and have a good future Insha'Allah (God Willing)."
To learn more about Motarrazat visit their directory listing in Muslim Link here
Don't miss Motarrazat at this years Reviving the Islamic Spirit Convention in Toronto where they will have a booth in the bazaar
This article was produced exclusively for Muslim Link and should not be copied without prior permission from the site. For permission, please write to info@muslimlink.ca.
This article was produced exclusively for Muslim Link as part of a paid advertising package. For more information on how to advertise through Muslim Link and support the running of Canada's Online Hub go here.