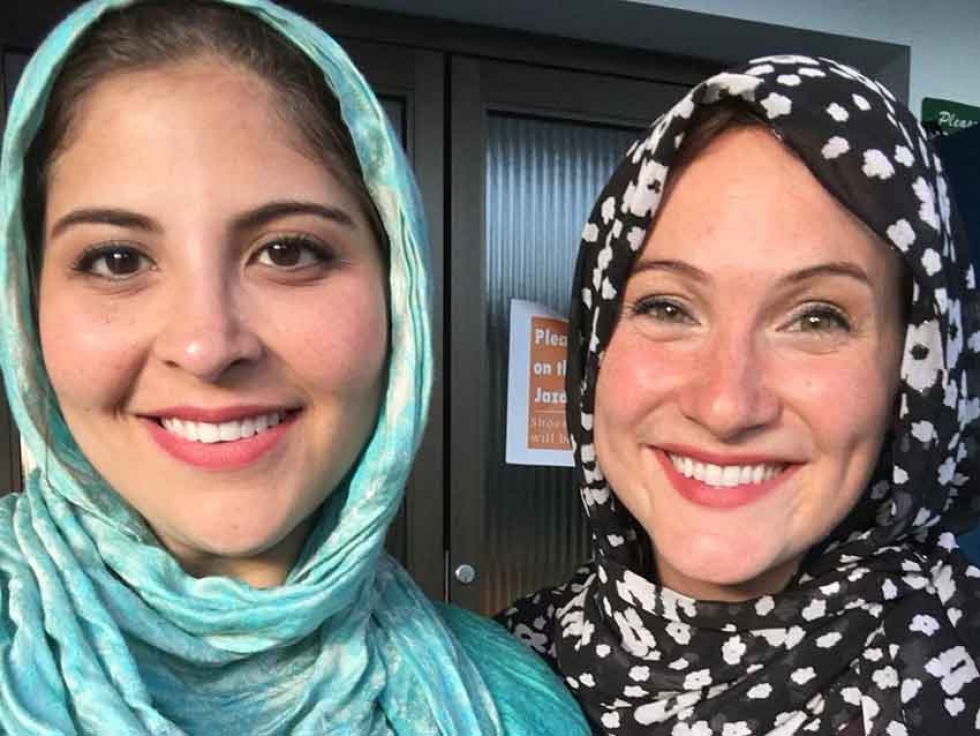 The author (right) with a friend, participating in a community iftar in Ottawa last year.
27
Jun


2019
It Takes a Village: Unlearning Islamophobia in Canada
Written by Julia Green
I am a white, Christian, fourth-generation Canadian. Because of these factors alone, my life has been infinitely easier than it has been for many Canadians. I personally have never experienced racism. When I say I am from Canada, no one ever asks me where I am really from. I feel I can openly practice my religion, including wearing a cross around my neck, without being harassed or accused of being an extremist. In short, I was born with an incredible amount of privilege.
I have been thinking about my privilege a lot lately, especially when it comes to the discussion around Islamophobia. Not only do the perpetrators of most Islamophobic attacks usually come from a racial and cultural background similar to my own, but I have noticed that most non-Muslims I know don't feel comfortable discussing Islamophobia at all. From what I have observed, many people who live with the kind of privilege I do are at best apathetic and at worst openly hostile towards Canada's Muslim population.
I personally believe that a lot of the negative attitudes towards Muslims in this country come from ignorance due to lack of exposure. In many parts of Canada, there are still relatively few Muslim families. My middle-class, suburban childhood was a perfect example of setting where it would have been totally possible to grow up oblivious to the Muslim experience. In all the spaces I spent most of my time, which included my mainly-white school, the local hockey arena, and my Church, I wasn't meeting a lot of Muslims. Furthermore, my parents did not know many Muslims or know very much about Muslims at all. It is very hard to understand something you hardly know exists, especially when you are just a child. Our worldview is shaped in part by our environment, and I believe there are still many parts of Canada where the environment simply does not lend itself to a lot of exposure to Muslims.
Thankfully, there were members of my community who recognized the importance of creating awareness about other faiths and cultures, particularly Muslims. I belong to the United Church of Canada, which has always been hugely enthusiastic about interfaith dialogue. No more apparent was this than the Sunday following the September 11th attacks on the World Trade Centre. In 2001, my church's congregation was still predominantly made up of people who did not know many Muslims personally. Obviously, they were scared and confused when they heard about Muslim extremists flying planes into the Twin Towers. For this reason, my minister asked a local imam to come to our church on the Sunday following the attacks to explain how Islam and terrorism were not connected. There was dialogue, and people, my parents included, left the service with more understanding.
When I was in the sixth grade, I was selected for a program developed by the local school board called Students Together Against Racism (S.T.A.R.). The initial three-day training for groups of student leaders from around the region taught us very basic concepts like the definition of prejudice, stereotypes, and discrimination. We also had a speaker who had grown up under South African apartheid come in and talk to us about her experience. Looking back, I realize that we were learning the very basics of human rights, but at 11 years old it was the first time I had been exposed to these concepts. I continued to be part of the S.T.A.R. program in its evolving forms right until I graduated high school, and I truly believe that a big part of my worldview was shaped by this educational initiative.
At my high school of 2000 students, the staff allowed the only hijab-wearing student to go on the morning announcements at the beginning of Ramadan one year to explain a bit about why she was fasting and the meaning behind the month. This was at a public high school, where nothing else we ever did had anything to do with religion, Christianity or otherwise. My classmate's short announcement encouraged us to ask her more questions. This decision by the staff at my high school to allow her announcement might have taken some consideration, but I believe they made the right choice. The result was a student body that was more curious to understand their few Muslim classmates, and more space for dialogue was created.
These are just a few examples of ways that my community created opportunities for me to learn about a faith that I otherwise would not have. They made me the type of person who does not view people who are different from me with suspicion, but rather with interest and a desire to learn more. Because I understand Islam, I am not likely to fall for Islamophobic rhetoric in the media. This knowledge also means that I can productively engage with people who say Islamophobic or racist things. Educating people about what Islam really is as compared to how it is often portrayed in the media is not only the job of Muslims. In fact, those who have privilege like I do should see themselves as having more of an obligation to defend their Muslim sisters and brothers. With privilege comes a certain amount of power, and that power needs to be used for good.
My exposure to Islam early in life means that I do not see Muslims as the "other": Muslims are my community as much as anyone else. When I hear people talking negatively about Muslims, I know it is due to ignorance. As the old adage says, ignorance breeds fear, and fear breeds hate. It takes a lot of time to reverse deep-seated beliefs and ignorance, but I am living proof that teaching children tolerance from a young age leads to adults who can respect and protect their neighbours of all faiths. More communities need to take the kinds of initiatives mine did, and inshallah the next generation of Canadians will be better, kinder, and more understanding than we are today.
This article was produced exclusively for Muslim Link and should not be copied without prior permission from the site. For permission, please write to info@muslimlink.ca.