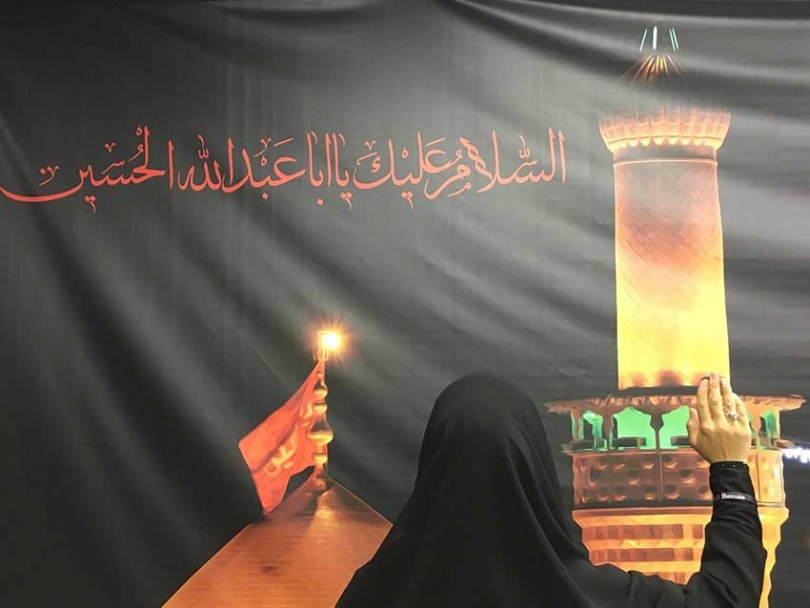 A banner like this is found in many Twelver Shia mosques. The words in red read « Al Salaam Aleika ya Aba Abdilla Al Hussain (Peace be on you, Hussain father of Abdallah) ». The hand gesture is symbolic., it's a form of salutation to Imam Hussain (pbuh) and to those who have suffered on Ashura. This hand gesture is make when Shia Muslims read a type of prayer called a « Ziyarat ». The prayer is taken from the Quran : "And never think of those who have been killed in the cause of Allah as dead. Rather, they are alive with their Lord, receiving provision" 3:169.
Berak Hussain (Windsor, Ontario)
22
Oct


2017
As the online hub for Muslims in Canada, we strive to be inclusive of the diversity of Muslim experience and practice in this country. But as our team currently all identifies as Sunni Muslim, there are certain traditions we do not partake in, and therefore do not know much about.
This year, we did our best to make sure we posted the Muharram and Ashura events organized by the Twelver Shia community in the ten cities Muslim Link currently has event listings for. This was definitely a learning curve for us, but as these events got many hits, we assume our readers appreciated it.
To better understand what Muharram means for our Twelver Shia readers, we decided to publish a personal reflection by a young Ottawa-based university student about what the experience of attending her mosque for Muharram and Ashura is like.
****
For me, Ashura is a day of mourning because it marks the death of members of Prophet Mohammad's family, in particular Imam Hussain (pbuh), the grandson of Prophet Mohammad (pbuh), in the desert of Karbala, in Iraq. Lady Zainab, the Prophet Mohammad's granddaughter, was taken as a captive but despite the attempts to humiliate her she stayed strong and spoke truth to power when she met with the tyrant responsible for killing her family.
Every year during Muharram, I find myself staring deeply into the curves and fibres of the carpet while trying to understand the Arabic words uttered by the Sheikh at our mosque. I often rely on those around me to whisper a translation in French or English. But often, I feel a deep sense of understanding without need for translation.
I have been attending ceremonies for Ashura since my childhood. These ceremonies occur all over the world in large and small gatherings in different communities. Growing up, I did not understand why we gathered to mourn each year. However, like many of my friends, who did or did not pray, wear a hijab, or have much interest in Islam, we anticipated Muharram each year and looked forward to the energy that came from recounting stories of Imam Hussain and Lady Zainab, both the grandchildren of Prophet Mohammad (pbuh).
"Thirst" is the word I have come to recognize as I have heard it recited year after year, and I have come to think of it in times of personal struggle. On hot and humid Canadian summer days or during Ramadan, I am reminded of how the children of Hussain (pbuh) were deprived of water and how children to this day in Yemen, India, and sub-Saharan Africa remain hungry and thirsty. When the Sheikh mentions the burning of Imam Hussain's family's tents, I think of the thousands of tents of refugees surrounding the Mediterranean. When the speaker mentions Zainab (pbuh), I think of men and women speaking out against injustice, and cultivating an enlightened generation. I think of the strength of a woman that is celebrated by men and women alike. I am reminded that there have always been strong role models for women in Islam. I am reminded that the struggle for justice is not over and I have seen the beauty in activism and promoting education, peace, and humanity above all else.
Muharram fans in my heart a flame. I am drawn to attend the mosque in order to hear a story I have heard countless times but whose messages are endless. It starts with understanding the depth of the sacrifice, the eloquence of Imam Hussain's words in the face of significant danger, and of his sister Zainab and her dignity and strength despite the tragedy. Lady Zainab, she who caused the downfall of the oppressive Ummayad empire, which reached from Spain to China, with the strength and power of her words.  She whose name epitomizes femininity, majesty, poise and dignity in her actions, words, and hijab. If I am ever in doubt of the strength afforded to a woman in hijab, I need only look at Zainab.
The energy and emotion in the room as we listen to the story of Zainab in the aftermath of the death of her brother and many of her relatives is one that can only be felt to be understood. I see my mother remove her glasses to wipe away tears every year. "Mama ca va?" (Mother, are you alright?), I would ask, confused and saddened to see her in grief. As I grew older, I realized that her tears, and later mine, were that of absolute admiration and love. As Zainab stated so eloquently, 'I have seen nothing but beauty.'
For 13 nights, I sit and listen to what I can understand from the Sheikh in Arabic. Sometimes I understand only whispered translations. I catch the words 'sword', 'love', 'thirst', 'love' and 'courage'.  Ashura is not a story of tribal bloodshed. It is a story about love and sacrifice, maintaining courage and dignity when faced with those who do not know the meaning of those words.
My heart feels full in the car ride back home with my family or friends after hearing the eulogies of Ashura. We don't speak much, but our hearts reach new dimensions of love and empathy. We hope that our love of such pure individuals, the family of the Prophet Muhammad (pbuh), will open our hearts and increase our understanding more. It puts into perspective that which we struggle with and suddenly a mountain of troubles becomes dust beneath our feet. The hope is that with each Muharram, the opportunity of reflection about God and we as His servants will lead to developing ourselves so that one day we may embody a fraction of the truth, dignity, and beauty embodied by the Prophet's family.
I write this knowing that my words, regardless of what language I use, cannot express the virtues expressed on the fields of Karbala and long after. I can only share what I know and have experienced but this does not diminish the power and depth of my experience. I remain a student, always learning, always growing. And in my journey the one thing I know for certain is that I have more to learn about the tragedy of Karbala and I will never tire of doing so. 
This article was produced exclusively for Muslim Link and should not be copied without prior permission from the site. For permission, please write to info@muslimlink.ca.