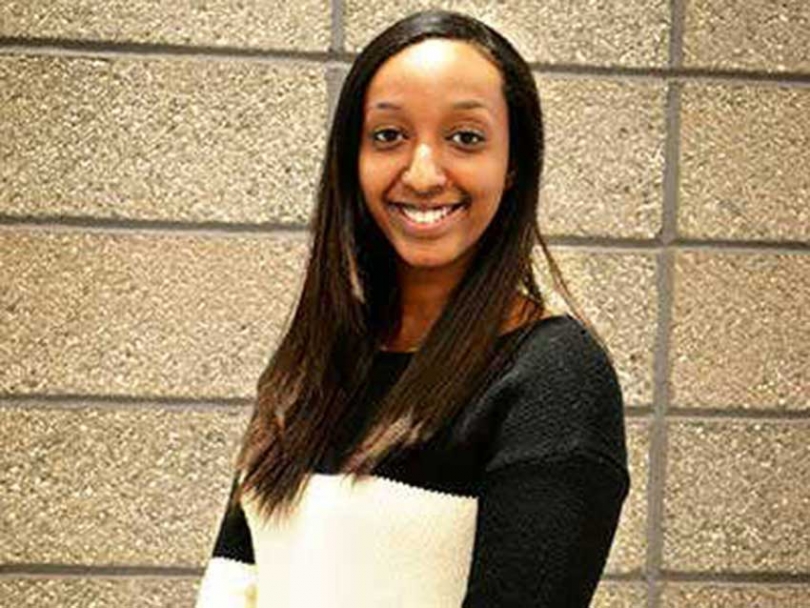 Longfields Davidson Heights High School student Sabrina Teklab takes time to volunteer with police to address youth safety issues.
12
Jan


2014
Helping make Ottawa Safer for Youth by Volunteering with the Ottawa Police Service
Written by Sabrina Teklab
When I tell my friends that I volunteer with the Ottawa Police Service they think it's awesome. Although many times I receive questions like, "Oh, you want to be a police officer?" or a "Do you get to use a gun?"
Here is what I actually do: I volunteer with the Ottawa Police Service's Youth Advisory Committee (YAC).  YAC hopes to become the liaison between the youth and the police, in the hope that this relationship will make Ottawa a safer place. YAC works to address the issues that youth are facing and to meet their needs. 
I feel as though I never really came in close contact with the police before YAC, which definitely reflected how I thought of them:  more as distant figures. However, some youth I know have had negative interactions with police and I can say that I understand where they are coming from.
Sometimes, people feel as though nothing will help with their situation, but in all honesty, you won't know whether something will work or not until you try. Having negative interactions with the police isn't something we can fix instantly, but it's through committees like YAC that we can address problems and make sure that youth themselves are making an effort to fix prevalent issues.
I don't think I'm being idealistic. I take a lot of inspiration from my mother who came to Canada as a refugee from Eritrea. According to my mother, the police service always struck fear in everyone, because it was a time of war, and the police service always was rough and hard to approach. As she traveled to Sudan and Saudi Arabia, her fear of the police only continued as people would be stopped and asked for their legal papers and ID, which most refugees do not have.
When my mother came to Canada she expected the police to be the same. She started to realize that police here were different when she saw the police visiting my school.  She was surprised to see police officers attending school events and approaching kids in a friendly manner.
The most surprising thing for her was how comfortable the kids were with the police, even in uniform. In her home country, one would be afraid to even approach the police, let alone speak so confidently with them. She realized the reason the kids were comfortable around the police was because the Police Service takes the time to make sure children aren't scared.
Like a lot of Muslim parents, my mom wants me to put school first, but she appreciates my desire to work to make things better. So although my volunteering does take time away from my school work, she supports what I'm trying to do with YAC.
With the YAC, I've become more involved in the community. We were able to have two bake sales and donate much needed  clothes for the winter such as socks and jackets to Operation Come Home. Throughout the past few months, we have been going to various community centres and neighbourhoods to have chat sessions concerning the safety of Ottawa youth. One of our big initiatives was the Mayor's Youth Summit where YAC members facilitated a group discussion around possible changes that can be made to help make Ottawa safer for youth.  One of the crime issues we have being trying to raise awareness about is cell phone theft, as this is frequent among teens.
Last summer, I also got to work with the police as part of their Youth in Policing Initiative (YIPI).  I can honestly say my summer with YIPI was one of the best experiences of my life. I got to meet the most amazing people, youth and police alike, and broaden my knowledge of the police service. As I was placed in the Community Development section of the Ottawa Police, I grew to understand safety issues that are prevalent in certain communities and the need to build better relationships between people and police in order to improve them. I also had the opportunity to work with Peace Camp Ottawa as we hosted students from Israel and Palestine at the police station. We demonstrated the difference between policing systems in Canada and the Middle East and got to have a one-on-one discussion with the 24 youth involved in the program.
I encourage other students to consider volunteering with the Ottawa Police Service.
To learn more about the Ottawa Police Service's Youth Advisory Committee (YAC):
Phone:
613-236-1222 ext 8676
Email:   This email address is being protected from spambots. You need JavaScript enabled to view it.  
Facebook:  .../OttawaPoliceYAC
Twitter:  @PoliceYAC
Website:  www.ottawapolice.ca/YAC
To learn more about the Youth in Policing Initiative (YIPI):
Phone:  (613) 236-1222 ext. 5382
Email:  This email address is being protected from spambots. You need JavaScript enabled to view it.
Website:  http://www.ottawapolice.ca/en/community/teenlounge/yipi.aspx
Sabrina Teklab is a Grade 12 student at Longfields Davidson Heights High School where she is the school's Co-President. 
This article was produced exclusively for Muslim Link and should not be copied without prior permission from the site. For permission, please write to info@muslimlink.ca.