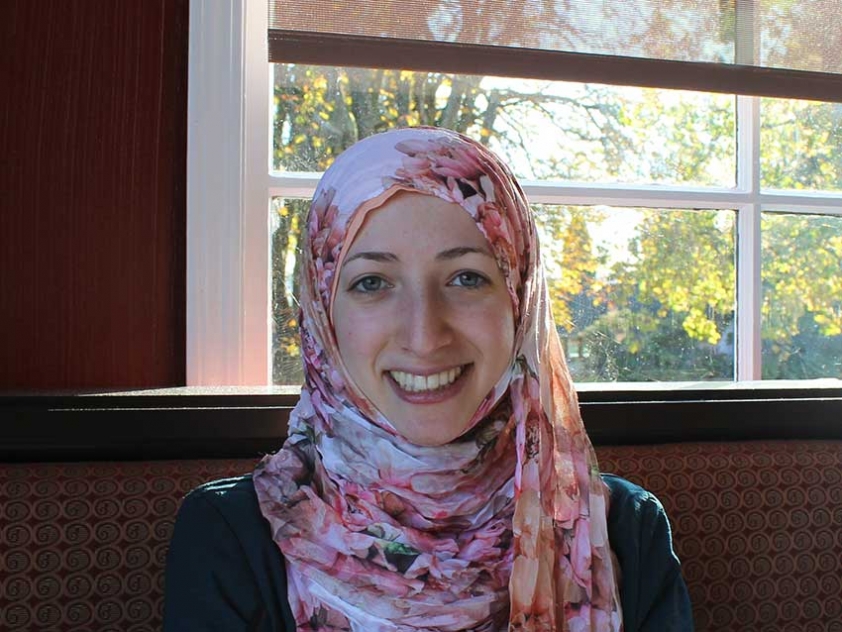 Sarah Hamdan is a registered dietitian working in Ottawa.
Courtesy of Sarah Hamdan
30
Mar


2015
Healthy Eating 9 to 5: Advice from a Registered Dietitian
Written by Sarah Hamdan
Find healthy eating challenging at work? You're definitely not the only one. Learn more about healthy eating on-the-go through the Dietitians of Canada's Nutrition Month campaign "Healthy Eating 9 to 5".
According to the Dietitians of Canada, most Canadians find healthy eating challenging – especially in the office. However, with the right tools and preparation, healthy eating can become simpler.
Breakfast
The most important meal of the day is often overlooked, most commonly due to time. A little preparation, however, goes a long way. Make your breakfast the night before, or make a larger batch and freeze it. Thaw it, and take it to go in the morning. Some examples of freezable breakfast items include whole-grain muffins, pancakes, smoothies, milkshakes (which you can take to-go in a jar) and waffles. 
You can also buy breakfast items in bulk; such as yogurt and frozen fruits, and portion them yourself, which is a lot cheaper.  
Meetings and Events
Events at work can make it tempting to eat calorie-dense foods in bigger portions. Try taking into account all the work-related events that take place in a single month such as birthdays, meetings, and other special occasions. Most foods served at these events are often very calorie-dense, so making adjustments and being in control of high-energy food consumption can definitely bring benefit.
High-calorie foods should be consumed occasionally and in small portions. Take your time savoring them; this will help make you feel more satisfied with a smaller amount. For example, try having a quarter of the donut at your work meeting and eat it slowly.  
Lunch
Eating out most often comes with oversized portions, too much salt, sugar, calories and fat, making it an unhealthy (and expensive) habit.
Prepare your lunch the night before, and include different food groups from Canada's Food Guide.  The healthy plate method is an easy way to estimate portions of the different food groups for Lunch and Dinner. Fill half your plate with vegetables, one quarter with grains or starchy vegetables (potato, cassava, squash and the like) and one quarter with protein (hummus, beans, fish, beef, and the like).
Meals are not always easily divided in this manner though, so think of the plate method as an estimated proportion of each food. For example, for "yakhnet bemyeh", an okra stew cooked in meat broth with few pieces of meat and served with rice, one quarter of your plate would consist of rice, and three quarters of stew. 
When cooking dinner, make sure to have leftovers for tomorrow's lunch. Take a break when you're eating – and enjoy your meal.
Snacks
Feeling sloppy in the mid-afternoon? Before you reach for something to eat, try to understand if you're physically hungry or if you're just bored, stressed, or emotional.
If you're physically hungry, reach out for a pre-packed healthy snack. An apple with peanut butter as a dip, vegetables and yogurt dip, or whole-grain crackers with cheese are examples of substantial snacks to keep you going through your day.
If you're not physically hungry, try some stretches, walk around or try changing positions. Are you drinking enough water? Improper hydration can make you feel tired and can give you a headache. Try do-it-yourself water infusions to quench your thirst (water with lemon and mint leaves, for example).
A few other tips:
Whole grains: make half (or more) of your grain sources whole grain. Bulgur, Freekeh, Brown basmati/long grain rice and barley are examples of excellent grains to include in your daily meals!
Reduce fats: Coconut oil, palm oil, ghee, or butter, used in various multi-cultural recipes, are very high in saturated fats and can cause negative health effects when consumed often. Try not to add butter/ghee to your Naan (South Asian bread) or Muufo (Somali bread)! Also, try different cooking methods like baking, broiling, grilling, steaming or roasting rather than deep-frying.
Lower-fat milk products: When using dairy products in recipes such as curries, daals (lentils), or raita (in South Asian cuisine), or for example mhallabiyeh and ashta (in Middle-Eastern desserts) choose skim, 1% or 2% milk, lower-fat cheeses, and yogurt.
Sodium: Middle-Eastern meals often include a variety of deliciously pickled items on the side ranging from pickled turnips (torsheh) to eggplants (makdous), olives and a great variety of other vegetables. When consuming these foods, disregard their water as much as possible and consume them in fewer amounts. Compare the different sodium contents as indicated on the nutrition labels and choose the ones lowest in sodium. If possible, rinse the food before eating.
Meat and alternatives: Often, replace your meats with beans, lentils, pulses, peas and tofu in your dishes. Try at least two servings of baked, steamed, broiled, or grilled fish a week. Make an experience out of different cultural recipes such as mdardara (Lebanese lentil-based dish), Egyptian Foul (fava beans and parsley dish) or Punjabi Dal Makhani (lentil dish)!
Sarah Hamdan is a Lebanese Canadian registered dietitian working in Ottawa.
This article was produced exclusively for Muslim Link and should not be copied without prior permission from the site. For permission, please write to info@muslimlink.ca.