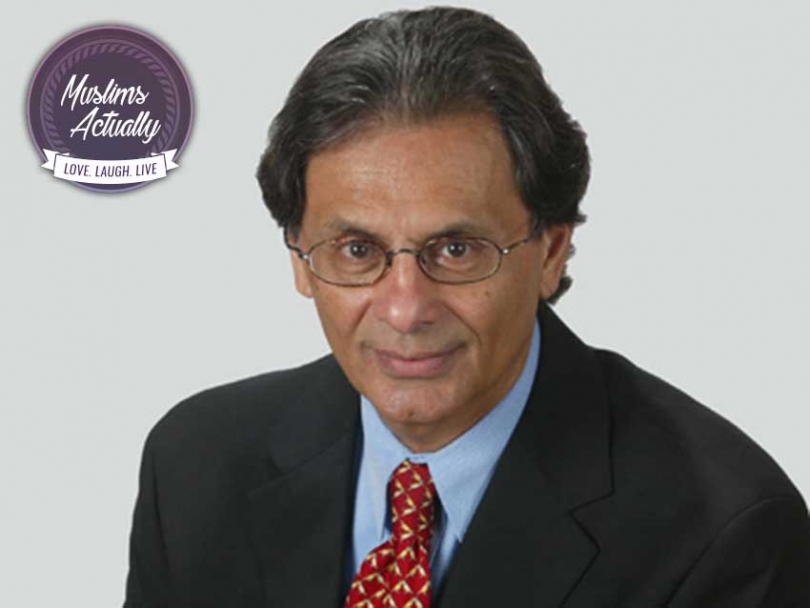 Haroon Siddiqui is currently a distinguished visiting professor in the Faculty of Arts and Faculty of Communication & Design (FCAD) at Ryerson University.
26
Jan


2017
Haroon Siddiqui needs no introduction.  He has been a significant contributor towards "challenging the image of Muslims being portrayed in mainstream Media." He was the Editorial page editor emeritus and a Columnist for the Toronto Star for a number of years. He is also a member of the Order of Canada. He was recently appointed as a distinguished visiting professor in the Faculty of Arts and Faculty of Communication & Design (FCAD) at Ryerson University.
Interview with Haroon Siddiqui
Where were you born and raised?
I was born and raised in Hyderabad, India. I was the oldest of six children. My father was a construction company proprietor and we enjoyed a "middle- to upper-class" childhood in a household full of love and much indulgence.
What did you study?
I studied at Osmania University in Hyderabad and earned degrees in science and journalism.
What did you do for a living?
I began my journalism career in India in 1963 and came to Canada in 1967, and worked until my retirement from the Toronto Star last year.
Did you always want to be a columnist?
No. It was not part of the plan. I was a journalist in India and I could not find a job in my field in Canada. I started working as a men's clothing salesman at the Simpsons (now the Bay) in downtown Toronto and stayed for 6-8 months. I then spoke to the editor of the Globe and Mail and he suggested that I go to Brandon, Manitoba for a few months to gain Canadian experience. I ended up staying there for 10 years and becoming the Managing Editor. I then returned to Toronto in 1978 and worked at The Star as copy editor, news editor, national editor, editorial page editor and then columnist until my retirement last year. Being a columnist happened by default.
What was it like working in mainstream media as a Muslim Canadian?
Very few people saw me as Muslim before 9/11. They mostly saw me as a journalist who happened to be Muslim. Post 9/11 I became "just a Muslim". I was put into a box. As a Muslim in journalism, I was seen only through a religious prism and, secondly, I was only supposed to criticise Islam and other Muslims. If you didn't do that, and didn't follow the accepted narrative on terrorism and Muslims, then you were deemed "an Islamist," or a sympathizer of jihadists. Even many of my well-wishers told me not to write about Muslim issues because that might affect my career. I continued to write what I felt was in the common interest of Canada and Canadians. That often angered the islamophobes.
Why did you write your book "Being Muslim"? What did you hope to achieve?
Being Muslimwas also written by default. A publisher approached me and asked me to write about being Muslim in Canada. For me the question was "what is this book about?" I often asked myself even when I was writing articles for the Star, "what is the article about?", "who is my constituency?" Knowing the constituency is important as it provides clarity and allows the writer to assume a certain knowledge base, depending on the expected audience. When you are writing, who you are writing for is very important. I assumed that Being Muslim would be for the ordinary reader, Muslim or non-Muslim. Then the question was, what is the book about? Is it about religion and theology or politics or public policy? Finally, I figured that It needed to speak about all the issues at hand — terrorism, the war on terror, the U.S. being in bed with corrupt and autocratic regimes, Islam and Muslims, plus the cultural warfare on the hijab, niqab, the Prophet Muhammad, etc. In the end, while most books have a particular thread, this book's only real thread was the fact that all of these topics were discussed within the context of the post 9/11 era. The book sold 25K copies. We had an updated edition and a revised edition.  Allah SWT does things and often times we don't plan for them.
What advice would you give Muslims who are trying to challenge media's image of Muslims?
It's already happening. Muslims are already shaming mainstream media through the social media. This has begun to address Islamophobia. That's one of the greatest roles the average Muslim can play is to start a social media campaign that can take off. Like your blog Muslimsactually.com, it can generate velocity and then it may land on the editor's desk, if you are making a valid point about news coverage of Muslims. I recall a story coming to the editor's desk after some challenges occurred with a certain pharmaceutical drug. People used social media to cry out and at the end of the day, the editor was forced to respond on Metro morning. There is power in multiplying the story. People can and will take notice and sooner or later it will land on the editors desk be it the Toronto Star or the Globe and Mail.
What role has family played in your leadership journey?
Family gave me love and confidence. Confidence that comes from being taught at a young age that "you can be anyone and go anywhere in the world". We grew up with lots of diversity around us in India (Muslims, Sikhs, and Hindus). I went down many paths during my education and my parents always supported me throughout the journey. I remember going to my father and telling him that my English professor T.G Vaidyanathan believed that I should go into Journalism. My father, a conservative Muslim, told me to follow the advice of my teacher, a respected Brahman. That was the ethos – respect the teacher, follow his advice. I am forever grateful for TGV's suggestion and my parents' support and encouragement.
What advice would you give young Muslims looking to break into the media field?
You need a day job. Do media and journalism during the evenings and in your spare time. Gone are the days that journalism can be a financially viable profession. The few jobs that there are, they are much more focused on technology – websites, algorithms, etc. There was a time when we didn't have enough "ethnic" people in the media and I along with a few others advocated that South Asian, Arab and other parents support their kids to get into journalism. The tragedy is that once their children came into the field, there weren't any jobs left for them, because the financial paradigm of the media is broken. But do write about what you care about. You may or may not change the world, but the skills you acquire, of writing, analyzing, persuading the readers, etc. are all portable skills – they come in handy in just about every aspect of life, regardless of your profession. Who gets promotions? Those who are articulate, who can build an argument, who can be persuasive and who can write a good memo, a solid brief, a great position paper, a policy manual, etc.
This article was produced exclusively for Muslim Link and should not be copied without prior permission from the site. For permission, please write to info@muslimlink.ca.