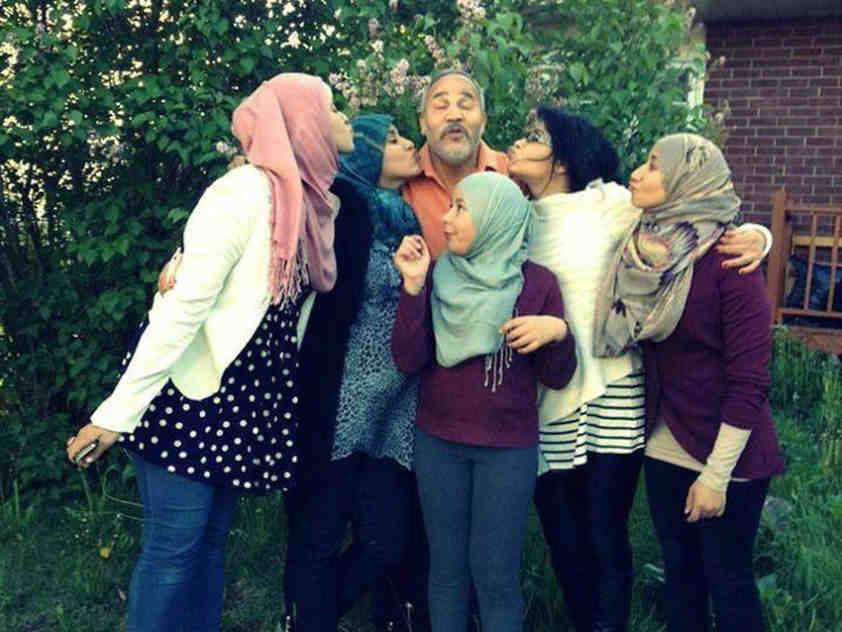 The Rezgui Sisters and their father
Courtesy of The Rezgui Family
19
June


2014
A Father's Day Reflection: One Father, Five Daughters
Written by Chelby Daigle
Naceur and Lamia fled the political turmoil of Tunisia in the nineties and settled in Ottawa with their young family. Like many refugee fathers, Naceur faced the challenge of figuring out how to support his family on top of learning a new language and figuring out how to navigate a new country and culture. "My dad had no job when he first came to Canada. Then he finally found a job as a cleaner. He would find any way possible to get to his job. He even at a time walked on the highway in the freezing cold!" Zeinab shared.
One thing that has helped the family through tough times has been Naceur's sense of humour. "He makes these really funny jokes. They're so funny because the punchline is so obvious you wouldn't guess. He is always trying to make us happy and laugh," Omayma stated. She also feels that it is her father's solid faith in Islam that has enabled him to persevere in the face of hardship. "The key thing he has used to raise us is Islam. He will always bring around the sunnah and what is right and wrong," she explained. Over the years, as his family grew, Naceur was able to establish his own cleaning business.
The family continues to grow now that the daughters are finding husbands. "I am my father's first baby girl. I got married three years ago and now have my own child," Marwa explained, "My father has been there for me, from giving marriage advice to making sure everything is ok after I got married. He loves his granddaughter very much. He was there making du'a (supplication) during my labour and du'a when she was born. She also loves him and loves playing with his beard! He's such a great man who works very hard for us and I believe he was chosen to have daughters for a reason, because he's very strong but has a big soft heart."
What Zeinab, Aya and Mawadda admire most about their father is his patience. "He never gave up on us," Zeinab explained, "Every time one of us would give him a hard time or didn't listen or was just having trouble at anything, he would be there for us, help us out, give us advice. We could talk with him." "We aren't a picture perfect family; of course every family has their ups and downs" Omayma added, "But he always tries. And trying is most important. I am so thankful to have him as a dad." ■
This article was produced exclusively for Muslim Link and should not be copied without prior permission from the site. For permission, please write to info@muslimlink.ca.