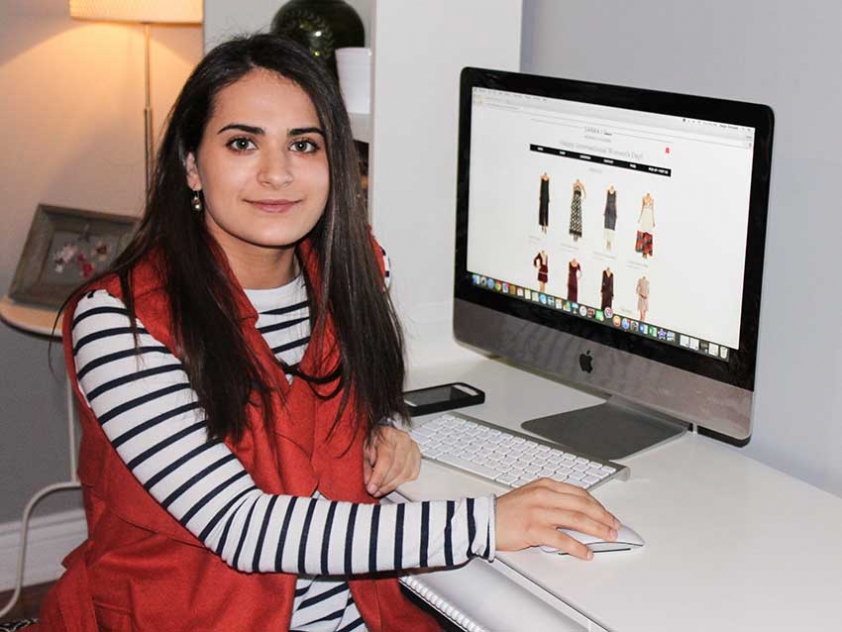 Salgai Tooryalai is the founder of SANAA Women's Fashion, an online boutique based in Ottawa.
Courtesy of Salgai Tooryalai
14
Mar


2016
So You Want To Be an Entrepreneur? Salgai Tooryalai and SANAA Women's Fashion
Written by Khadijah Vakily
When it comes to making modest fashionwear available at the click of a button, Salgai Tooryalai is on the case with SANAA Women's Fashion, an online store based in Ottawa.
"What sets (SANAA) apart is we make it easier for Muslims or just people who want to dress modest; it makes it more accessible," says Tooryalai of her online boutique.
Born in Pakistan and of Afghan descent, Tooryalai was only five when her family made the decision to immigrate to Canada. Now at 20 years old, she is currently an economics student at Carleton University. She loves clothing and fashion and enjoys playing sports.
Growing up in Ottawa didn't come without its challenges. Tooryalai describes life as a balancing act between religion as well as social expectations and responsibilities.
Tooryalai, remembers her desire to "feel pretty" like the rest of her classmates, "I know growing up in high school…I'd always see these girls wearing these pretty dresses and I knew I couldn't wear them because some of them would be too revealing."
Little did she realize that she would one day be able to address that issue head on. Last summer, while talking to her father, he encouraged her to found her own company. It didn't take long before the idea to start SANAA was formed.
"Living in Ottawa, it's very difficult to find clothing with long sleeves. So it's something I was interested in making more accessible for other girls just like me or my age that want clothing that's a little more modest—but still in trend and still fashionable. I thought, you know what, why not do it myself…why not start something," says Tooryalai.
SANAA is an online retailer featuring trendy apparel for the modern Muslimah. Its products ship across all of North America. While the items are available online, it is also possible to book sessions to meet with the entrepreneur at her home and try on products in person.
"I go through different wholesalers and distributors and I pick pieces of clothing and jewelry pieces that I think would work well with a modest wardrobe. And after that, they come to me; I just take pictures and product images of them and we post them online," she explains.
Although her business came about rather spontaneously, it is easy to see where Tooryalai drew her inspiration from. From a young age, she was interested in the fields of art and business.
"I used to love drawing designs and architecture, and I was very much into economics and business and stuff like that. So this kind of tied my mathematical business idea with design (…) and I kind of blended the two," she says.
Tooryalai had all the basic knowledge and interests for those around her to see why she would succeed with her business plan. She did, however, find a critic that threatened to stop her work before she even got started—herself.
 "The challenges I faced were basically inner challenges. Overcoming the fear of, you know, what if it doesn't work out, how are people going to react to it? I was a little shy of telling people my idea at first in case they'd shut it down," she says. "So yeah, it was overcoming my fears and not worrying about what people would say or how I'd get criticized and going from there," shares Tooryalai.
Once Tooryalai was able to calm her self-doubt, she fully took on the role of a sole proprietor, learning how to build her own website from top to bottom. As she developed more confidence in her company, she honed her skills in the technological department, learning new things like web design and how to create inventory sheets. When she took to social media to promote her brand, it became increasingly apparent how important it is in the fashion realm to grow an online presence.
"You really have to rely on people in social media like Instagramers and YouTubers and stuff like that to promote (your company)…so it did make me gain a big network online and try to interact with other developers and wholesalers," she explains.
Despite some of the hurdles, Tooryalai loves what she does. For hours on end she browses through clothing, even turning it into a family activity with everyone huddled around the computer. Friends are often called on to vote on product images for the latest stock that will be chosen to sell online. Though Tooryalai was initially hesitant to mention her business idea, she has found her friends and family to be a pillar of support.
"They've helped me a lot and they all have different skills. I have a cousin who does graphic designing so she'll do like my imaging; she might take my photos for me and edit them and stuff like that. I have a friend who does software engineering and he helps me out with the techy stuff, so it's just been awesome," shares Tooryalai.
Finishing her studies is a big priority for Tooryalai, so her boutique is currently a part-time endeavour. Eventually, however, her vision would be to expand her business to open her own storefront.
"Now that I'm aware of where I can get my products, the prices, the profit margins, how to do all that…it would make it a little easier for me to have a physical location," she states.
Her advice to other young people hoping to break into entrepreneurship is first and foremost to conduct research into their business plan. Tooryalai's first two months of working on her company were spent solely on researching business approaches, promotion, contacts, and the types of items available through different wholesalers.
"It's really important to know if you're getting your products at the best price and if the quality's good," says Tooryalai. "So you want to do a lot of research, and then at the end of the day ask for help. That's something I wish I had done more from the start: ask for help, because people have done stuff like this and they probably know more…ask for help but at the same time take your own opinion as well," she says.
According to a 2013 study by Statistics Canada, the number of enterprises that fold annually is higher than the number of companies created with one to four employees. Despite the discouraging figures, entrepreneurs like Tooryalai toil on with the hopes of inspiring others through their strong work ethic.
"I've always been a go-getter; I have younger sisters so I'd like to be that role model to encourage them to try something out—even if it doesn't work in a month or two months you don't see any progress, just keep on going," shares Tooryalai.
For more information on SANAA's website
This article was produced exclusively for Muslim Link and should not be copied without prior permission from the site. For permission, please write to info@muslimlink.ca.