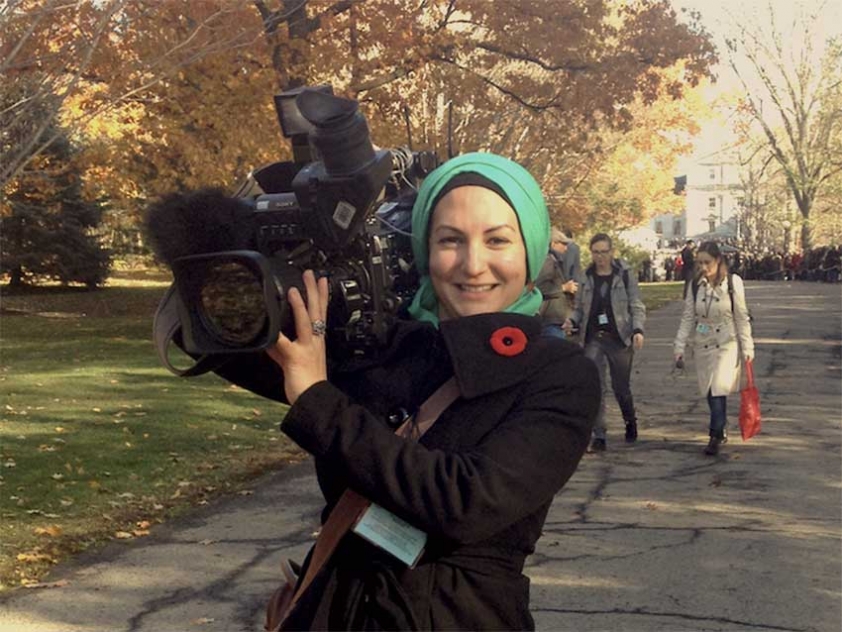 Syrian Canadian multimedia journalist Oussayma Canbarieh
Courtesy of Oussayma Canbarieh
24
May


2016
So You Want To Be A Journalist? Oussayma Canbarieh
Written by Khadijah Vakily
Montreal-based Syrian Canadian journalist Oussayma Canbarieh has made multiple documentaries exploring the challenges faced by Muslims navigating their identity within North American societies. In particular, her ground-breaking web series for Radio Canada International, "Me, The Muslim Next Door", follows the lives of seven young Muslim Canadians in Montreal and Toronto. Oussayma was awarded the Lys de la Diversité Prize for web-journalism in 2013.
Born in Syria, she has been living in Montreal since she was a child. She grew up in a multi-lingual environment, speaking Arabic at home and English and French outside. At Concordia she studied Business, Spanish, and Journalism. Oussayma was awarded the Lys de la Diversité Prize for web-journalism in 2013.
Muslim Link spoke to Oussayma about her career as a multimedia journalist specializing in documentary filmmaking. 
The conversation has been transcribed verbatim. 
What first got you interested in journalism?
I've always been really interested in telling stories. I like to listen more than talk, because I really do think that everybody has an interesting story to tell. It's just a matter of offering them a platform to share their experiences.
Before I started working in journalism, I had a very boring job at an insurance company right after graduation. I've always been a documentary junkie. So basically I quit my secure, good-paying job and I decided to learn more about documentary filmmaking. I joined Concordia University Television and produced a documentary about Muslims in the workforce called Working with Islam. It follows three characters and looks at their experiences being practicing Muslims and working professionals. Working at the insurance company, I experienced some challenges as a young Muslim professional, so I decided to investigate that more and see how others are experiencing this and how they're fulfilling their role as a professional all while being a practicing Muslim.
With journalism, you always have one experience or project that leads to another project. I got into the CBC, then Radio Canada International. I was a correspondent in Toronto working for radio, and my mandate was to cover immigration and cultural diversity in Canada for both the English and French shows. That was a great experience. I had the occasion of also travelling to the Middle East and covering some stories from Syria, Lebanon, and the Emirates, including a series on Iraqi refugees in Syria.
I'm still working as a journalist on a freelance basis, covering stories for international outlets. I mainly cover press conferences.
Have there been any challenges in your line of work?
Yes. First of all, sometimes finding a great story is a challenge. You know you always want to bring a fresh perspective and not sound cliché. Another challenge is to find the right individual to tell your story. Sometimes if it's a sensitive topic, people are reluctant to share so you always have to play the role of a negotiator first and establish that trust, and sometimes it is challenging to establish that trust especially when people don't know you. But of course when you build a good reputation people see your work so they want to work with you.
I would say another challenge is working with executive producers. Your client or your boss has to trust you to pursue a certain angle, but all in all those challenges are part of the job. Another challenge is to get people interested in the story you produced as well. Sometimes you'll produce a story because you believe in it and you think it's important but people wish to consume some other types of media. You don't want to produce brainless media because everybody is going towards that direction, you want to produce content that matters. But I see today, because we're so bombarded by content, that it's sometimes challenging to break through that noise and highlight your work or the issue that you're tackling.
Another challenge as a multimedia journalist is that you have to do everything. I do the research, I do the interview, I do the filming, the editing, and post-production. Sometimes it's very challenging, but it's what the reality of the profession demands today. You can't always have a big crew. I've worked in big productions with lots of people on the set. But when you are alone with a person you are interviewing or following for a documentary, the person opens up to you even more. So yes it is challenging to do everything yourself but at the same time you can build trust much more easily with people because you are by yourself.
How does working on documentaries differ from doing the average article or video package?
A documentary is personal, whereas an article is more objective, at least you try to be as objective as possible, depicting many different perspectives. But a documentary I'd say is more personal, more intimate and it's more invasive because if you're following an individual, that person has to trust you. And again it takes a lot of time to build that trust; it takes a lot of communication, a lot of honesty, a lot of openness. You have to also respect their boundaries because they're opening their homes to you, and yes, you are looking for a great story and great footage but at the same time, if the person is uncomfortable talking about a certain aspect of their lives you have to respect that. You still try to push them out of their comfort zone because that's your role as a journalist, but ultimately if it's too sensitive for them you also have to respect that.
Let's say if your role is to interview a politician, you have to get them out of their comfort zone and you have to be tough with them. But if it's someone who's telling a personal story you have to be generous, so they can open up to you even more. But I would say what's important is to be genuine. Have a genuine interest in them as a person, as a human being. You can't fake it; if you want to be a good documentary filmmaker or producer you cannot fake emotions—it has to be real. And you have to respect their integrity as well, because you have access to so much, you have access to behind the scenes. And you can't trick images. It's possible to trick images with a nice montage or nice editing. If you want somebody to look bad you can make them look bad. If you want them to look good, even though they look bad, you can make them look good. You have so much power in your hands it's incredible. You have to have integrity, you have to depict reality, not lie about it.
Have you had a favourite documentary to produce?
I actually produced this documentary last Ramadan and it's going to be out this Ramadan. It's a short documentary about a young, Aboriginal Muslim convert who I travelled to Chicago to meet. She talks about her journey as an Aboriginal woman coming from foster homes, how she discovered Islam and how her indigenous culture is so close to Islamic teachings.
You've held many roles, from reporter to radio columnist to web producer. Is there one that is more challenging than the others?
They all have their own set of challenges. I would say if you want to be a good journalist these days you have to be versatile. You have to be technologically savvy, you can't just say I'm a radio reporter and that's it.
You have to know how to tell a good story, you also have to be up-to-date with the trends of telling a good story. And also, it's extremely important to subtract yourself as a reporter. The story is not about you it's about the person you're interviewing.  The world does not revolve around you as a reporter, and what I'm seeing these days is a lot of egocentric behaviours from so-called reporters and they become the story. You are not the story. You're just a vehicle, so you have to be very humble.
You mentor journalism students and aspiring media makers. What is it like to have things come full circle for you to now be the teacher?
It's very rewarding, and I think that's one of the roles I've enjoyed the most. When I was a young reporter, insecure and lacking experience, I had so many people who were so generous to me especially at the CBC and Radio Canada. People who trusted me, people who mentored me and gave me valuable feedback not just about the profession itself but about life in general.
I know it sounds cliché, but I really felt that I have to give back, and give back with a big heart. I'm very tough at criticizing, because people were tough with me and they expected excellence, and I also expect excellence. So I'm also tough with the people who I mentor, but at the same time I want to encourage them, I want to empower them. So I'll show them the tools, and what's important is I'm result driven as opposed to process driven, because there's many ways to tell the story. As long as they know the ethics of journalism, as long as they know their tools, as long as they bring me good results in a timely fashion, that's what I'm aiming for.
What would be your advice for those hoping to break into journalism and have a successful career?
I would say start now. Don't wait for someone to commission your story, start in your backyard. What are you passionate about? What is the story or a subject or issue that makes you tick, or something that you want to share. Start with that, start from within, start from your own backyard. You'd be amazed at how many stories you can find. And go from there. Now with self-publishing platforms it's amazing, you can produce something and you don't need a medium anymore to make your work seen.
And be curious, don't be afraid of learning new things like programming, you have to learn how to program, you have to learn how to build a website—go ahead and do it, don't be afraid of that. And also very important, learn languages. Don't just stick to English, learn languages, because they will open to you so many opportunities and also it makes you connect even closer to the people you are interviewing when you know their language. And read; reading is extremely important. Read, read, read, read, read! Be curious, read—but read good articles and watch documentaries. It depends on what you're looking for, but when watching documentaries train your eye, train your mind to be critical. And this is a daily practice, it's not just [for when] you're on a job.
If you are a journalist, you're damned, you're condemned for life. You are a journalist for life. You will never be the same again, you are always going to challenge everyone, ask questions, [and] think outside the box. And that can be sometimes annoying for those around you, but at the same time this is how life should be. It's not just taking things at face value, but also push a little bit further, like 'why should I do this and what's the reason?'. Challenge, always challenge and play the devil's advocate. And you'd be surprised at how you'll feel like afterwards.
You have traveled to over 40 countries. How does travel factor into your journalism work?
Travel as much as possible, that will bring you so much perspective. I just came back actually from Southeast Asia. I spent about a month there, and that was a discovery for me. My goal was to discover the non-Arabic speaking Muslim world, so I went to Malaysia, Brunei, and Singapore. I went there and I interviewed people as well, because you know when you travel, travel with a purpose. And my purpose again was to discover this part of the Muslim world. And I interviewed many people just to get a sense of their lives, what they do and how they lived their Islam, and I was absolutely stunned.
I really like to cover Islam and the Muslim world and immigration; that's what really motivates me. So when I travelled that was my aim, to discover that world and I discovered a different Islam than the one that I'm used to, which is the Canadian Islam or Arab Islam. I discovered the Southeast Asian Islam which was completely different from everything I knew, and that was absolutely a very emotional experience. And I think as a journalist when you travel, you continue this journey, like although you're not on duty per se, you still continue your journalistic work through discovering and asking questions, not just taking pictures and selfies, I mean. But also dig even deeper and try to understand why people do what they do and why they act the way they do. It is absolutely is an eye-opener. 
To learn more about the work of Oussayma Canbarieh visit her website and YouTube Channel.
This article was produced exclusively for Muslim Link and should not be copied without prior permission from the site. For permission, please write to info@muslimlink.ca.