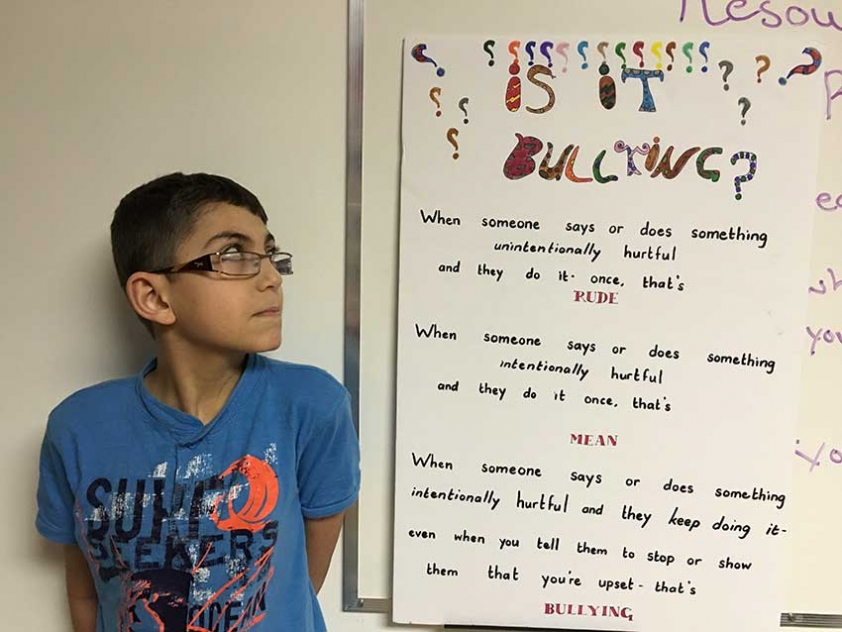 Abdulla Fouda wants adults to understand that bullying isn't just a kids' issue
Courtesy of Aisha Sherazi
14
Apr


2016
Bullying From The School Yard To The Office: It's Not Just A Kids' Problem
Written by Chelby Daigle
This article is a first in a series of interviews Muslim Link is conducting with Muslim children in Ottawa. Ottawa's Muslim community is quite young but we often do not get an opportunity to hear the thoughts and opinions of this significant demographic on social problems in our society.
*****
Egyptian Canadian Abdulla Fouda is a student at the Muslim Association of Canada's Al Furqan School. Muslim Link interviewed Abdulla about the issue of bullying. He feels that is important that adults learn to better understand the seriousness of bullying and how it is a problem throughout society which doesn't end in childhood.
Bullying at school between children is the scenario adults are most familiar with. In a four part comic strip he drew to explore the various ways bullying takes place in society, Abdulla portrayed a non-Muslim student coming up to a Muslim girl, pushing her and throwing her Qur'an in the hallway at school. He explained that this situation is an example of bullying based on Islamophobia—a reality faced by Muslim students in Ottawa. But Abdulla is quick to point out that people bully each other even if they are from the same religious or ethno-cultural background. One of the most frustrating realities of bullying at school, Abdulla feels is that adults don't take it seriously. "They don't remember what it was like to be a kid," he explained, "probably that stuff happened to them when they were young so you should help."
Abdulla believes that bullying has a very real impact on the lives of students. "Maybe if you are bullied, if you are writing a test, you can't focus because you are thinking about what happened to you or what might be going to happen to you," he shared. "You might not even want to go to school anymore."
He understands that it is important to stand up to bullies but this can be a difficult process. "The person who is bullied should tell the person who is bullying them to stop," he explained, "Then, if they don't stop, they should go to a teacher. If their teacher doesn't understand they should go to their mom. If their mom doesn't understand, they should go to their dad. Hopefully, one of your parents will understand. Then you can go to your principal."
But preventing people from getting bullied at school requires that adults pay close attention to what the students are doing. "Usually, you get bullied at recess," Abdulla explained, "So the principal should stay outside for a while to see what happens. Kids don't want to bully someone in front of an adult because they don't want to get in trouble, so if the principal is standing there or a teacher is standing there, they won't."
Abdulla feels that it is important to address bullying when children are young because the behaviour will continue into adulthood.
"Not only kids bully, adults bully too," Abdulla explained, "I think adults don't want kids thinking that they bully too because they know it is inappropriate."
In the second image in his comic strip, Abdulla shows how bullying continues into adulthood, starting in the home. He shows a man shouting at his wife because he is upset that his dinner wasn't ready when he came home. Abdulla is grateful that he lives with parents who do not bully each other, but he knows that this is a problem for other children. "Sometimes if the dad yells at the mom, she'll yell back or she'll start yelling at the kids for no reason," he explained, "I went to a halaqa (religious discussion group) and they told us that if we saw our parents fighting we should tell them to go to separate rooms and make tasbeeah (a form of prayer)." Abdulla feels that remembering faith is important at home where it is easy for people to become impatient or angry. "Islam teaches us patience so we can control ourselves; control our anger," he explained." He feels that the man in his comic strip should have waited for the dinner to be done or offered to make it himself because his wife was tired.
In the third image in his comic strip, he shows a worker being bullied by his boss who publicly embarrasses him by shouting at him and accusing him of not doing his work. "Bullying can be with words," Abdulla shared and he feels that this is often the type of bullying adults do at work.
Increasingly, the reality of bullying at work is being taken seriously in Canada. The Government of Canada's Canadian Centre for Occupational Health and Safety has developed a fact sheet about Bullying in the Workplace. It defines workplace bullying as "acts or verbal comments that could 'mentally' hurt or isolate a person in the workplace….Bullying usually involves repeated incidents or a pattern of behaviour that is intended to intimidate, offend, degrade or humiliate a particular person or group of people."
The last comic strip image Abdulla drew shows how countries can bully each other. "You know how there are rich countries and poor countries," he explained, "Usually the rich country threatens the poor country. Maybe they say, if you don't agree to do something we want, we are going to do 'this' to you. They want something so they are like 'If you don't give me this, I'm going to hurt you'. They are just like bullies. Instead, countries should trade, countries should bargain."
Abdulla is interested in continuing to develop comics which explore social problems like bullying and "life lessons".
His final advice to children his age is to choose their friends "wisely" because you don't want to become the friend of someone who bullies or end up being bullied by one of your own friends. "You have to judge your friends from their actions," he shared, "You need to be friends with people you can trust."
If you are a young writer or you have an opinion about a social problem in our society that you would like to share with Muslim Link, please send an email to our Editor in Chief at This email address is being protected from spambots. You need JavaScript enabled to view it.
For adults, if you know of a child (12 and under) who would like to speak or write to us with their opinion on a social problem, please contact Muslim Link's Editor in Chief at This email address is being protected from spambots. You need JavaScript enabled to view it.
This article was produced exclusively for Muslim Link and should not be copied without prior permission from the site. For permission, please write to info@muslimlink.ca.