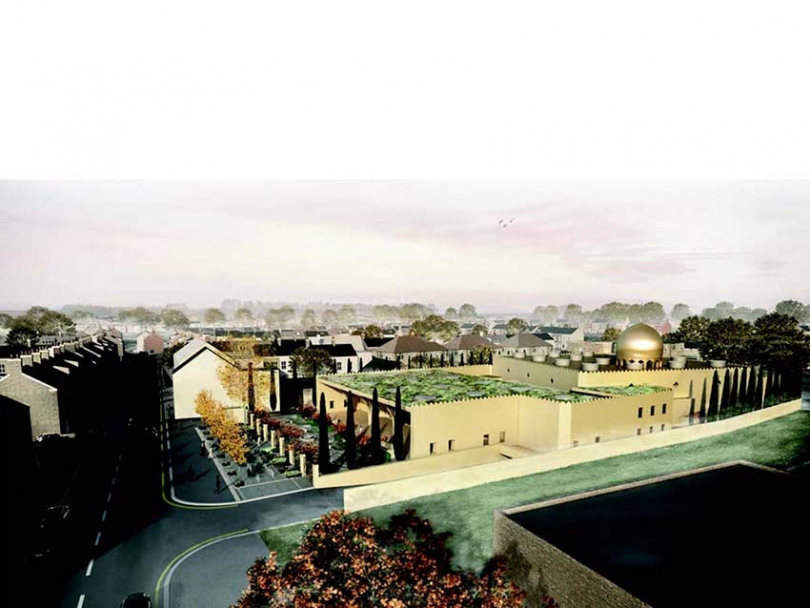 An artist's impression of what the New Cambridge Mosque will look like when complete.
Photo Credit: ww.cambridgemosqueismoving.org.uk
11
March


2012
Building greener domes: Modern mosques get eco-friendly
Written by Staff Writer
The first mosque Masjid al-Quba in Madina, was made from dry stones and built by the blessed hands of Prophet Muhammad, may peace be upon him, and his companions. Being a place of cleanliness and worship, Muslims were encouraged to wash at home before coming to pray. They were taught to walk to the mosque to avoid (animal) congestion and pray on a dust-swept floor.
Picture the super-luxurious towers of Mecca and the blinged-out buildings of Dubai, and it seems Muslim architecture these days is all about opulence, grandeur and over-indulgence. But there may be hope for the environment. The government of Qatar announced late last year that it is assessing its building policies so that every new mosque built in the country will be based on environmentally friendly models which help save water and energy.
And many other mosques around the globe are revisiting Islam's gloriously green past.
The New Cambridge Mosque project in the UK, touted as the first eco-mosque in Europe, will feature its own green roof, natural lighting provided by beautiful skylights, energy locally generated by ground-source heat pumps and a community garden. The mosque, when completed, will be faced in brick - allowing it to complement the existing buildings in the neighbourhood.  The mosque will incorporate the latest conservation technology, ensuring that it has an almost zero carbon footprint.
In most places minarets no longer serve the practical function of calling people to prayer, but in the coastal town of Norderstedt in northern Germany, these symbols of Islamic culture are being transformed into modern day efficiency. The town's mosque is installing wind turbines in its two 22-metre-high minarets to generate electricity.
When a nuclear plant was proposed for the Turkish village of Buyukeceli, the residents decided to demonstrate their residence, not by protesting or through petitions, but by highlighting the viability of renewable energy. Using the support of Greenpeace, they decided to demonstrate the power of solar energy by installing photovoltaic panels on the roof of their local mosque.
In Singapore, the country's first eco-friendly mosque was opened in May 2009. Green features include: energy-saving solar tubes that also act as skylights, a garden rooftop, motion sensor lights, and taps fitted with water-flow-regulating devices. The Al-Mawaddah Mosque in Senkang also has a "green wall" injecting a sense of serenity and calm into the prayer halls.  
This article was produced exclusively for Muslim Link and should not be copied without prior permission from the site. For permission, please write to info@muslimlink.ca.