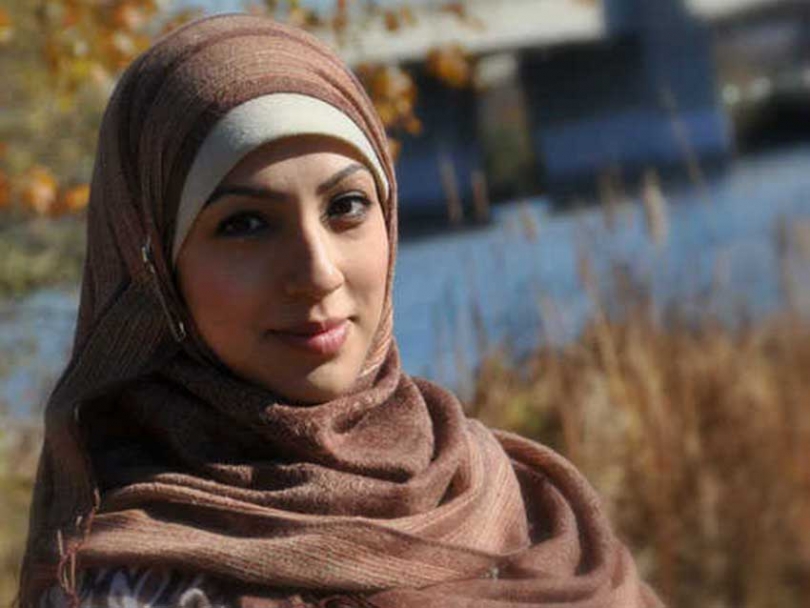 Berak Hussain
Photo Credit: Batoul Hussain
21
January


2013
Berak Hussain: Why I became a counsellor
Written by Chelby Daigle
Berak Hussain discovered her passion for counselling back when she was a student at Gloucester High School.
"I was always listening to my friends' challenges and problems and doing my best to offer them support," she says.
But like many second-generation immigrant students, she decided to study what was expected, not what interested her.
"It was either I be a doctor or I be an engineer."
So when Berak started studying Psychology at the University of Ottawa, it wasn't because she was planning a career in counselling.
"I was told that it was a good undergraduate degree to have if I wanted to get accepted into med school," she says.
 But when the young woman discovered that people could actually get jobs listening to people and helping them with their problems, she decided to do the unexpected and pursue the University of Ottawa's Masters of Education in Counselling instead of medicine in order "to help people through the soul rather than the cell".
For her Masters' thesis, Berak researched Islamic counselling theories. This involved seeking out and interviewing Muslim scholars originating from Pakistan, Lebanon and Iraq.
"At the time that I wrote my thesis, it was really hard to find texts about Islamic counselling practices in English. Now, there are so many more people researching and writing about this in English. There are journals and conferences on the subject, but when I was writing about it, there was so little," she says.
Berak found the work of Imam Ghazali, a 11th Century Muslim philosopher who developed a theory on how people could change their negative behaviours, particularly relevant for her counselling interests. Her thesis, entitled "Developing Islamic Counselling Theories and Practices: A Practitioner's Therapeutic Guide to Treating Muslim Clients" was completed in 2005.
When Berak first graduated, she didn't really have the opportunity to put her thesis work into practice as a counsellor. It was only when she landed the position of International Students' Counsellor at Carleton University's International Students' Office in 2008, that she found that her knowledge of Islamic counselling practices was a real asset.
Carleton University has a large population of International Students, many of whom are Muslim. Although Berak works with a wide diversity of students, she was encouraged by her non-Muslim colleagues to use her Islamic counselling skills with Muslim students who were interested in this form of counselling. Berak also found it useful in overcoming the stigma that exists in many cultures around getting counselling in the first place.
"For some clients, it helps them feel better to know that getting counselling isn't something that is so far removed from our traditions. For example, in Western psychology there is the theory of the ego, superego and the id. But a very similar concept in the Holy Quran and developed further by Muslim scholars as the three types of nafs (self).  There is the Nafs Ammara , the commanding or lower self similar to the Western psychology concept of the "Id"; the Nafs Lawamma, the self-reproaching self similar to the Superego, and the Nafs Mutma'innah, the peaceful self, similar to the ego," she explains.
Berak feels honoured to be working in a position where she can help people in crisis.
"I do a lot of stress management. You see students coming in saying they are depressed, anxious, or having panic attacks but a lot of this is really due to severe stress that has not been addressed early enough."
According to Berak, many International Students are coping with multiple stresses brought on by having to adjust to a new country and culture, trying to meet the expectations of family to succeed, and trying to pay the high tuition fees required of international students. Sometimes, there are also crises brought on but situations in their home countries.
"There might be political unrest, war, natural disasters and this affects them. They might be cut off from their families by this," she says.
Berak works in both Carleton University's Health and Counselling Services and the International Student Service Office and sees Canadian students as well. One problem that she finds that Canadian and International students are starting to have in common is social isolation.
"There is a lot of isolated people out there because of the popularity of technology. There is not a lot of face to face social interaction anymore. We see a lot of students with social anxiety. For the international students it can be even harder because they have no family here," Berak says.
Berak feels strongly that more members of the Muslim community should pursue careers in counselling but she stresses that it is important that those who pursue careers as counsellors respect the ethics of the profession.
"You need to support the person in front of you. Not all people from Muslim backgrounds are religious or want a spiritual aspect to their counselling. Sometimes when a client from a Muslim background sees me, I can tell they might be worried that I am going to judge them. I make it clear that it is not my place to judge. Who am I to judge them really at the end of the day? I am there to support them, not to judge them. Confidentiality is also very important in this profession and clients need to be assured that you will respect that," Berak says.
There is also stigma associated with mental illness and this stigma also applies to those who work to treat it.
"When I used to tell people that I was studying psychology in my community they say "˜you are going to be just as crazy as those you are going to treat'. That's the typical Arab response. Muslims with counselling skills are really needed because we know there are problems like stress or conflict in our communities that counselling could address and even prevent from escalating to something more serious. The more Muslims started doing this work, the less stigma there would be and more people would feel less afraid to seek out help," she says.
This article was produced exclusively for Muslim Link and should not be copied without prior permission from the site. For permission, please write to info@muslimlink.ca.