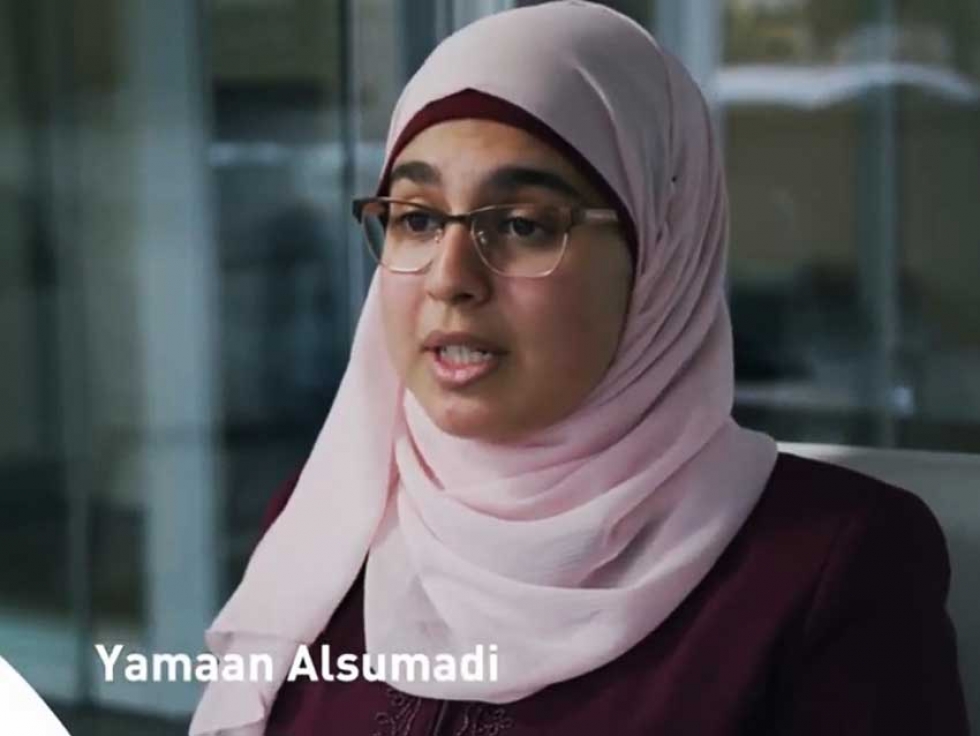 25
Nov


2019
Yamaan Alsumadi honoured with a 2019 Community Safety Award for Youth Leadership by the Mayor of Thunder Bay
Written by Making Headlines
In early November 2019, Thunder Bay Mayor Bill Mauro presented 18 year old Jordanian Canadian Yamaan Alsumadi with the 2019 Youth Leader Award, one of six Community Safety Awards granted each year, for her work as co-president of the city's Regional Multicultural Youth Council. 
The Youth Leader Award is sponsored by Generator, a Thunder Bay-based advertising company.
According to ThunderBay.ca, "Since arriving in Thunder Bay four years ago, Yamaan Alsumadi has been planting seeds of hope. An anti-racism activist with strong ties to her cultural community at the Mosque, Yamaan has helped youth build resiliency skills, positive identity, and self-esteem to motivate change in their lives and the lives of others. When co-president of the Regional Multicultural Youth Council, she attended the 2019 Canada We Want Conference in Toronto and returned home to help create Thunder Bay We Want - an inclusive community committed to reconciliation, improved race relations, and safe schools and neighbourhoods. Yamaan chaired a youth-facilitated event that invited 200 secondary students to view Michelle Desrosier's film Coming Together to Talk, share their perspective of racism in Thunder Bay, and present possible solutions. Yamaan has served on Thunder Bay's Anti-Racism Incident Reporting Working Group, and championed in-school activities such as the Canadian Cancer Society's Relay for Life. Today, Yamaan continues her advocacy to build welcoming environments for youth in our city while pursuing studies in nursing at Lakehead University.
Watch an profile of Yamaan Alsumadi below (It may take a few moments for the video to load from YouTube).
Jon Thompson interviewed Yamaan for TVO.org about her work with the Regional Multicultural Youth Council. In the interview, Yamaan discusses her work with Indigenous youth in the city. She explains, "We would usually talk to students that come from different reserves to DFC [the all-Indigenous Dennis Franklin Cromarty High School], and we'd help integrate them to a new city. People don't realize if you come from Canada to Canada there's culture shock. As a non-Indigenous person, I want to hear from them the experiences they're having. It made me want to advocate — tell people what they're going through and try to find ways to help. There's a sense they don't belong. A lot of my friends who went to public school ended up going to DFC just because they didn't feel included in public schools. They don't feel they're wanted in the community, and the problem is, they don't feel like they can do anything about it."
In the interview with TVO.org, she also discussed organizing open houses at her local mosque so that more Thunder Bay residents could meet Muslim Canadians. She explains, "Open House at the Mosque is a way to integrate with the kind of people we really are, not the kinds of people the media represents. People can come who don't usually interact with Muslims and don't have the ability to ask. The thing I find here is that people are afraid to ask because they're afraid to offend "the other." They don't want to get into these conversations. They won't understand that person's perspective, because the only view they have is from the media. That's why I encourage events. I'd rather you come and ask and offend me than have you not ask and have that idea in your mind."
To learn more about the Regional Multicultural Youth Council, click here.
This article was produced exclusively for Muslim Link and should not be copied without prior permission from the site. For permission, please write to info@muslimlink.ca.